Medical Groups Raise Blood Pressure Rx Threshold for Healthy Adults Over 60: MedlinePlus Health News
Medical Groups Raise Blood Pressure Rx Threshold for Healthy Adults Over 60
Guidelines say therapy should begin after top number in reading meets or exceeds 150 mmHG, not 140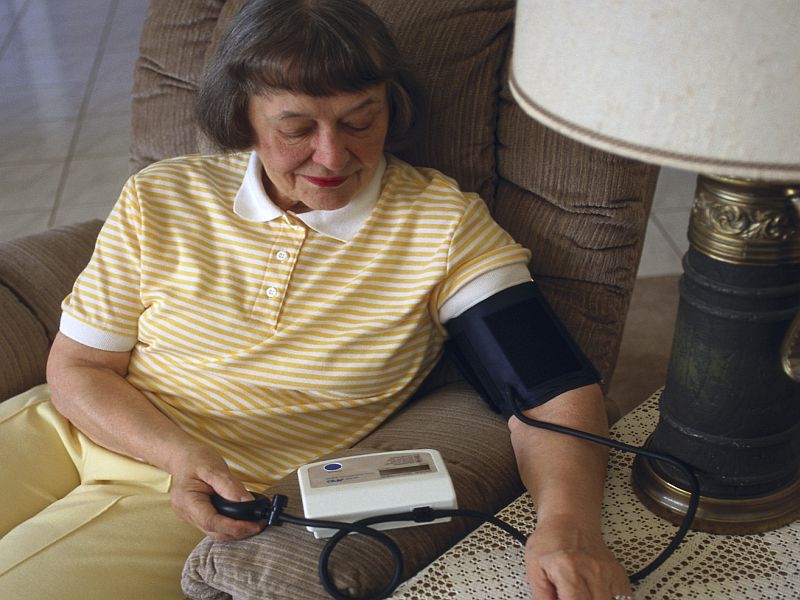 MONDAY, Jan. 16, 2017 (HealthDay News) -- Two leading medical organizations are recommending a less aggressive target for the treatment of high blood pressure in adults 60 and older who are otherwise healthy.
Traditionally, the threshold for high blood pressure has been set at 140 mmHg systolic blood pressure (the top number in a reading).
But the new guideline says doctors should now begin treatment when adults 60 and older have persistent systolic blood pressure that's at or above 150 mmHg, to reduce their risk of heart problems, stroke and death.
A less aggressive target like this offers a suitable balance of benefits and potential harms for these patients, according to the new guideline from the American College of Physicians (ACP) and the American Academy of Family Physicians (AAFP).
Any additional benefit from more aggressive treatment is small, the groups say.
Doctors specializing in the cardiac care of older patients said the new guidelines may be warranted.
"Several recent studies have suggested that tighter control of blood pressure in healthy older adults may produce more harm than good," resulting in events such as too-low blood pressure or fainting, said Dr. Gisele Wolf-Klein. She directs geriatric education at Northwell Health in Great Neck, N.Y.
Still, cardiovascular care is never a one-size-fits-all endeavor, and the authors of the new guideline say that aiming for a lower target may still be advisable for some patients.
For example, the guidelines state that for adults 60 and older with a history of stroke or "mini-stroke," doctors should aim to achieve a systolic blood pressure of less than 140 mmHg, to reduce these patients' risk of recurrent stroke.
And based on individual assessment, doctors should also consider doing the same for adults aged 60 and older who are deemed to be at high risk for heart problems, the guidelines said.
Dr. Kevin Marzo is chief of cardiology at Winthrop University Hospital in Mineola, N.Y. He noted that "more than half of the population over the age of 60 have hypertension. When under-treated, the risk of serious cardiovascular problems such as stroke, heart attack and heart failure increases."
Marzo said that for healthy people over 60, the 150 mmHg target may be appropriate. But he also agreed with the guidelines that "a lower goal of under 140 mmHg may be preferred for adults with known cardiovascular disease, such as a prior stroke or heart attack, or significant risk factors for heart disease."
The guidelines were published Jan. 16 in the Annals of Internal Medicine and the Annals of Family Medicine.
SOURCES: Gisele Wolf-Klein, M.D., director, geriatric education, Northwell Health, Great Neck, N.Y.; Kevin Marzo, M.D., chief, division of cardiology, Winthrop-University Hospital, Mineola, N.Y.; Annals of Internal Medicine, news release, Jan. 16, 2017
HealthDay
Copyright (c) 2017
HealthDay
. All rights reserved.
News stories are written and provided by HealthDay and do not reflect federal policy, the views of MedlinePlus, the National Library of Medicine, the National Institutes of Health, or the U.S. Department of Health and Human Services.
More Health News on:
Monday, January 16, 2017