Scientists Create Clothing With 'Knitted' Muscle Power: MedlinePlus Health News
Scientists Create Clothing With 'Knitted' Muscle Power
Fabric reacts to low voltage charge and could help disabled to move more, researchers say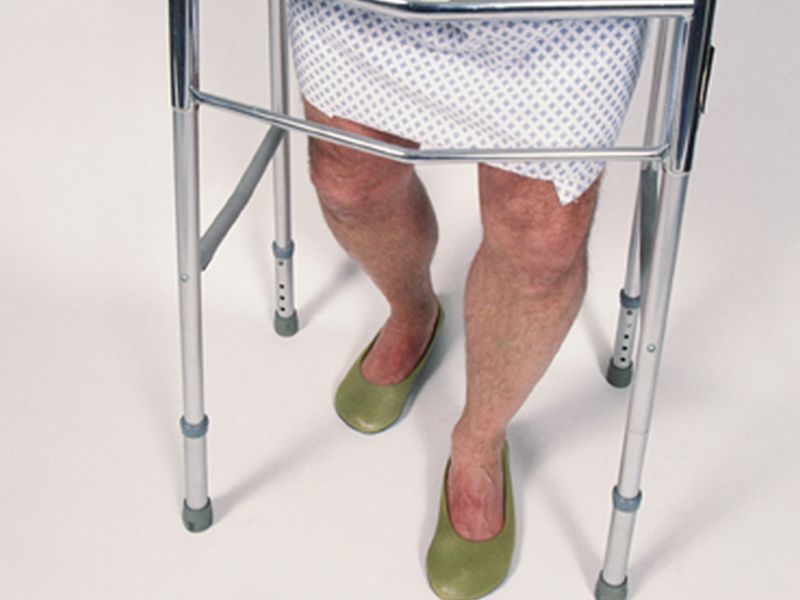 THURSDAY, Jan. 26, 2017 (HealthDay News) -- Scientists say they've created a special fabric incorporating robotic techniques that one day might help provide muscle power to disabled people or seniors who have trouble getting around.
The Swedish team coated normal fabric with an electroactive material, enabling the fabric to respond to low voltage power. Electroactive means the material responds to electricity.
This technology could lead to the creation of "textile muscles" that could be used in clothing to help people with mobility problems. The researchers used this approach in a simple robotic device to lift a small weight, according to the study.
"Enormous and impressive advances have been made in the development of exoskeletons, which now enable people with disabilities to walk again. But the existing technology looks like rigid robotic suits," said study researcher Edwin Jager, an associate professor at Linkoping University in Sweden.
"It is our dream to create exoskeletons that are similar to items of clothing, such as 'running tights' that you can wear under your normal clothes. Such devices could make it easier for older persons and those with impaired mobility to walk," Jager said in a university news release.
Low-voltage electricity applied to the special fabric caused the electroactive material to react in a way that changes the yarn or fibers of fabric to increase in length.
Another study researcher, Nils-Krister Persson, is an associate professor at the University of Boras' Swedish School of Textiles. He explained, "If we weave the fabric, for example, we can design it to produce a high force. In this case, the extension of the fabric is the same as that of the individual threads. But what happens is that the force developed is much higher when the threads are connected in parallel in the weave. This is the same as in our muscles."
The study was published Jan. 25 in the journal Science Advances.
SOURCE: Linkoping University, news release, Jan. 25, 2017
HealthDay
Copyright (c) 2017
HealthDay
. All rights reserved.
News stories are written and provided by HealthDay and do not reflect federal policy, the views of MedlinePlus, the National Library of Medicine, the National Institutes of Health, or the U.S. Department of Health and Human Services.
Thursday, January 26, 2017