Good News for Older Women With Early Form of Breast Cancer: MedlinePlus Health News
Good News for Older Women With Early Form of Breast Cancer
A diagnosis of DCIS doesn't lower life expectancy in patients over 50, study finds
Friday, January 27, 2017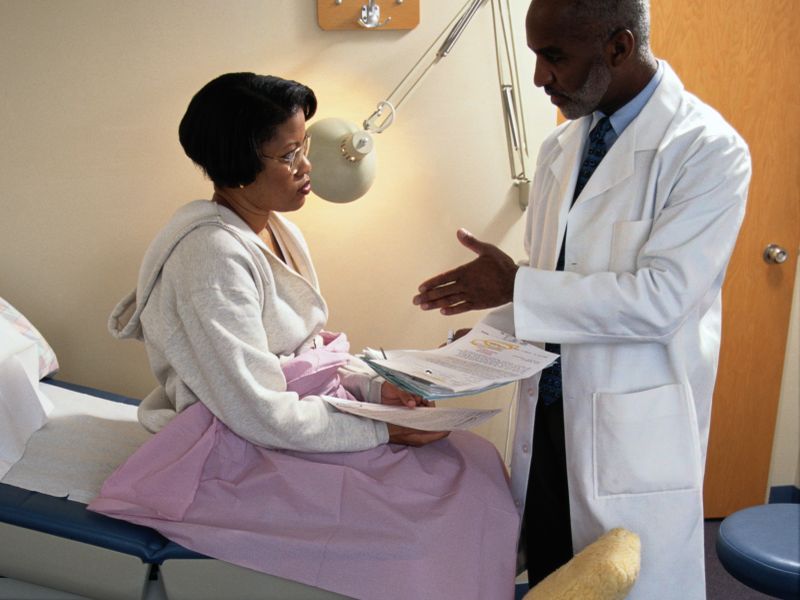 FRIDAY, Jan. 27, 2017 (HealthDay News) -- Older women treated for a very early form of breast cancer, called ductal carcinoma in situ (DCIS), do not have an overall increased risk of early death compared to their peers, a new study finds.
"Being diagnosed with DCIS can be extremely distressing, and research indicates that many women overestimate the risks involved and are confused about treatment. This study should provide reassurance that a diagnosis of DCIS does not raise the risk of dying," said Dr. Lotte Elshof. She is an epidemiologist at the Netherlands Cancer Institute in Amsterdam.
Elshof was to present the findings Friday at the European Cancer Congress in Amsterdam.
According to the National Breast Cancer Foundation, DCIS "is a noninvasive cancer where abnormal cells have been found in the lining of the breast milk duct. The atypical cells have not spread outside of the ducts into the surrounding breast tissue. Ductal carcinoma in situ is very early cancer that is highly treatable. . . ."
Untreated, DCIS can progress into invasive life-threatening breast cancer. However, it is usually treated with either surgery alone, or a combination of surgery and radiation therapy.
To determine the prognosis of older women diagnosed with DCIS, Elshof's team tracked 10-year outcomes for 10,000 Dutch women who were diagnosed with the condition between 1989 and 2004.
Women older than 50 who had been treated for DCIS actually had a 10 percent lower risk of dying from all causes combined, compared with women in the general population, the researchers found.
Specifically, the DCIS patients were less likely to die from other types of cancer and from circulatory, respiratory and digestive diseases, the findings showed.
"It might seem surprising that this group of women actually has a lower mortality rate than the general population. However, the vast majority would have been diagnosed via breast screening, which suggests they may be health-conscious and well enough to participate in screening," Elshof explained in a news release from the European Cancer Congress.
The study also looked at the risk of death from breast cancer. The investigators found that women treated for DCIS had a 2.5 percent risk of breast cancer death after 10 years, and a 4 percent risk after 15 years.
Both of those rates are higher than in the general population, Elshof's team noted. However, rates were lower in women whose DCIS had been diagnosed more recently, the study authors added.
And Philip Poortmans, president-elect of the European Cancer Organization, pointed out in the news release that "the increased risk of dying from breast cancer is completely offset by a lower risk of dying from other causes compared to women in the general population."
Two U.S. oncologists who reviewed the new study said it should reassure patients.
"The important take-away message is that women diagnosed with DCIS can be expected to live to a normal age as a whole," said Dr. Stephanie Bernik. She is chief of surgical oncology at Lenox Hill Hospital in New York City.
However, she agreed with the authors that there's a good explanation as to why women with DCIS tended to have better life expectancy than other women.
"If a woman is diagnosed with breast cancer, she will find herself with doctors' visits at every turn," Bernik noted. "This group of women is often encouraged to go to their primary medical doctor for any issue that may arise and screening for other cancers is more likely to occur. This may explain why women diagnosed with DCIS have a better overall survival."
Dr. Eleonora Teplinsky is an oncologist at Northwell Health Cancer Institute in Lake Success, N.Y. She called the new study "excellent," and said the next steps should look at "factors that contribute to the progression of DCIS to invasive disease."
Findings presented at medical meetings are typically considered preliminary until published in a peer-reviewed journal.
SOURCES: Eleonora Teplinsky, M.D., medical oncologist, Northwell Health Cancer Institute, Lake Success, N.Y.; Stephanie Bernik, M.D., chief, surgical oncology, Lenox Hill Hospital, New York City; European Cancer Congress, news release, Jan. 27, 2017
HealthDay
Copyright (c) 2017
HealthDay
. All rights reserved.
News stories are written and provided by HealthDay and do not reflect federal policy, the views of MedlinePlus, the National Library of Medicine, the National Institutes of Health, or the U.S. Department of Health and Human Services.
More Health News on: