Your Doctor's Age Might Affect Your Care: MedlinePlus Health News
Your Doctor's Age Might Affect Your Care
Study found older patients' hospital survival was slightly higher when their physician was younger
Tuesday, May 16, 2017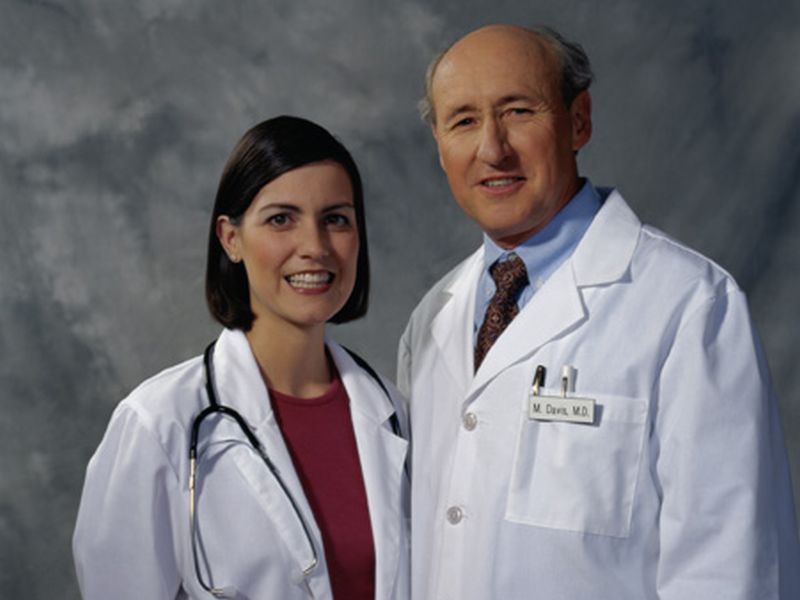 TUESDAY, May 16, 2017 (HealthDay News) -- Contrary to popular wisdom, an older, more experienced doctor may not always be the best choice.
New research suggests that when treated by an older doctor, hospitalized patients 65 and older may face a slightly higher risk of dying within a month of their admittance than if treated by a younger physician.
One exception to that finding is that no age-related difference was found when considering in-patients cared for by older physicians who handle a high volume of admitted patients, meaning 200 or more a year.
Otherwise, the 30-day mortality rate was 10.8 percent for older people treated by doctors under 40 years of age. When a doctor was between 40 and 49 years old, the patient mortality rate was 11.1 percent. And, for physicians from 50 to 59 years old, the patients' 30-day mortality rate was 11.3 percent.
Seniors cared for by doctors aged 60 and up faced the highest 30-day mortality rate at 12.1 percent, the study found.
"Our team was not surprised by the findings," said study lead author Dr. Yusuke Tsugawa. He's a research associate in the department of health policy and management at the Harvard T.H. Chan School of Public Health in Boston.
Prior studies have already indicated that clinical knowledge and adherence to guidelines may wane as doctors age, he noted.
That said, the authors of the new study described the findings as both "exploratory" and "observational." And they added that no clear-cut conclusion can yet be made as to whether being treated by an older doctor actually causes the risk of dying to increase.
The study included nearly 737,000 hospital in-patients who were receiving Medicare, and had been treated between 2011 and 2014. Almost 19,000 doctors were involved in the patients' care.
Doctors were assigned patients based on work schedules and case specifics, with assignment protocols deemed comparable across all physician ages.
Ultimately, the researchers found that doctor age had no impact on the risk that a patient would be readmitted after discharge.
But the findings indicated a small difference in the 30-day death risk. That was true even after accounting for variables that could affect such risk, including patient demographics, doctor characteristics unrelated to age, and variations in hospital structure.
As to what might explain the apparent risk gap, Tsugawa pointed to two opposing factors.
On the one hand, he noted that "clinical skills and knowledge accumulated by experienced physicians can lead to better quality of care."
But on the other hand, Tsugawa cautioned that doctors' "skills and knowledge can also become outdated, as scientific technology and clinical guidelines change over time. Our findings suggest that the latter factor may have a larger impact on patient outcomes than the former."
Given the findings, should hospitalized patients and their loved ones seek out younger caregivers?
"We don't think so," said Tsugawa. "There are many other factors patients should take into account when selecting their doctors that may be more important than their age."
The study was published online May 16 in the BMJ.
Linda Aiken, director of the University of Pennsylvania's Center for Health Outcomes and Policy Research, co-authored an accompanying journal editorial. She said the findings are "clinically relevant and warrant attention."
But untangling the underlying reasons could prove difficult, Aiken suggested.
For one, she said, "clinicians in hospitals with important responsibilities for patients vary significantly in their education and qualifications." What's more, she added, "all hospitals are not the same."
All the more reason that "patients should be more-informed consumers in selecting a hospital," Aiken advised.
And in that regard, she highlighted a critical factor not raised by the current study: nurses.
"Hospitals recognized for excellence in nursing, known as Magnet hospitals, can be found at www.nursecredentialing.org," Aiken said.
"Magnet hospitals have better patient outcomes -- including lower mortality and higher patient satisfaction -- after taking into account differences in physician qualifications," Aiken said.
SOURCES: Yusuke Tsugawa, M.D., Ph.D., M.P.H., research associate, department of health policy and management, Harvard T.H. Chan School of Public Health, Boston; Linda Aiken, Ph.D., R.N., professor of nursing, professor of sociology, and director, Center for Health Outcomes and Policy Research, University of Pennsylvania, Philadelphia; May 16, 2017, BMJ, online
HealthDay
Copyright (c) 2017
HealthDay
. All rights reserved.
News stories are written and provided by HealthDay and do not reflect federal policy, the views of MedlinePlus, the National Library of Medicine, the National Institutes of Health, or the U.S. Department of Health and Human Services.
More Health News on