Promising Results for Drug to Fight Arthritis Linked to Psoriasis: MedlinePlus Health News
Promising Results for Drug to Fight Arthritis Linked to Psoriasis
Psoriatic arthritis causes painful joint swelling, but new medication Taltz might help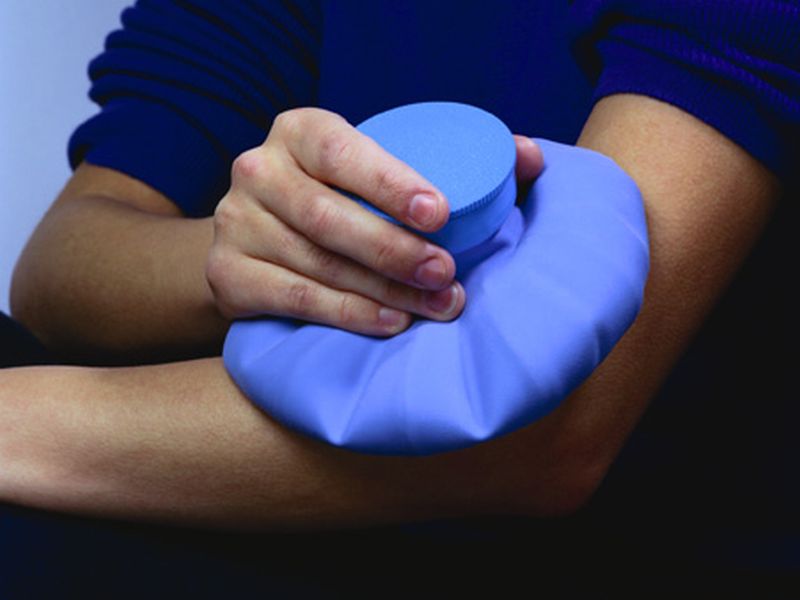 FRIDAY, May 26, 2017 (HealthDay News) -- A new drug might help ease the pain and disability of a form of arthritis often linked to psoriasis.
According to Stanford University researchers, psoriatic arthritis is an inflammatory joint disorder tied to an out-of-control immune response. The disease affects about one in every 200 people and is often accompanied by the autoimmune skin disorder psoriasis.
Psoriatic arthritis typically arises after the age of 30 and can bring stiffness, pain and swelling of the joints, leading to real disability if treatments don't help.
The new study focused on more than 300 adult patients across 10 countries. These patients were no longer seeing an effect from standard biologic drugs or had never experienced a benefit in the first place.
That's not uncommon.
"Only about half of psoriatic arthritis patients who are given TNF inhibitors get better," study lead author Dr. Mark Genovese said in a Stanford news release.
So, his team tried out a newer drug called Taltz (ixekizumab), already approved to fight psoriasis. The study was funded by the drug's maker, Eli Lilly & Co.
Patients were randomly assigned to receive injections of either Taltz or an inactive placebo. Over 6 months, about one-third got Taltz injections every two weeks, another third received the placebo every two weeks, while the remaining third received alternate injections of Taltz and the placebo.
More than half (53 percent) of those treated with the drug experienced at least a 20 percent reduction in the number of tender and swollen joints, compared to about 20 percent of those receiving the placebo, said Genovese. He's a professor of immunology and rheumatology at Stanford University Medical Center.
One expert in psoriatic arthritis was encouraged by the findings.
Taltz "is another new option for patients with psoriatic arthritis," said Dr. Waseem Mir, a rheumatologist at Lenox Hill Hospital in New York City. "The data shown in this article supports that certain patients who do not do well with other biologics that are in the market for psoriatic arthritis will now have another option for treatment of their painful disease," he said.
One potential side effect of these immune-focused drugs is a heightened vulnerability to infectious disease. However, Genovese said there was little difference in this regard between people taking Taltz and those on a placebo.
The study was published online May 24 in The Lancet.
SOURCES: Waseem Mir, M.D., rheumatologist, Lenox Hill Hospital, New York City; Stanford University School of Medicine, news release, May 24, 2017
HealthDay
Copyright (c) 2017
HealthDay
. All rights reserved.
News stories are written and provided by HealthDay and do not reflect federal policy, the views of MedlinePlus, the National Library of Medicine, the National Institutes of Health, or the U.S. Department of Health and Human Services.
More Health News on
Friday, May 26, 2017