Bystander CPR Helps Save Brain Function After Near-Drowning: MedlinePlus Health News
Bystander CPR Helps Save Brain Function After Near-Drowning
Heart compressions were even more effective than automatic defibrillator, study finds
Friday, May 26, 2017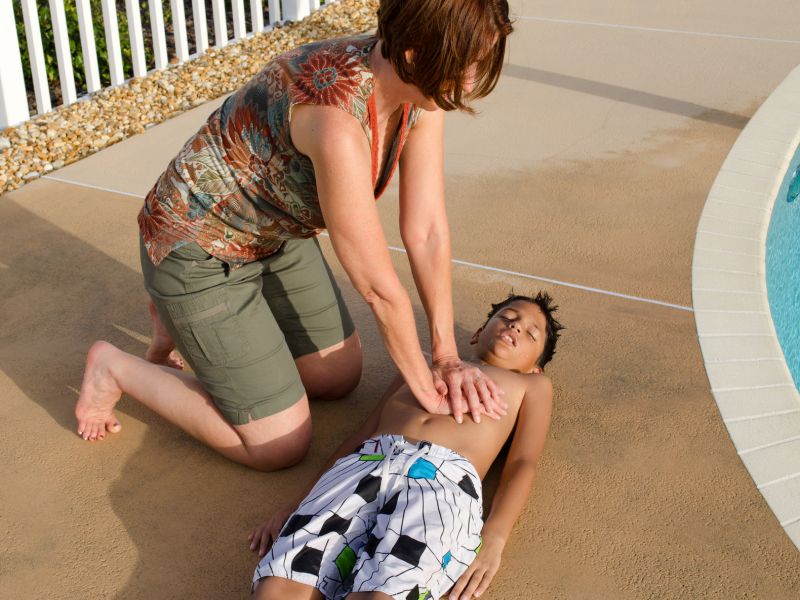 FRIDAY, May 26, 2017 (HealthDay News) -- Near-drowning victims are more likely to recover with good brain function if bystanders immediately begin chest compressions rather than wait for emergency personnel to arrive, researchers report.
"What we found is that when bystanders begin CPR [cardiopulmonary resuscitation] before emergency personnel arrive, the person has a higher chance of leaving the hospital and leading a life reasonably close to the one they had before the drowning," said study leader Dr. Joshua Tobin. He is an associate professor of clinical anesthesiology at the University of Southern California Keck School of Medicine.
Drowning claims about 10 lives a day in the United States, the study authors said in a school news release.
The new study included more than 900 cases of people who suffered cardiac arrest after almost drowning.
"When we talk about cardiac arrest, there's no doubt that we want people to survive. But surviving and being in a persistent vegetative state would not be considered a success by most people. That's why we chose to stratify the results by favorable or unfavorable neurological outcomes," Tobin said.
The investigators found that near-drowning victims who got CPR from a bystander were three times more likely to do well, as far as brain function was concerned.
But near-drowning victims appeared to do worse if they were treated with automated external defibrillators (AEDs), which are common in public places. The researchers aren't sure how to explain the discrepancy.
"It's difficult to say why AED application prior to [emergency medical services] arrival portended a worse neurological outcome in this study. Perhaps AED application distracted bystanders from giving good, uninterrupted CPR," Tobin said.
"What we do know, though, is that this study adds to a growing body of evidence that bystander CPR improves outcomes in cardiac arrest," he added. "It also provides a compelling reason for people to learn this lifesaving technique."
Even if you don't know CPR, you may be able to help someone suffering from cardiac arrest with help from an emergency dispatcher, Tobin said. "Call 911, do chest compressions at 100 beats per minute, and you could save someone's life," he said.
The study is published in the June issue of Resuscitation.
SOURCE: University of Southern California Keck School of Medicine, news release, May 17, 2017
HealthDay
Copyright (c) 2017
HealthDay
. All rights reserved.
News stories are written and provided by HealthDay and do not reflect federal policy, the views of MedlinePlus, the National Library of Medicine, the National Institutes of Health, or the U.S. Department of Health and Human Services.
More Health News on