Wives, Daughters Shoulder Most of Alzheimer's Care Burden: MedlinePlus Health News
Wives, Daughters Shoulder Most of Alzheimer's Care Burden
Careers, finances may take a hit because of caregiving demands, researchers say
Tuesday, May 9, 2017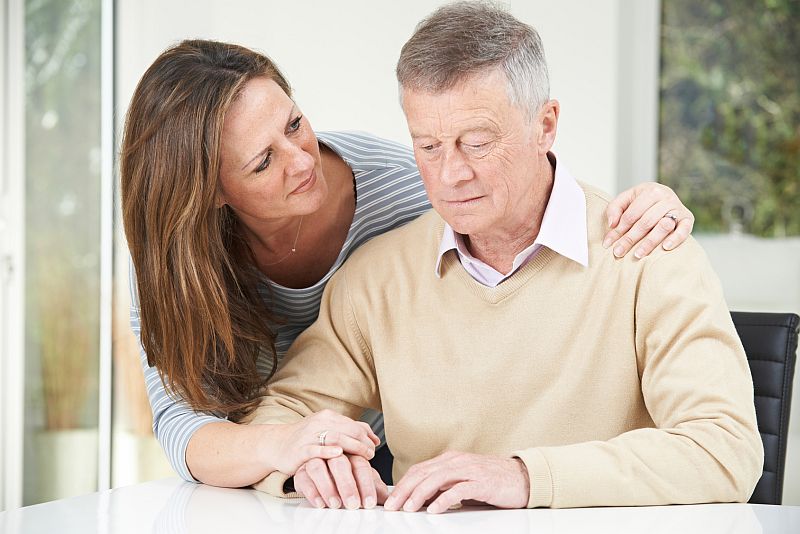 TUESDAY, May 9, 2017 (HealthDay News) -- When it comes to the daily care of Americans with dementia, most of the responsibility is still falling on family members, according to a new report.
And women handle the lion's share of that responsibility, said Nicholas Bott, a postdoctoral research fellow at Stanford University, in California.
That's not news, Bott pointed out: It's well-known that family members provide most of the care for dementia patients in the United States -- 83 percent, by Alzheimer's Association estimates.
But Bott said he and his colleagues wanted to shine a light on the issue, with an editorial published online May 8 in JAMA Neurology.
"One of the challenges in this country is that we have not adequately appreciated the full social impact of dementia," Bott said. "It's not just the patient who is diagnosed with dementia -- it's the family."
The number of Americans with dementia is expected to top 8 million by 2030, according to Bott.
"So the number of family caregivers will necessarily increase," Bott said. "We hope we can bring some needed attention to the issues they face, and get more people talking about it."
Caring for any seriously ill family member is difficult, said Ruth Drew, director of family and information services for the Alzheimer's Association.
"But Alzheimer's care goes on longer, and is more intense, than other types of caregiving," Drew said.
It's known that Alzheimer's caregivers have higher rates of depression, versus those who care for family members without dementia, Drew pointed out. And they are twice as likely to report "substantial emotional, financial and physical difficulties," according to the Alzheimer's Association.
Drew said that about two-thirds of Alzheimer's caregivers are women. Wives are more likely to be caring for husbands than the reverse, and daughters are more likely than sons to be caring for a parent.
Bott said that caregiving can be hardship for multiple reasons. Spouses may have their own health issues, for instance. And adult children have jobs and families of their own.
Women are more likely than men to have to leave their job or "lower their career trajectory" because they are caring for a family member, Bott said.
Drew agreed that "women are seeing consequences at work. We know this is having a big impact."
But, Bott added, "There's no easy solution." However, expansion of paid family leave could be one way to ease caregivers' burden, he and his colleagues suggested.
Bott pointed to the example of the large accounting firm Deloitte -- which, he said, is offering the most expansive paid family leave in the private sector. Employees get up to 16 weeks of fully paid leave to care for a family member, including an aging parent.
Of course, that may be something only large employers can do, Bott said. And it's not the perfect solution since caring for someone with dementia is a long-term job, he noted.
Drew pointed out that there are others ways caregivers can get some help. Many communities have adult day-care centers or "respite" care services. That can allow caregivers a few hours off during the day.
For many families, though, money is the issue. Medicare does not pay for adult day-care, and only has limited coverage for in-home health care.
There is an optional Medicare program known as PACE (Program for All-Inclusive Care for the Elderly), Bott explained. It is designed to allow seniors to get more care at home and day-care centers, as an alternative to a nursing home.
Bott called PACE a "great model." But so far, he said, PACE programs are only available in certain areas across the country.
The financial issue is not borne by families alone, Bott pointed out. Taxpayers feel it, too.
That's because state Medicaid programs eventually cover the costs of long-term care for seniors -- once they've spent down their assets to qualify for the program.
Drew said, "There's a heavy cost we're all paying for unpaid family caregiving."
For now, she recommended that families turn to the Alzheimer's Association as a starting place. It has a 24-hour "helpline" where people can get information on the services available in their local area -- and guidance on how to pay for them.
Some families, according to Drew, may qualify for financial help through the Veterans Administration or state assistance programs, for instance.
"Caregivers should know there is information and support available for them," she said.
SOURCES: Nicholas Bott, PsyD. postdoctoral research fellow, Stanford University School of Medicine, Stanford, Calif.; Ruth Drew, M.S., L.P.C., director, family and information services, Alzheimer's Association, Chicago; May 8, 2017, JAMA Neurology, online
HealthDay
Copyright (c) 2017
HealthDay
. All rights reserved.
News stories are written and provided by HealthDay and do not reflect federal policy, the views of MedlinePlus, the National Library of Medicine, the National Institutes of Health, or the U.S. Department of Health and Human Services.
More Health News on