New Guidelines Say No to Most 'Keyhole' Knee Surgeries: MedlinePlus Health News
New Guidelines Say No to Most 'Keyhole' Knee Surgeries
Widely used arthroscopy won't help arthritic degeneration, expert panel says
Wednesday, May 10, 2017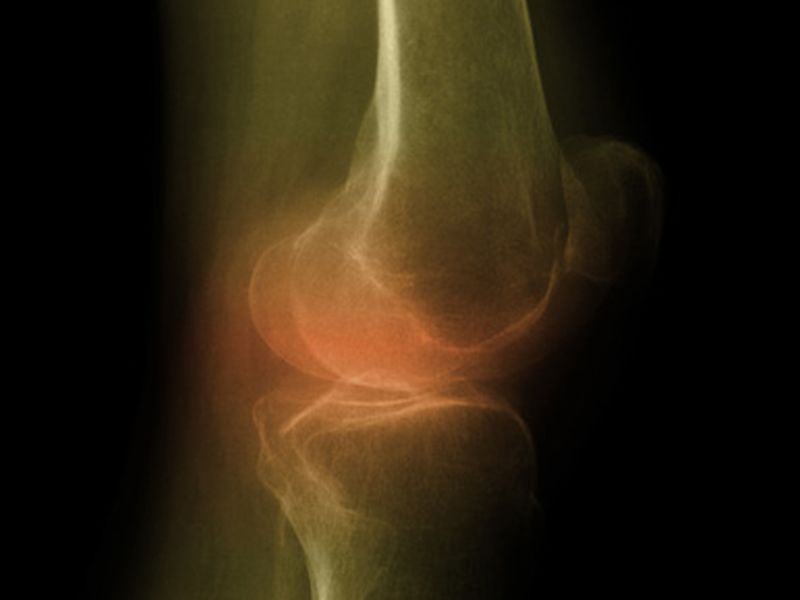 WEDNESDAY, May 10, 2017 (HealthDay News) -- "Keyhole" arthroscopic surgery should rarely be used to repair arthritic knee joints, a panel of international experts says in new clinical guidelines.
Clinical trials have shown that keyhole surgery doesn't help people suffering from arthritis of the knees any more than mild painkillers, physical therapy or weight loss, said lead author Dr. Reed Siemieniuk. He is a health researcher with McMaster University in Toronto, Canada.
"You can make a pretty strong statement saying that from a long-term perspective, it really doesn't help at all," Siemieniuk said. "If they knew all the evidence, almost nobody would choose to have this surgery."
Keyhole surgery is one of the most common surgical procedures in the world, with more than 2 million performed each year, Siemieniuk said. The United States alone spends about $3 billion a year on the procedure.
The new guidelines -- published online May 10 in the BMJ -- were issued as part of the journal's initiative to provide up-to-date recommendations based on the latest evidence. The guidelines make a strong recommendation against arthroscopy for nearly all cases of degenerative knee disease.
This includes osteoarthritis as well as tears of the meniscus, the padding between the two leg bones in the knee, Siemieniuk said.
"With age and with use, the grinding of the two bones together can break down that padding," he said. "It's very common to see little rips and tears in that padding in patients with arthritis."
Siemieniuk and his colleagues noted that a trial published in 2016 showed that surgery was no better than exercise therapy in patients with a meniscus tear.
Despite this and other medical evidence, most guidelines still recommend keyhole surgery for people with meniscus tears, sudden onset of symptoms like pain or swelling, or mild to moderate difficulties with knee movement.
Arthroscopic surgery relies on small incisions through which a tiny camera and miniature instruments are inserted. Doctors can remove or repair damaged tissue without having to cut the knee open.
The American Academy of Orthopaedic Surgeons currently advises against performing arthroscopic surgery in patients with full-fledged knee osteoarthritis, said Dr. Kevin Shea, an academy spokesman.
"Most orthopedic surgeons have dramatically reduced arthroscopic surgery in patients with degenerative arthritis," Shea said. "Most I know have abandoned it over the last 10 to 15 years."
However, arthroscopic surgery still can help people with joint movement problems caused by meniscus tears who have not developed moderate or severe knee osteoarthritis, said Shea.
Those patients should be treated first with mild painkillers and exercise therapy, but keyhole surgery should remain an option for them, he added. Shea is a professor of orthopedic surgery at the University of Connecticut.
"Not that long ago, I operated on a 67-year-old retired schoolteacher who's an avid skier," Shea said. "She had no arthritis in her knee but a huge meniscus tear that kept locking, catching and popping. Not offering treatment to her would not have been fair."
Under the BMJ guidelines, patients with meniscus tears should be treated with painkillers and physical therapy, as well as weight loss if they are overweight, Siemieniuk said. Knee replacement surgery is the last treatment option, done once degeneration has progressed to the point where all other therapies don't work.
There is a financial incentive for doctors and hospitals to perform unnecessary keyhole surgeries, but Siemieniuk said these surgeries also might be prompted by the desire to treat a painful medical condition.
"It's hard to take away one of the options from people when chronic knee pain and arthritis can be very debilitating," he said. "And there's an expectation from patients that by the time they see a surgeon, the surgeon is going to have something to be able to offer them."
Inertia might also play a role. "It's a lot easier to introduce a new treatment into clinical care than to de-implement one that we later find out doesn't work," Siemieniuk said. "That's what we're seeing here."
Keyhole surgery has its downsides. Recovery can last anywhere from 3 days to 6 weeks, Siemieniuk said, and there is a risk of blood clots or infection in the knee.
Patients should go through a shared decision-making process with their surgeon, questioning whether this surgery would truly help them, he said.
The surgery still can be useful to fix torn ligaments or repair damage caused by severe trauma, Siemieniuk said. But in most cases, he said, given the evidence, insurers "may choose not to fund it, which I think would be appropriate."
SOURCES: Reed Siemieniuk, M.D., Ph.D., health researcher, McMaster University, Toronto, Canada; Kevin Shea, M.D., professor, orthopedic surgery, University of Connecticut, Farmington, Conn.; May 10, 2017, BMJ, online
HealthDay
Copyright (c) 2017
HealthDay
. All rights reserved.
News stories are written and provided by HealthDay and do not reflect federal policy, the views of MedlinePlus, the National Library of Medicine, the National Institutes of Health, or the U.S. Department of Health and Human Services.
More Health News on