How drug marketing may influence prescriptions | National Institutes of Health (NIH)

How drug marketing may influence prescriptions
At a Glance
After academic medical centers restricted marketing activities, doctors prescribed fewer promoted drugs and more of those that weren't.
Future studies will be needed to understand how marketing restrictions affect patient outcomes and costs.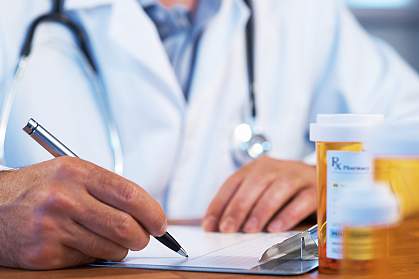 18percentgrey/iStock/Thinkstock
Drug companies often promote products during events or sales visits to doctors. This type of marketing is known as detailing because doctors learn details about drug benefits and side effects. Doctors may also receive gifts such as meals and free samples. Some academic medical centers have begun to restrict detailing. But little is known about the impact of detailing on prescribing practices.
A team led by Dr. Ian Larkin at the University of California, Los Angeles, and Dr. George Loewenstein at Carnegie Mellon University examined whether policies to limit detailing affect prescription patterns. They examined prescriptions in 19 academic medical centers that restricted detailing from January 2006 to June 2012. More than 2,000 doctors were affiliated with the centers. For comparison, the team examined prescriptions by nearly 25,000 doctors who weren't at the centers.
The analysis included more than 16 million prescriptions in eight major drug classes. These included drugs for acid reflux, attention deficit disorder, depression, diabetes, high blood pressure, lipid disorders, psychosis, and sleep disorders. The team compared detailed and nondetailed drugs, which included generics and brand-name drugs not promoted at the centers. The study was supported in part by NIH's National Institute of Mental Health (NIMH). Results appeared in the May 2, 2017, issue of the Journal of the American Medical Association.
The mean market share—the share of prescriptions for each drug within its class—of detailed drugs in the centers prior to policy changes was 19.3%. That share declined by 1.67 percentage point after policy changes—an 8.7% relative decrease from before the policy changes. The mean market share of nondetailed drugs was 14.2% before policy changes. Their share increased by 0.84 percentage point after the changes—a 5.6% relative increase. Prescriptions of detailed drugs in the comparison group declined only slightly over the same period.
The changes in mean market share were statistically significant for six of the eight drug classes. Changes varied across academic medical centers, likely because their policies varied widely. Centers with the most stringent policies, such as salesperson registration and training requirements, had the greatest declines in detailed drug prescriptions.
"There has long been concern that drug marketing to physicians might influence their prescribing, including—and maybe especially—for psychiatric drugs," says coauthor Dr. Michael Schoenbaum of NIMH. "Many medical schools have adopted policies to limit such marketing, and this study is one of the first to document what effect these policies actually have. Important next steps include assessing the economic impact of these policies and whether they affect patients' clinical outcomes."
Related Links
References:
Association Between Academic Medical Center Pharmaceutical Detailing Policies and Physician Prescribing
. Larkin I, Ang D, Steinhart J, Chao M, Patterson M, Sah S, Wu T, Schoenbaum M, Hutchins D, Brennan T, Loewenstein G.
JAMA
. 2017 May 2;317(17):1785-1795. doi: 10.1001/jama.2017.4039. PMID: 28464141.
Funding:
NIH's National Institute of Mental Health (NIMH); National Science Foundation; and CVS Caremark (data and assistance).