Hospitals Vary in Moving Stroke Patients to Comfort or Hospice Care: MedlinePlus Health News
Hospitals Vary in Moving Stroke Patients to Comfort or Hospice Care
Study found doctors more apt to suggest it sooner for older, white, female and uninsured patients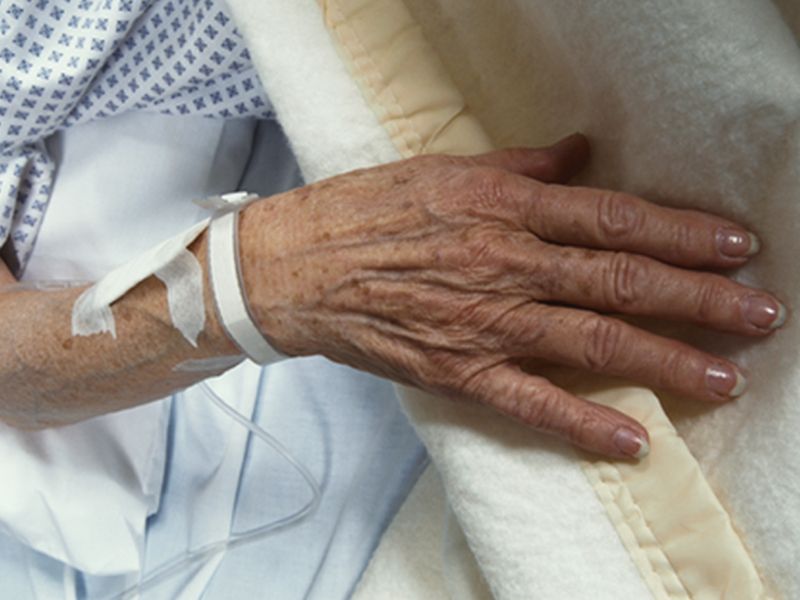 THURSDAY, May 25, 2017 (HealthDay News) -- U.S. hospitals differ greatly in how often they move new stroke patients from treatment to comfort or hospice care, researchers report.
Comfort care refers to medical care designed to ease suffering for a patient near death.
"End-of-life and palliative care plays an important role with stroke, since the death rate is high, yet there has been limited data on the transition from treatment to comfort care," said study author Dr. Shyam Prabhakaran. He is a professor of neurology and medical social sciences at Northwestern University Feinberg School of Medicine in Chicago.
Prabhakaran and his colleagues analyzed data from nearly 1 million people treated for stroke in 1,675 hospitals between 2009 and 2013. About 55,000 had doctor's orders for comfort care only.
Overall, 5.6 percent of the patients were moved to comfort care only. But the rate varied widely among hospitals, from 0.6 percent to 37.6 percent, the study showed.
The percentage of patients who were moved to early comfort care fell over the four-year study period, from 6.1 percent to 5.4 percent, the study found.
Patients with bleeding strokes were more likely to be moved sooner to comfort care than those whose strokes were caused by blocked blood flow to the brain. Patients with bleeding strokes have higher risk of death, the researchers said.
Patients who were older, female, white, unable to walk and uninsured or covered by Medicaid were also more likely to have early comfort orders, as were those who arrived at the hospital during off-hours or by ambulance, the study found.
The findings were published online May 24 in the journal Neurology Clinical Practice.
"The use of early comfort care varies widely between hospitals and is influenced by stroke type as well as the characteristics of both the hospitals and the people who are hospitalized," Prabhakaran said in a journal news release. More study is needed to learn how such decisions are made, he added.
In an accompanying editorial, Dr. Robert Holloway, a neurologist at the University of Rochester Medical Center in New York, noted that severe stroke leads to a series of intense discussions among doctors, patients and families. Those talks center on what health states are acceptable or unacceptable and what makes life worth living, he wrote.
"This study gives us insights into how these transitions are happening and will stimulate discussion about how we can improve this process to help ensure that care is high quality and consistent with the patient's goals," Holloway stated.
SOURCE: Neurology Clinical Practice, news release, May 24, 2017
HealthDay
Copyright (c) 2017
HealthDay
. All rights reserved.
News stories are written and provided by HealthDay and do not reflect federal policy, the views of MedlinePlus, the National Library of Medicine, the National Institutes of Health, or the U.S. Department of Health and Human Services.
More Health News on
Thursday, May 25, 2017