Eat This Diet to Lower Your Odds for Painful Gout: MedlinePlus Health News
Eat This Diet to Lower Your Odds for Painful Gout
Ditching fats and salt in favor of fruits, veggies and grains keeps the condition at bay, study finds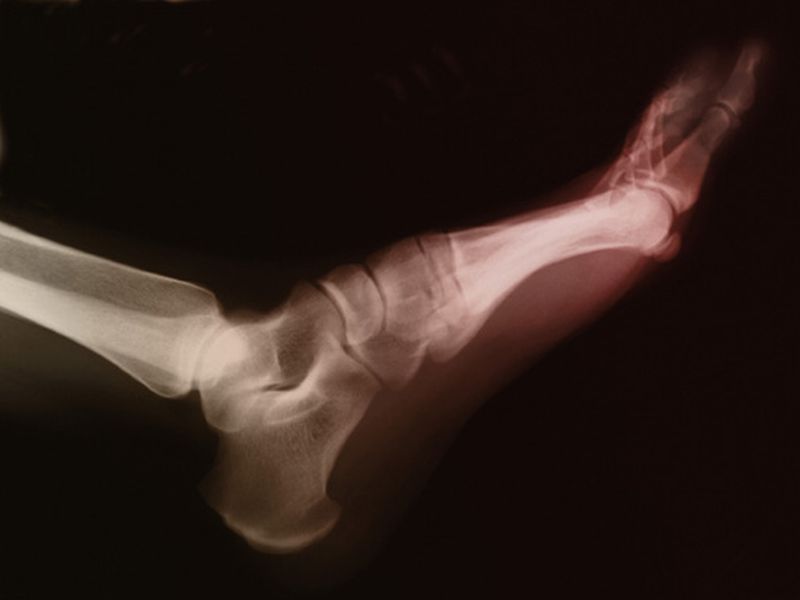 WEDNESDAY, May 10, 2017 (HealthDay News) -- Warding off the joint pain of gout may be as easy as eating right, a new study suggests.
Gout, a joint disease that causes extreme pain and swelling, is caused by excess uric acid in the blood. It's the most common form of inflammatory arthritis, and its incidence has risen among Americans over recent decades, Harvard researchers noted.
But the DASH (Dietary Approaches to Stop Hypertension) diet -- which is high in fruits and vegetables, and low in salt, sugar and red meat -- can lower levels of uric acid in the blood.
The American Heart Association has long supported the DASH regimen as a way to help avoid heart disease.
"Conversely, the [unhealthy] Western diet is associated with a higher risk of gout," said Dr. Hyon Choi, of Harvard Medical School in Boston, and colleagues. The "Western" diet describes the fatty, salty, sugar-laden fare of many Americans.
One nutritionist wasn't surprised by the new findings, pointing out that the DASH diet is low in compounds called purines, which break down to form uric acid.
"I can see how the DASH diet may benefit someone with gout," said Jen Brennan, clinical nutrition manager at Lenox Hill Hospital in New York City. "The DASH diet avoids excessive consumption of red and organ meats known to have high purine levels."
Brennan added that the DASH diet "also encourages high intake of fruits and vegetables. We want to encourage fluids and vitamin C for these patients to help rid the body of uric acid, and fruits/vegetables can support this."
In their study, the Harvard researchers analyzed data from more than 44,000 men, aged 40 to 75, who had no prior history of gout. The men provided information about their eating habits every four years between 1986 and 2012.
Over the study period, more than 1,700 of the men developed gout.
During 26 years of follow-up, those who followed the DASH diet -- high in fruits, vegetables, legumes, nuts, low-fat dairy products and whole grains, and low in salt, sugary drinks and red and processed meats -- were less likely to develop gout than those who ate a typical Western diet, the findings showed.
The Western diet is high in items such as red and processed meats, French fries, refined grains, sweets and desserts.
The study wasn't designed to prove a cause-and-effect relationship. However, the findings suggest that the DASH diet may provide "an attractive preventive dietary approach for the risk of gout," the researchers concluded.
Choi's team noted that many people who have high uric acid levels also have elevated blood pressure, or "hypertension" -- another reason to switch to the healthier DASH diet.
According to the study's lead author, Sharan Rai, of Massachusetts General Hospital, "The diet may also be a good option for patients with gout who have not reached a stage requiring [uric acid]-lowering drugs, or those who prefer to avoid taking drugs." Rai is with Mass General's division of rheumatology, allergy and immunology.
"And since the vast majority of patients with gout also have hypertension, following the DASH diet has the potential of 'killing two birds with one stone,' addressing both conditions together," Rai said in a hospital news release.
However, more studies are needed to track the diet's effectiveness in curbing gout flare-ups, the researchers said.
Dana Angelo White is a registered dietitian at Quinnipiac University in Hamden, Conn. She called the new study "another win for the DASH diet, a sensible plan that emphasizes whole foods and a healthy balance of all major food groups. I'm pleased to see a study that highlights the benefits beyond cardiovascular health. If more people ate this way, we would continue to see decreases in all kinds of chronic illness."
The study was published online May 9 in the BMJ.
SOURCES: Jen Brennan, R.D., clinical nutrition manager, Lenox Hill Hospital, New York City; Dana Angelo White, M.S., R.D., registered dietitian and clinical assistant professor of athletic training and sports medicine, Quinnipiac University, Hamden, Conn.; Massachusetts General Hospital, news release, May 9, 2017; BMJ, news release, May 9, 2017
HealthDay
Copyright (c) 2017
HealthDay
. All rights reserved.
News stories are written and provided by HealthDay and do not reflect federal policy, the views of MedlinePlus, the National Library of Medicine, the National Institutes of Health, or the U.S. Department of Health and Human Services.
Wednesday, May 10, 2017