At Major Teaching Hospitals, Lower Death Rates: MedlinePlus Health News
Tuesday, May 23, 2017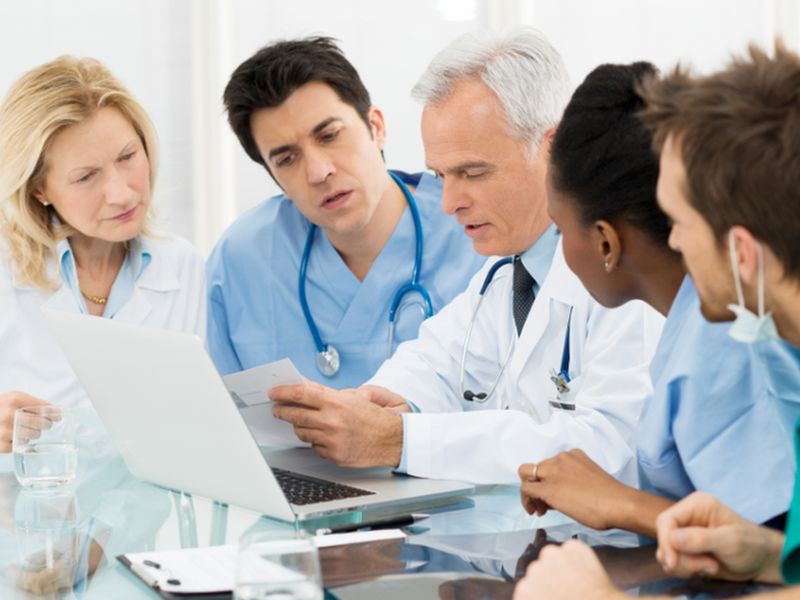 TUESDAY, May 23, 2017 (HealthDay News) -- Major U.S. teaching hospitals are often considered more expensive than the competition, but a new study suggests they may have an important quality advantage.
Older adults treated at major teaching facilities are less likely to die in the weeks and months following their discharge than patients admitted to "non-teaching" or community hospitals, the study found.
The study involved more than 21 million hospitalizations of Medicare beneficiaries from 2012 through 2014.
Overall, the likelihood of dying within 30 days of being admitted for care was 1.5 percent lower at major teaching facilities compared with non-teaching hospitals. (Thirty-day mortality is a widely used measure of hospital quality.)
Even after adjusting for patient and hospital characteristics that could influence the data, the difference was still 1.2 percent, the findings showed.
Put another way, that means "for every 84 patients treated at a major teaching hospital that otherwise would have gone to a non-teaching hospital, one fewer patient dies," said lead author Dr. Laura Burke.
If death rates at non-teaching hospitals were similar to major teaching facilities, there would be roughly 58,000 fewer deaths per year among these patients, she said.
Researchers don't know exactly why this difference exists. Could it be access to the latest technology or 24/7 consulting services? Is it related to the research they conduct or the teaching environment?
"Even for fairly routine problems, teaching hospitals tended to have lower mortality, which we found surprising," said Burke, an emergency physician at Beth Israel Deaconess Medical Center in Boston.
The finding suggests there's an "independent effect of being a major teaching hospital that confers some benefits to patients," she said.
The analysis updates decades-old studies comparing the quality of care at teaching and non-teaching hospitals. It highlights the importance of considering the quality -- as well as the cost -- of hospital care in the United States.
In recent years, some health plans have shifted to "narrow networks" that exclude teaching hospitals out of concern that they may be high cost, the study authors noted.
Gerard Anderson, professor of health policy and management at Johns Hopkins Bloomberg School of Public Health in Baltimore, said, "This is a well-done study."
Most such comparisons find worse outcomes for teaching hospitals because they fail to adequately control for severity of illness, Anderson explained. Teaching hospitals often get a sicker mix of patients.
Burke pointed out that fewer than 6 percent of the nation's hospitals are major teaching hospitals. These facilities are affiliated with medical schools and train a majority of the nation's future physicians.
For the study, Burke and colleagues at the Harvard T.H. Chan School of Public Health examined hospitalizations at close to 4,500 hospitals across the United States.
The investigators looked at 7-, 30- and 90-day death rates for all hospitalizations at major and minor teaching hospitals and non-teaching hospitals. They also looked at mortality rates for 15 common medical conditions, such as pneumonia and stroke, and six surgical procedures, including hip replacement and heart bypass.
Across all measures, major teaching hospitals either had lower mortality or there was no significant difference. But that doesn't mean people should avoid their local community hospital, Burke said.
"Clearly some community hospitals are excellent and, unfortunately, we don't always have great ways to know what a good or bad hospital is," she said.
Anderson added, "For the patient choosing a specific hospital, knowing that it is a teaching hospital does not convey very much information. You need to know if the specific hospital has good outcomes and if the hospital has good outcomes for that specific condition."
He said the physician managing that care "also has a very important role."
Because the study was limited to patients on Medicare, the publicly funded insurance plan for the elderly, it's not known if the results would apply to other age groups.
In follow-up studies, Burke and colleagues hope to identify what makes for better patient outcomes at major teaching hospitals and find ways to replicate those resources and strategies at non-teaching hospitals.
The study was funded by the Association of American Medical Colleges, which had no role in its design, execution, or analysis. The results were published May 23 in the Journal of the American Medical Association.
SOURCES: Laura Burke, M.D., emergency physician, Beth Israel Deaconess Medical Center, Boston; Gerard Anderson, Ph.D., professor, health policy and management, Johns Hopkins Bloomberg School of Public Health, Baltimore; May 23/30, 2017, Journal of the American Medical Association
HealthDay
Copyright (c) 2017
HealthDay
. All rights reserved.
News stories are written and provided by HealthDay and do not reflect federal policy, the views of MedlinePlus, the National Library of Medicine, the National Institutes of Health, or the U.S. Department of Health and Human Services.
More Health News on