Alzheimer's Deaths Jump 55 Percent: CDC: MedlinePlus Health News
Alzheimer's Deaths Jump 55 Percent: CDC
More patients also dying at home, with the caregiving burden falling on loved ones
Thursday, May 25, 2017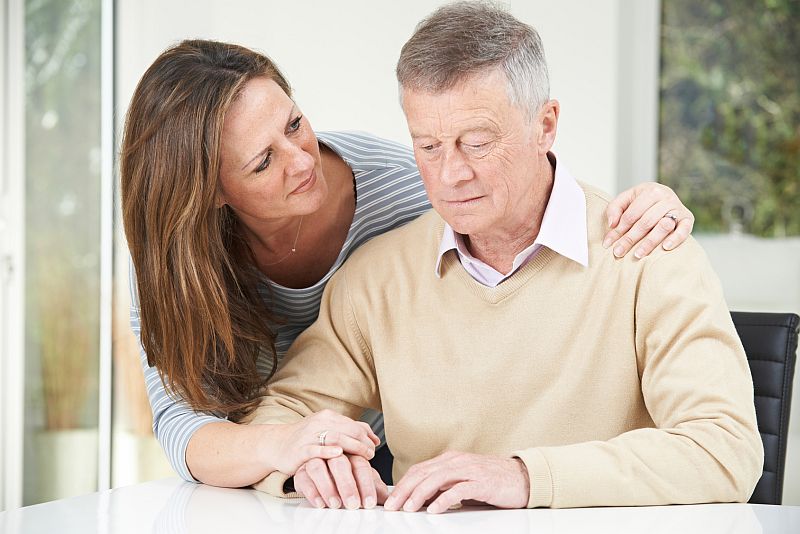 THURSDAY, May 25, 2017 (HealthDay News) -- As more baby boomers age, deaths from Alzheimer's disease have jumped 55 percent, and in a quarter of those cases the heavy burden of caregiving has fallen on loved ones, U.S. health officials report.
"Alzheimer's disease is a public health problem that affects not only people with Alzheimer's disease, but also the people who provide care to them, which is often family members," said report author Christopher Taylor. He's an epidemiologist at the National Center for Chronic Disease Prevention and Health Promotion.
The number of Americans over 65 is growing rapidly, and age is the greatest risk factor for Alzheimer's disease, Taylor noted.
One Alzheimer's expert described the news as dire.
"This is an enormous problem that is only growing, it's only going to get worse -- we are staring at a tsunami of Alzheimer's disease," said Keith Fargo, director of scientific programs and outreach at the Alzheimer's Association.
Fargo added that the 55 percent increase in Alzheimer's deaths is an "adjusted number" that levels age differences in the population. "When you do the math on the unadjusted numbers, the death rate actually increased 83 percent from 1999 to 2014," he said.
And, more Alzheimer's sufferers are dying at home. During the 16 years covered by the study (1999-2014), that number increased from 14 percent to 25 percent, according to the report.
"With more people dying at home, there is an increased need for caregivers, because in the late stages of Alzheimer's. patients are completely dependent on caregivers. At home, a lot of times it's done by friends and family," Taylor said.
This suggests that many of these caregivers would benefit from more support, including education and other services, he said.
The increase in Alzheimer's deaths is occurring for several reasons, Taylor said. They include an aging population and better diagnosis of the disease. Also, Alzheimer's is being listed more often on death certificates as a cause of death, he said.
Alzheimer's disease is a fatal type of dementia and the sixth leading cause of death in the United States. It accounted for nearly 4 percent of all deaths in 2014. Alzheimer's is the fifth leading cause of death among people aged 65 and older, according to the report.
Fargo said it's alarming that fewer people with Alzheimer's are passing away in nursing homes. He speculated that many people cannot afford nursing home care.
"Nursing home care is not paid by Medicare. People think it is, but it's not, and it costs $80,000 to $90,000 per year for a person to be in a nursing home," Fargo said. "So, I have to wonder if part of the issue is an economic issue."
During the course of the disease, Alzheimer's patients pass through a dementia phase, but they ultimately end up bedridden, Fargo said.
"For every person with Alzheimer's there are three people providing care for them," he said. "We know that caregivers for Alzheimer's are more likely to have depression, anxiety and they spend more on their own health care each year because of the physical toll that it takes."
Alzheimer's is the most expensive disease in the United States, Fargo said. "Out of every 5 Medicare dollars, 2 of them are spent on someone who has Alzheimer's disease or another dementia -- that's just not sustainable."
The first priority is to find a cure, Fargo said. "There is tremendous optimism in the scientific community that we can and will do that," he said.
Key findings in the report, which was published May 26 in the U.S. Centers for Diseaase Control and Prevention's Morbidity and Mortality Weekly Report, include:
The death rate from Alzheimer's increased 55 percent -- from nearly 17 per 100,000 people in 1999 to slightly more than 25 per 100,000 in 2014.
Most Alzheimer's patients die in a nursing home or long-term care facility, but that number has dropped from 68 percent in 1999 to 54 percent in 2014.
Counties with the highest Alzheimer's death rates are mostly in the Southeast. Clusters are also seen in the Midwest and on the West Coast.
To come to their conclusions, the CDC researchers culled state and county death certificate data from the National Vital Statistics System.
One specialist said the number of deaths from Alzheimer's will continue to climb, and the financial burden will eventually become untenable.
"There has been an increased effort to list Alzheimer's disease rather than earlier traditions of listing only more proximate causes of death such as cardiac arrest," said Dr. Sam Gandy, director of the Center for Cognitive Health at Mount Sinai Hospital in New York City.
So, an increase in Alzheimer's disease as a cause of death, and especially in home deaths, is being seen, he explained.
"This probably also reflects true increased cases of death due to Alzheimer's disease due to aging of the baby boom, the peak of which is yet to come. By 2050, at the current pace, Alzheimer's disease alone will consume the entire Medicare budget," Gandy said.
SOURCES: Christopher Taylor, Ph.D., epidemiologist, National Center for Chronic Disease Prevention and Health Promotion, U.S. Centers for Disease Control and Prevention; Sam Gandy, M.D., Ph.D., director, Center for Cognitive Health, Mount Sinai Hospital, New York City; May 26, 2017, Morbidity and Mortality Weekly Report
HealthDay
Copyright (c) 2017
HealthDay
. All rights reserved.
News stories are written and provided by HealthDay and do not reflect federal policy, the views of MedlinePlus, the National Library of Medicine, the National Institutes of Health, or the U.S. Department of Health and Human Services.
More Health News on