Most Smokers With Mental Illness Want to Kick the Habit: MedlinePlus Health News
Most Smokers With Mental Illness Want to Kick the Habit
But psychiatrists and caseworkers often don't recognize this need, survey finds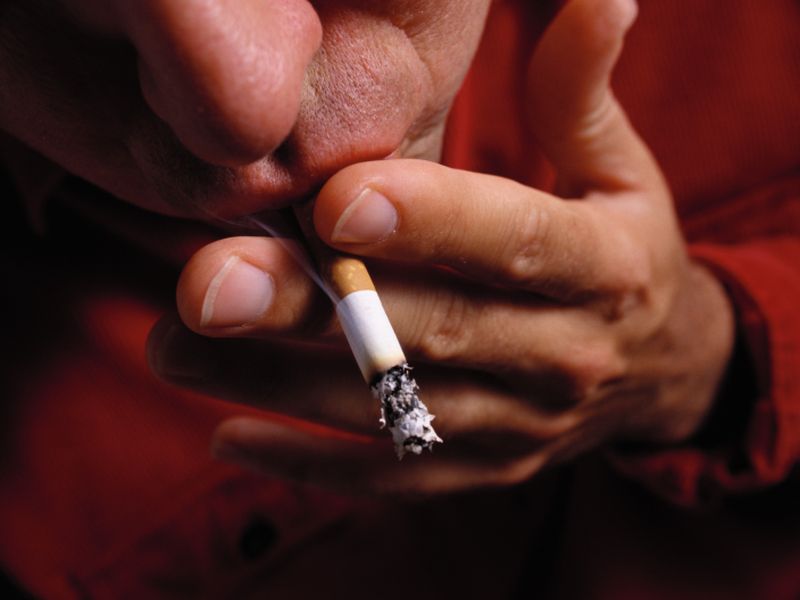 MONDAY, Jan. 16, 2017 (HealthDay News) -- Nearly six in 10 Americans with severe mental illness smoke, and a new study suggests that many of them want to quit.
The problem is that many of these patients don't get help from their psychiatrists and caseworkers, researchers report.
"Patients with serious mental illness die an average of 25 years younger than people who don't have these problems, and smoking is a big factor," said study author Dr. Li-Shiun Chen. She's an assistant professor of psychiatry at Washington University School of Medicine in St. Louis.
"Smoking is a common and serious problem for our patients, and although smoking rates have been decreasing in the general population, the rates remain very high in this vulnerable population," Chen said in a university news release.
In the past, psychiatric wards allowed patients to smoke so they could focus on treatment for their mental conditions, the researchers pointed out.
But study co-author Dr. Laura Jean Bierut said that "in the past few years, research has shown that smoking cessation is beneficial to the mental health of psychiatric patients." Bierut is a professor of psychiatry at the university.
"When they stop smoking, it decreases the risk of recurrent depressive episodes that can lead to hospitalization. It also decreases the amount of medication they need. Our understanding has evolved. Twenty years ago, doctors might have thought that continuing to smoke didn't have mental health repercussions, but now we know better," Bierut added.
For the study, the researchers gave a survey to just over 200 people with serious mental illness at clinics in and around St. Louis. Among these patients, more than 80 percent of those who smoked wanted to quit. The findings showed that 44 percent wanted to take medications to do so, but only 13 percent were taking smoking-cessation drugs.
And while one-quarter of the patients wanted to get counseling to help them quit, only 5 percent were actually getting it, the researchers found.
Meanwhile, a survey of mental health providers revealed that 91 percent of psychiatrists and 84 percent of caseworkers didn't think their patients actually wanted to quit smoking.
"There is quite a disconnect between the two groups," Chen said. "Our goal is to realign the desires of patients and the perspectives of the physicians who treat them."
Going forward, "we want the providers to be aware of patient-reported treatment needs and smoking behaviors," Chen said. "We want the psychiatrists and caseworkers to know whether their patients have expressed a wish to stop smoking so that they can refer them to counseling or provide them with prescriptions for nicotine lozenges, patches or other medications that may help these patients quit smoking."
The study was published online recently in the Community Mental Health Journal.
SOURCE: Washington University School of Medicine, news release, Dec. 29, 2016
HealthDay
Copyright (c) 2017
HealthDay
. All rights reserved.
News stories are written and provided by HealthDay and do not reflect federal policy, the views of MedlinePlus, the National Library of Medicine, the National Institutes of Health, or the U.S. Department of Health and Human Services.
More Health News on:
Monday, January 16, 2017