Could Grilled, Smoked Meats Lower Survival After Breast Cancer?: MedlinePlus Health News
Could Grilled, Smoked Meats Lower Survival After Breast Cancer?
Study can't prove cause and effect, but raises questions about beef, pork, lamb cooked at high temps
Wednesday, January 18, 2017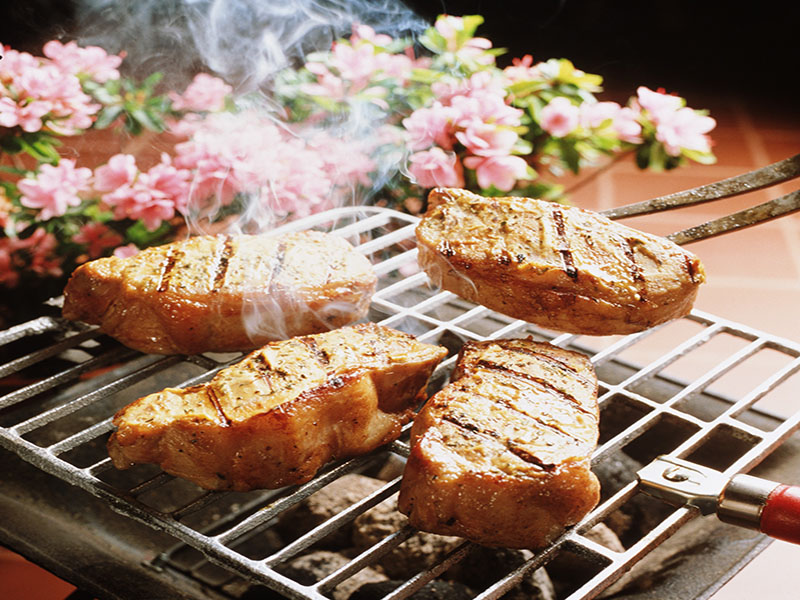 WEDNESDAY, Jan. 18, 2017 (HealthDay News) -- Research has suggested that diets high in barbecued, grilled and smoked meats could increase the risk of breast cancer. Now, a new study finds these cooking methods may also lower survival after a breast cancer diagnosis.
The study involved more than 1,500 women who had been diagnosed with the cancer in 1996 and 1997. The study participants were followed for nearly 20 years.
Eating lots of grilled, barbecued or smoked meat before their cancer diagnosis was linked with a 23 percent increased risk of dying from any cause during the follow-up period compared with low intake, the researchers said.
And continuing to eat lots of meat cooked in this fashion after breast cancer seemed to increase those odds, the findings suggested.
Beef, pork and lamb, in particular, were singled out as potentially troublesome.
Grilling, smoking and cooking meats at high temperatures produce cancer-causing substances, said study researcher Marilie Gammon.
However, while the study suggests that habitually eating grilled, barbecued and smoked meats may increase the risk of death after breast cancer, it cannot prove cause and effect.
"It is not a randomized clinical trial, where participants are randomly allocated to receive the exposure or not," said Gammon. She's a professor of epidemiology at the University of North Carolina at Chapel Hill.
But, Gammon added, this study "is the first to report on whether intake of grilled and smoked meat is associated with mortality after breast cancer."
The study participants were from Long Island, N.Y. The women were interviewed about their eating habits after their breast cancer diagnosis, and again about five years later. The researchers took into account numerous factors in classifying patients as having low or high meat intake, including types of meats eaten and during which seasons.
After roughly 18 years of follow-up, the investigators found that nearly 600 of the women had died, 237 of them from breast cancer-related causes. The researchers then looked to see if the type and amount of meat consumed had any link with the risk of death during the study period.
In background notes, the researchers pointed out that harmful hydrocarbons created by grilling and smoking meats have been linked to breast cancer.
To minimize risk, the American Cancer Society suggests choosing lean cuts and trimming excess fat. Fat dripping onto hot coals causes the smoke that can contain potential cancer-causing agents. Less fatty meats produce less smoke when grilled.
Stop short of cooking meat so it is charred and black, the cancer society advises. If a portion of the meat is charred, don't eat that part.
This area of research is in its early stages, Gammon said. More studies are needed before specific recommendations can be made to breast cancer patients.
Until then, women should discuss the issue with their doctors and be alert to additional studies on the topic as they come out, Gammon advised.
The study was published online Jan. 4 in the Journal of the National Cancer Institute.
SOURCES: Marilie Gammon, Ph.D., professor of epidemiology, University of North Carolina, Chapel Hill; Jan. 4, 2017, Journal of the National Cancer Institute, online
HealthDay
Copyright (c) 2017
HealthDay
. All rights reserved.
News stories are written and provided by HealthDay and do not reflect federal policy, the views of MedlinePlus, the National Library of Medicine, the National Institutes of Health, or the U.S. Department of Health and Human Services.
More Health News on: