A 2nd Life for Risky Kidney Transplants?: MedlinePlus Health News
A 2nd Life for Risky Kidney Transplants?
Doctors say they cleared hepatitis C in organ recipients, perhaps shortening transplant waits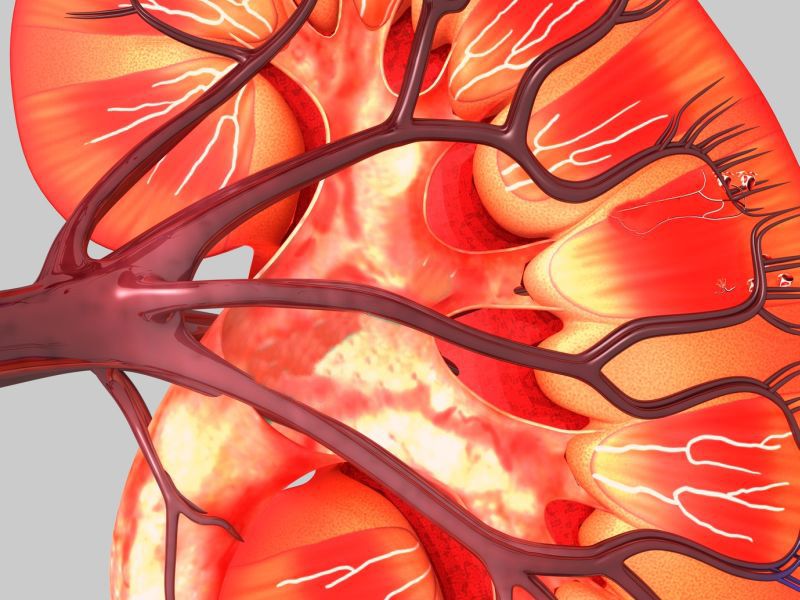 THURSDAY, May 11, 2017 (HealthDay News) -- Philadelphia doctors say they cleared hepatitis C infections in 10 patients who received kidneys from deceased donors who had the virus.
The findings suggest hundreds more of these transplants could take place each year, thus reducing wait time for a lifesaving kidney, the doctors said.
"Our pilot data demonstrate the ability to cure the contracted virus following transplantation in this patient population," said the study co-leader, Dr. David Goldberg.
"If future studies are successful, this may be a viable option for patients who may otherwise never see a transplant," added Goldberg, an assistant professor of medicine and epidemiology at the University of Pennsylvania School of Medicine.
In the United States, more than 97,000 people need a kidney transplant. Many must wait for five or more years, the researchers said in background notes.
Kidneys from donors with hepatitis C have been considered unsuitable. But, in 2016, researchers at Penn Medicine began investigating the effectiveness of transplants from donors with hepatitis C.
The kidneys were given to patients between 40 and 65 years old who had waited for at least a year and a half. Patients and their families underwent a thorough vetting process, to make sure they understood the risks involved.
"We started this trial in the hopes that, if successful, we could open up an entirely new pool of donor organs, and effectively transplant hundreds, if not thousands, more patients who are awaiting a lifesaving organ," said Goldberg. "Historically, hepatitis C-infected kidneys were often discarded, and were thought to be damaged or too 'high-risk.' "
After receiving the donor kidneys, all 10 patients tested positive for hepatitis C. All were treated with a 12-week antiviral therapy, known as elbasvir/grazoprevir, or Zepatier.
Early data from the study revealed this treatment effectively cleared hepatitis C from all of the patients.
"For so long, [hepatitis C] was a virus with a very negative stigma associated with it, especially among physicians. So it was interesting to see that patients were quick to jump at the chance to get this transplant, despite the possibility that they could get hepatitis C permanently," said the study's co-leader, Dr. Peter Reese.
Reese, an assistant professor of medicine and epidemiology, chairs the United Network of Organ Sharing's ethics committee.
"Going into the study, we knew it was a possibility that some or all of the patients would contract [hepatitis C], and that they could have the disease for the rest of their lives if we were unsuccessful. But for these patients, getting off of dialysis and getting back to their normal lives was very much worth the risk," Reese said.
The findings were presented at a recent meeting of the American Society of Transplant Surgeons and the American Society of Transplantation in Chicago. They were also published April 30 in the New England Journal of Medicine.
SOURCE: Penn Medicine, news release, April 30, 2017
HealthDay
Copyright (c) 2017
HealthDay
. All rights reserved.
News stories are written and provided by HealthDay and do not reflect federal policy, the views of MedlinePlus, the National Library of Medicine, the National Institutes of Health, or the U.S. Department of Health and Human Services.
More Health News on
Thursday, May 11, 2017