Blood Levels of Meat-Linked Chemical Tied to Odds of Heart Trouble: MedlinePlus Health News
Blood Levels of Meat-Linked Chemical Tied to Odds of Heart Trouble
Produced when meat, eggs and dairy are digested, TMAO may trigger plaque buildup in vessels, researchers explain
Wednesday, January 11, 2017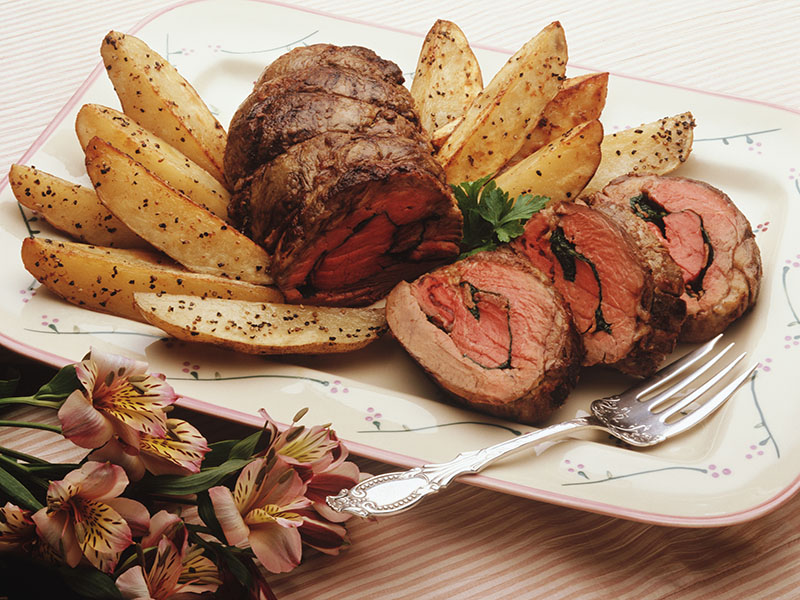 WEDNESDAY, Jan. 11, 2017 (HealthDay News) -- A molecule produced in the digestion of red meat, eggs and dairy products is linked to an increased risk of a fatal heart attack or stroke, researchers say.
Patients with high blood levels of trimethylamine N-oxide (TMAO) were six times more likely within the next month to die, suffer a heart attack or stroke, or require surgery to reopen a blocked artery, according to the study.
TMAO also predicted long-term health risks, researchers said. People with the highest blood levels of TMAO were nearly twice as likely to die within seven years.
"A high TMAO level predicted who went on to experience a major cardiovascular event," said lead researcher Dr. Stanley Hazen, chair of cellular and molecular medicine at the Cleveland Clinic's Lerner Research Institute.
TMAO is produced by gut bacteria during digestion of animal-based food, and accumulates in blood plasma, Hazen explained.
Previous animal testing has shown TMAO could increase heart health risks in a couple of ways, he said.
It appears to cause "hair-trigger" clotting by blood cells called platelets, which can lead to a blocked artery, Hazen said.
"If you infuse TMAO into the blood, you can show that platelets become hyper-responsive," he said. "A lower degree of stimulus can produce a more pronounced and more robust degree of platelet activation and more clot formation."
TMAO also appears to contribute to hardening of the arteries by enhancing the ability of cholesterol to form deposits in blood vessels, Hazen added.
To see whether the molecule could be used as a sign of future heart problems, Hazen and his fellow researchers examined two sets of patients -- 530 people in Cleveland and more than 1,600 in Switzerland.
The American patients had been admitted to the ER of the Cleveland Clinic with chest pain, while the Swiss patients had required imaging tests after admission to one of four university hospitals with chest pain.
The patients were followed up for several years to monitor for outcomes such as heart attack, stroke, death from any cause, death specifically due to heart problems, or surgery to reopen a blocked blood vessel.
Patients in Cleveland with TMAO levels that placed them in the top 25 percent were six times more likely to die or experience a heart-related health crisis within 30 days, and nearly twice as likely to die within seven years.
The Swiss results were not as strong, showing a 57 percent increased risk of a heart-related health crisis and a 60 percent increased risk of death within one year, the study says.
Hazen noted that TMAO also appeared to outperform one traditional blood marker of heart attack, troponin. Troponin is a protein released by damaged heart muscle cells, and is considered the best biomarker for detecting a heart attack.
About 31 percent of Cleveland patients who tested high for TMAO but negative for troponin proceeded to have a heart-related crisis within 30 days, and about 37 percent within six months, the study found.
"A lot of people present with chest pain and they still have not had a high cardiac enzyme," Hazen said. "It can take several hours for levels to go up. That's why they are asked to sit and wait in an observation unit, to see whether or not they are actually having a heart attack."
In the future, doctors may want to consider using TMAO as a blood marker for potential heart problems, Hazen said.
TMAO testing is available and relatively cheap, costing around $50, the researchers said in background information.
However, there's no quick method for testing TMAO blood levels, Hazen said. To be useful in an emergency setting, a new test with rapid turnaround will need to be developed.
Overall, research into TMAO has produced mixed findings, making it hard to draw any firm conclusions regarding the molecule's usefulness, said Donna Arnett, a past president of the American Heart Association.
"These results are more hypothesis-generating than definitive about a change in a diagnostic marker for clinical practice," said Arnett, who is now dean of the University of Kentucky College of Public Health.
Arnett noted that even this study's results are mixed, with the smaller Cleveland group showing a much larger connection between TMAO and heart disease than the larger Swiss group.
Cardiologist Dr. Sameer Bansilal echoed Arnett's reservations, saying that the "event rates in the Cleveland Clinic cohort" were "quite astronomical."
"The findings in the Swiss cohort are much more palatable," said Bansilal, an assistant professor of medicine and cardiology at Mount Sinai Health System in New York City.
Hazen said the new study does indicate potential benefits from limiting animal protein in your diet, although he added that some people are naturally inclined to high TMAO levels due to the makeup of their gut bacteria.
"In the end, we need to develop drugs that lower TMAO directly, like we have drugs for cholesterol," Hazen said.
The new study was published Jan. 11 in the European Heart Journal.
SOURCES: Stanley Hazen, M.D., Ph.D., chair, cellular and molecular medicine, Cleveland Clinic's Lerner Research Institute; Donna Arnett, Ph.D., dean, University of Kentucky College of Public Health, and past president, American Heart Association; Sameer Bansilal, M.D., assistant professor, medicine and cardiology, Mount Sinai Health System, New York City; Jan. 11, 2017, European Heart Journal
HealthDay
Copyright (c) 2017
HealthDay
. All rights reserved.
News stories are written and provided by HealthDay and do not reflect federal policy, the views of MedlinePlus, the National Library of Medicine, the National Institutes of Health, or the U.S. Department of Health and Human Services.
More Health News on: