Heavy Kids Face Triple the Odds for Depression in Adulthood: MedlinePlus Health News
Heavy Kids Face Triple the Odds for Depression in Adulthood
Risk was 4 times greater if they were also overweight as adults, study finds
Friday, May 19, 2017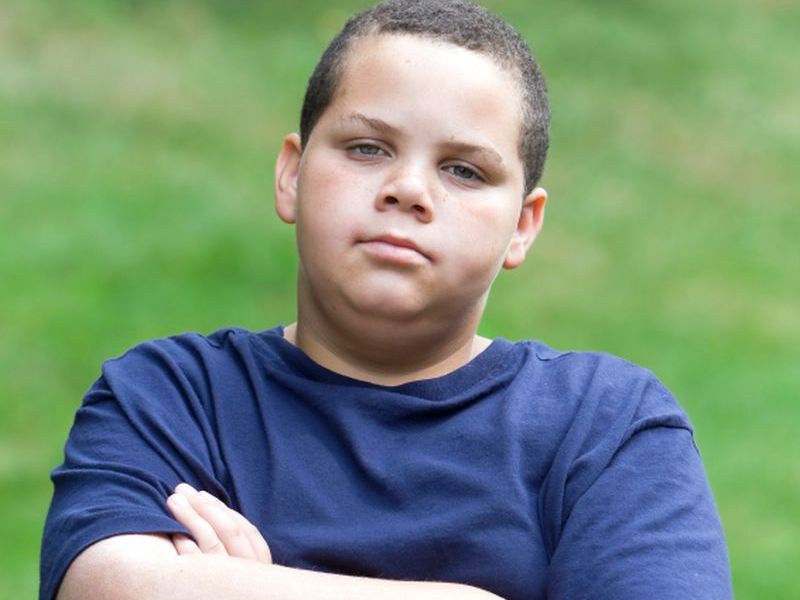 FRIDAY, May 19, 2017 (HealthDay News) -- As if it isn't tough enough being an overweight kid, a new study shows it could have long-lasting repercussions for psychological health, too.
When compared with normal-weight kids who become overweight adults, overweight or obese youth in the study faced three times the risk of depression in adulthood, the research found.
And, that risk was more than four times greater if they were overweight or obese in both childhood and adulthood, the investigators reported.
The study doesn't prove that obesity causes depression. But the finding confirms earlier reports of an increased depression risk in young people who are obese, the study authors said.
"Overweight children do have a higher risk of developing major depressive disorder over their lifetime compared to normal-weight children," said study author Deborah Gibson-Smith.
More than one in three children in the United States is overweight and nearly one in five is obese, according to data from the U.S. Centers for Disease Control and Prevention.
The relationship between obesity and depression is complex, said Gibson-Smith, a Ph.D. student at VU University Medical Center in the Netherlands.
For example, people who fail to conform to ideal body weight may have lower self-esteem, and "low self-esteem has been associated with subsequent depression," she observed.
It's also possible their vulnerability for both overweight and depression is partly due to a "shared genetic risk," she added.
According to Gibson-Smith, data on height and weight were collected between 1924 and 1944, when study participants were 8 years old -- and the prevalence of obesity was low.
"Maybe this group of children are those more genetically susceptible to obesity," she reasoned.
Gibson-Smith and colleagues used data from nearly 900 Icelanders born between 1907 and 1935 who participated in a population study that followed on an earlier, larger study.
Participants in the 2002 to 2006 follow-up study were 75 years old, on average. Data on childhood weight and height were obtained from school records, while midlife data came from the earlier study.
A BMI, or body mass index, of between 25 and 29.9 was considered overweight. BMI is a ratio based on height and weight that is used to estimate body fat.
In all, 39 people were diagnosed as ever having major depression. The data were adjusted for age and sex at the time of the BMI measurements.
The investigators found that excess weight in childhood is a stronger predictor of later depression than being overweight in midlife.
Ideally, parents should help their children achieve a healthier weight, Gibson-Smith said. However, she cautioned against focusing too much on size and instead "on being healthy and being physically active."
James Zervios is a spokesman for the Obesity Action Coalition, an advocacy organization for individuals affected by obesity.
Zervios said that his organization sees value in a "family-centric approach," implementing healthy changes that the whole family can make -- not singling out a child who may be dealing with a weight issue. The coalition's website offers resources on things to do with your children to increase healthy behaviors, and ways to talk to them about the issue.
"I also think it's important to talk with your child and see if they're being bullied or if they're being fat-shamed at school," Zervios added. "That can obviously impact the child's well-being and mental health."
The findings were presented Thursday at the European Congress on Obesity, in Porto, Portugal. Research presented at medical meetings should be considered preliminary until published in a peer-reviewed journal.
SOURCES: Deborah Gibson-Smith, Ph.D. student, VU University Medical Center, Amsterdam, The Netherlands; James Zervios, spokesman, Obesity Action Coalition; May 18, 2017, presentation, European Congress on Obesity, Porto, Portugal
HealthDay
Copyright (c) 2017
HealthDay
. All rights reserved.
News stories are written and provided by HealthDay and do not reflect federal policy, the views of MedlinePlus, the National Library of Medicine, the National Institutes of Health, or the U.S. Department of Health and Human Services.
More Health News on