https://medlineplus.gov/news/fullstory_162876.html
Weight Loss May Ease Psoriasis Symptoms, Study Finds
Quality-of-life boost seen in obese patients who lost significant amounts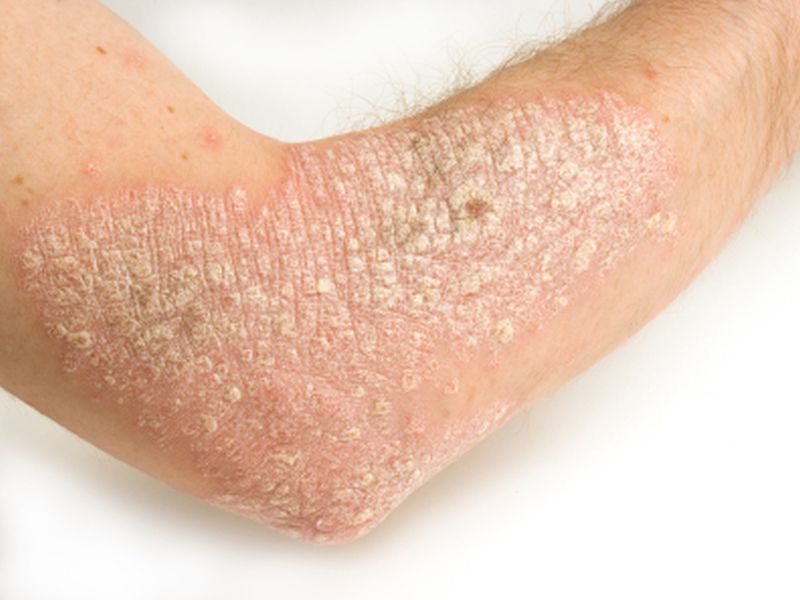 WEDNESDAY, Jan. 4, 2017 (HealthDay News) -- Could weight loss combat psoriasis?
Danish researchers are reporting that obese people with the skin condition who lose 10 percent to 15 percent of their weight may see significant and lasting improvement in their symptoms.
The study participants lost an average of 33 pounds over 16 weeks. A year later, those who were still about 22 pounds below their weight from the start of the study maintained their improvements in psoriasis symptoms and quality of life, the study authors said.
"Psoriasis is more than just a skin condition," said Dr. Doris Day, a dermatologist at Lenox Hill Hospital in New York City. Increased weight can stress the heart and other organs, and that stress can trigger psoriasis, she said.
"We know that weight and psoriasis together and independently increase the risk of high blood pressure and heart disease and diabetes. Psoriasis is an inflammatory condition -- it's not just a skin condition -- it can affect any organ," Day added.
Foods that make you gain weight can also be inflammatory, and since stress can make people eat more, that can trigger psoriasis. When you have increased weight, you also have more stress on major organs, which can also cause a cascade of effects that lead to psoriasis symptoms, Day explained.
The report was published recently in the American Journal of Clinical Nutrition.
Psoriasis is a chronic disease that is characterized by red, itchy and scaly patches of skin. The severity of the condition varies from person to person.
The study's senior researcher, Dr. Lone Skov, said, "Psoriasis is associated with obesity, but also with type 2 diabetes and cardiovascular disease." Skov is with the department of dermatology and allergy at Gentofte Hospital at the University of Copenhagen in Denmark.
Day explained that psoriasis is a genetic disease. "You can't control your genetics, but you can control other things like your diet and your weight and your activity level," she said.
"We know by affecting your overall health, you have a positive impact on psoriasis," Day added.
Day said she sees the benefits of weight loss in her own practice. "When I help patients get their psoriasis under control, they lose weight because they feel better about themselves and they want to take better care of themselves. It's really quite powerful," she said.
The new study is a continuation of a trial in which obese psoriasis patients were randomly assigned to a weight-loss diet.
Fifty-six patients participated in a 64-week weight-loss program. Skov and colleagues followed the patients for an additional 48 weeks of a weight-maintenance diet. Patients were evaluated using the Psoriasis Area and Severity Index and the Dermatology Life Quality Index.
The average weight at the start of the study was about 235 pounds. Among the 32 patients who completed the study, the average weight loss during the first 16 weeks was 33 pounds. Scores on both symptom tests improved, the findings showed.
After 46 weeks, the average weight loss was about 22 pounds. The improvement in test scores remained, the researchers found.
"Doctors should tell their patients with psoriasis about the association between obesity and psoriasis and, in obese patients, advise weight loss," Skov said.
SOURCES: Lone Skov, M.D., department of dermatology and allergy, Gentofte Hospital, University of Copenhagen, Denmark; Doris Day, M.D., dermatologist, Lenox Hill Hospital, New York City; Dec. 22, 2016, American Journal of Clinical Nutrition
HealthDay
Copyright (c) 2017
HealthDay
. All rights reserved.
News stories are provided by HealthDay and do not reflect the views of MedlinePlus, the National Library of Medicine, the National Institutes of Health, the U.S. Department of Health and Human Services, or federal policy.
More Health News on:
Wednesday, January 4, 2017