U.S. Health Care Costs From Birth Defects Total Almost $23 Billion a Year: MedlinePlus Health News
U.S. Health Care Costs From Birth Defects Total Almost $23 Billion a Year
CDC study finds many cases involve babies, but care may be needed for a lifetime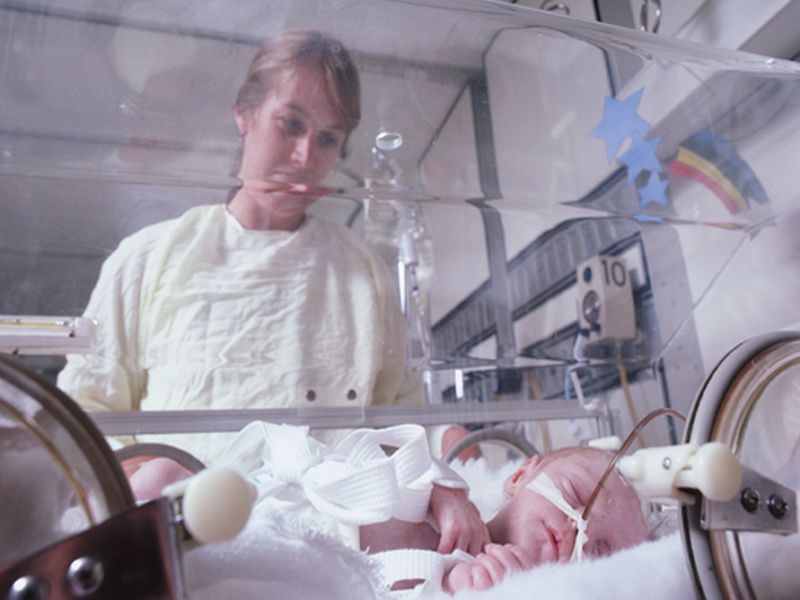 THURSDAY, Jan. 19, 2017 (HealthDay News) -- About three of every 100 U.S. newborns have a serious birth defect, and health care costs tied to these difficulties total almost $23 billion annually, new research shows.
The findings might help "motivate change" in reducing costs associated with birth defects "through prevention, early detection and care throughout the life span," said researchers from the U.S. Centers for Disease Control and Prevention.
According to the advocacy group March of Dimes, birth defects are health conditions in newborns that "change the shape or function of one or more parts of the body."
Common and serious birth defects include heart defects, cleft lip/palate and spina bifida (a major spinal cord defect), the group said.
Each year in the United States, more than 120,000 babies are born with a birth defect, the March of Dimes said. The costs to the baby's health -- and the emotional health of parents -- can be enormous.
But what about the long-term financial costs?
A team led by Sarah Tinker, of the CDC's National Center on Birth Defects and Developmental Disabilities, wanted to find out. To do so, the researchers analyzed 2013 data from a major sampling of hospital inpatients across the United States.
They found that "the estimated annual cost of birth defect-associated hospitalizations in the United States in 2013 was $22.9 billion." That number is for all patients affected by a birth defect, whatever their age.
The CDC researchers pointed out that hospitalizations tied to birth defects cost more, on average, that the typical hospital case. So, while cases related to a birth defect made up 3 percent of all hospitalizations, they consumed 5.2 percent of total hospital costs, Tinker's team noted.
Not surprisingly, costs were highest for cases involving newborns -- babies under 1 year of age. The care of these fragile infants cost almost $9 billion in 2013, or 35 percent of total costs, the CDC report showed.
But birth defects can also affect health throughout the life span. In fact, the average cost of hospital care for a birth defect-linked issue in a person over 65 was more than $13,000, the study authors noted.
The March of Dimes points out there are steps a mom-to-be can take to help prevent birth defects. These include taking folic acid before and during a pregnancy to help reduce the risk of severe anomalies called neural tube defects; getting a "preconception checkup" to ensure healthiness; avoiding alcohol during pregnancy, and protecting oneself from common infections.
The new report was published Jan. 19 in the CDC journal Morbidity and Mortality Weekly Report.
SOURCES: Morbidity and Mortality Weekly Report, Jan. 19, 2017; March of Dimes
HealthDay
Copyright (c) 2017
HealthDay
. All rights reserved.
News stories are written and provided by HealthDay and do not reflect federal policy, the views of MedlinePlus, the National Library of Medicine, the National Institutes of Health, or the U.S. Department of Health and Human Services.
More Health News on:
Thursday, January 19, 2017