https://medlineplus.gov/news/fullstory_162926.html
Delaying Chemo After Lung Cancer Surgery? Better Late Than Never
Patient recovery may mean longer time to the treatment, but study suggests it can still have benefit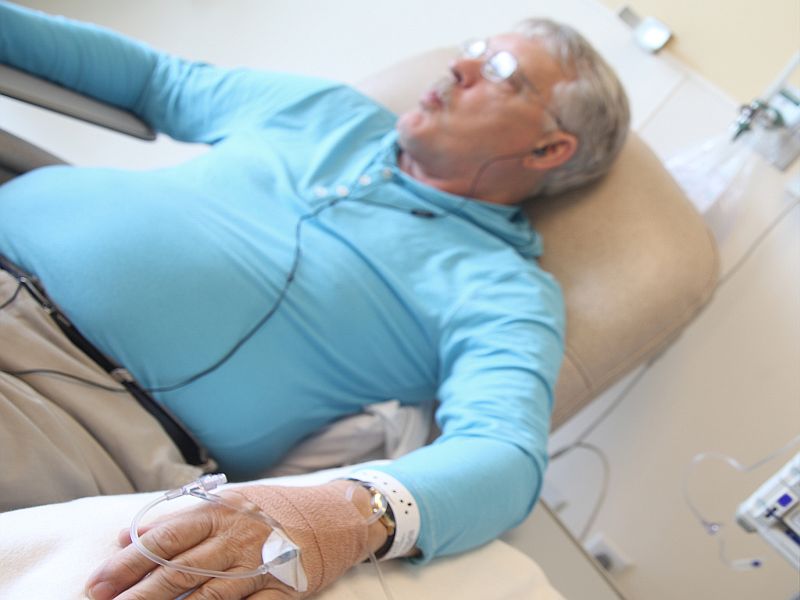 FRIDAY, Jan. 6, 2017 (HealthDay News) -- Lung cancer chemotherapy that's been delayed due to slow recovery from surgery can still provide real benefit to patients, a new study suggests.
The study involved thousands of patients with non-small-cell lung cancers (NSCLC), which comprise about 90 percent of all lung tumors. Lung cancer remains the leading cancer killer in the United States.
As the study authors explained, chemotherapy is a standard part of treatment for people who've already had surgery to treat tumors that are larger than 4 centimeters (about 1.5 inches) or that have spread to the lymph nodes.
Typically, this post-surgical chemotherapy begins within six weeks of the surgery. However, not all patients are able to tolerate chemotherapy so quickly after their operation, including those who develop surgical complications.
So, a team led by Dr. Daniel Boffa, from the Yale School of Medicine, wondered if post-op chemo was still worth it, even if delayed beyond those six weeks.
To find out, Boffa's team tracked a U.S. national cancer database involving more than 12,000 patients. The researchers compared the timing of post-surgical chemotherapy against the odds the patient would die over the next five years.
All of the patients included in the study had stage I, II or III non-small-cell lung cancers.
The researchers found that delaying chemotherapy -- even when administered up to four months after surgery -- didn't increase a patients' risk of death.
And compared to patients who only had surgery with no follow-up chemo, those who had delayed chemotherapy still had a lower risk of death during the study period.
Based on the findings, "clinicians should still consider chemotherapy in appropriately selected patients who are healthy enough to tolerate it, up to four months after (non-small-cell lung cancers) surgical resection," Boffa said in a Yale news release.
However, the new study couldn't confirm a cause-and-effect link between the chemotherapy and extended survival, so "further study is warranted to confirm these findings," Boffa said.
Two lung specialists said the new findings have value.
"This study found that good results can be obtained even if it takes four months for the patient to recover from surgery. More patients will be considered candidates for treatment now," said Dr. Len Horovitz, a pulmonary specialist at Lenox Hill Hospital in New York City.
Dr. Kevin Sullivan is an oncologist at Northwell Health Cancer Institute in Lake Success, N.Y. He called the new study "very well done and interesting."
But he stressed that decisions regarding post-op chemotherapy are always "difficult," and each case must be looked at individually. Factors such as other illnesses the patient might be battling, or his or her physical ability to deal with chemo, "play into an oncologist's decision whether to administer chemotherapy -- and when."
And Sullivan believes the new study may not change current protocol.
"It is comforting to have some data to support one's decision to deliver adjuvant chemotherapy to a patient up to four months after surgery if faced with that scenario," Sullivan said. "Still, I believe most oncologists would not change their practice to purposely deliver adjuvant chemotherapy in a later fashion, rather than what has been the standard of within six weeks of surgery."
The study was published online Jan. 5 in the journal JAMA Oncology.
SOURCES: Len Horovitz, MD, pulmonary specialist, Lenox Hill Hospital, New York City; Kevin M. Sullivan, M.D., hematologist and medical oncologist, Northwell Health Cancer Institute, Lake Success, N.Y.; Yale University, news release, Jan. 5, 2017; JAMA Oncology, news release, Jan. 5, 2017
HealthDay
Copyright (c) 2017
HealthDay
. All rights reserved.
News stories are provided by HealthDay and do not reflect the views of MedlinePlus, the National Library of Medicine, the National Institutes of Health, the U.S. Department of Health and Human Services, or federal policy.
More Health News on:
Friday, January 6, 2017