Childhood Asthma May Encourage Obesity, Study Suggests: MedlinePlus Health News
Childhood Asthma May Encourage Obesity, Study Suggests
Fear of flare-ups might spur kids to limit physical activity, specialists say
Friday, January 20, 2017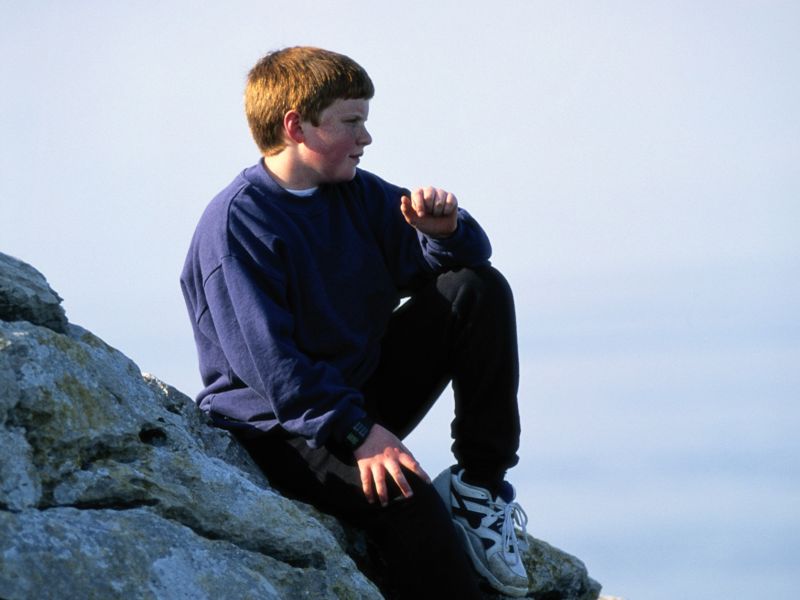 FRIDAY, Jan. 20, 2017 (HealthDay News) -- A young child with asthma has a greater risk of obesity than one without the chronic respiratory condition, a new study suggests.
Among nearly 2,200 elementary school students in California, researchers found that childhood asthma was linked to a 51 percent increased risk of obesity over the next 10 years.
"I was surprised it was that substantial," said study senior author Dr. Frank Gilliland. He is a professor of preventive medicine at the University of Southern California's Keck School of Medicine in Los Angeles.
However, kids who used "rescue" inhalers were less likely to become obese compared to those who did not treat flare-ups, the investigators found.
Prevalence of obesity and asthma has increased dramatically over the past several decades, and researchers suspect there's a biological connection between the two.
Previous research has shown obese children are at an increased risk of developing asthma. "This is the other way around -- kids with asthma have a substantial increase in the risk for developing obesity," Gilliland said.
Asthma patients have inflamed, narrowed airways. They may experience chest tightness, coughing and shortness of breath in response to infections, allergens, irritants in the air, physical activity and other triggers.
This study only found an association between asthma and obesity, not a direct cause-and-effect relationship. And it doesn't suggest that all kids with asthma will become obese.
Still, Gilliland theorized about why this link might exist.
Children may play outdoors less often when their asthma symptoms flare up, he suggested.
Also, "sleep disturbances are common in asthma, and a large risk factor for obesity," Gilliland said. In addition, obesity and asthma could have common genetic underpinnings, he noted.
The researchers also pointed out that weight gain is a side effect of many asthma medications.
A pediatric asthma specialist in Miami said she has noticed the link between asthma and obesity in her young patients.
It can be a vicious cycle, said Dr. Vivian Hernandez-Trujillo, section chief of allergy and immunology at Nicklaus Children's Hospital.
"Children who don't feel well [due to asthma] can't exercise," she said. Also, "part of it is fear." They're afraid of an asthma attack. That inactivity can lead to obesity, Hernandez-Trujillo said.
Doctors usually prescribe two types of medication for asthma: a long-term control inhaler; and a quick-relief, or rescue, inhaler for use during flare-ups, according to the U.S. National Heart, Lung, and Blood Institute.
For the study, the researchers reviewed medical records of over 2,000 students, aged 5 to 8, enrolled in the large Southern California Children's Health Study. At the study start, no one was obese; 13.5 percent had asthma.
Researchers followed the students for up to 10 years. During that time, nearly 16 percent of the children developed obesity.
Having asthma was linked to a raised risk, and the association held even after accounting for factors such as health insurance and physical activity, the study authors said.
But kids who used rescue medicine, such as albuterol, during an asthma attack had a 43 percent lower risk of becoming obese, the findings showed. However, the study found no link between maintenance medications (inhaled steroids) and reduced risk.
The researchers duplicated the findings in another sample of children from the Children's Health Study.
Hernandez-Trujillo said that the take-home message from this study is that "we need to ensure patients with asthma receive proper treatment."
As long as asthma is controlled, she said, children can lead a normal life, including getting physical activity.
Gilliland agreed. Be sure your child's asthma symptoms are not limiting sports activity or other exercise, he said.
Also, seek help if a child has sleep issues because good sleep can reduce obesity risk, he added.
Hernandez-Trujillo tells her patients who are trying out for sports, "It's not about being first. It's about trying."
The study was published online Jan. 20 in the American Journal of Respiratory and Critical Care Medicine.
SOURCES: Frank Gilliland, M.D., Ph.D., professor, preventive medicine, Keck School of Medicine, University of Southern California, Los Angeles; Vivian Hernandez-Trujillo, M.D., section chief, allergy and immunology, Nicklaus Children's Hospital, Miami, and clinical associate professor of pediatrics, Herbert Wertheim School of Medicine, Florida International University; Jan. 20, 2017, American Journal of Respiratory and Critical Care Medicine, online
HealthDay
Copyright (c) 2017
HealthDay
. All rights reserved.
News stories are written and provided by HealthDay and do not reflect federal policy, the views of MedlinePlus, the National Library of Medicine, the National Institutes of Health, or the U.S. Department of Health and Human Services.
More Health News on: