Why are Antibiotics Overprescribed for Meningitis Treatment?

Why are Antibiotics Overprescribed for Meningitis Treatment?
Thought Leaders
Dr Michael Griffiths
Senior Clinical Lecturer, Institute of Infection and
Global Health at the University of Liverpool &
Honorary Paediatric Neurology Consultant,
Alder Hey Children's Hospital
An interview with Dr Michael Griffiths on behalf of World Meningitis Day on 24th April 2018, conducted by Alina Shrourou, BSc.
Why is meningitis contributing to the growing antimicrobial resistance crisis?
Meningitis is a relatively rare disease, with our estimates for the incidence of meningitis in the UK being about 3.2 cases of meningitis per 100,000 adults. Crucially, bacterial meningitis is linked to significant morbidity and mortality - up to 30% mortality in pneumococcal meningitis cases. To limit mortality, UK guidelines recommend antibiotics are started within an hour of hospital presentation. Therefore, antibiotics are started in most patients with suspected bacterial meningitis, even though up to 92% of them have a different diagnosis that does not need antibiotics.
Consequently, meningitis management results in an increase in both quantity and days of antibiotic use in hospitals, which all indirectly increase the risk of antimicrobial resistance.
What are the implications for a patient with viral meningitis given antibiotic treatment?
Antibiotics don't improve symptoms or shorten the duration of illness for patients with viral meningitis. Therefore, antibiotic provision is an unnecessary treatment. Patients are also exposed to extra risks with as unnecessary antibiotics pose the risk that the patient receiving a drug that may cause an allergic reaction
Hospital stay is often extended when antibiotics are prescribed and this extension of stay is linked to increased patient anxiety, discomfort and an extended stay increases the risk of a patient being exposed to hospital-acquired infection.
In a UK meningitis study led by the Liverpool Brain Infections group within the Institute of Infection and Global Health, we found the majority of patients who don't have true bacterial meningitis are prescribed antibiotics. Antibiotics are started in over two-thirds of patients with symptoms mimicking bacterial meningitis. Furthermore, these patients could remain on these antibiotics for 4 or more days.
Please describe the current test used to distinguish between viral and bacterial meningitis.
Currently, when a patient arrives at hospital with suspected meningitis, a lumbar puncture (LP) is the key diagnostic procedure. A lumbar puncture involves a needle into the canal, a fluid-filled space running down the spine, and the cerebrospinal fluid is drawn from the canal and sent to hospital laboratories. This can either be to microbiology, which focuses on bacteria, or virology that focuses on viruses.
© Casa nayafana/Shutterstock.com
Microbiology labs will try and culture or grow the bacteria from the fluid where culture normally takes around 48 hours to provide a result. Virology labs usually employ molecular methods such as PCR to see if they can detect the viruses. Testing via PCR offers a faster result, typically 2 to 4 hours from sample arriving in the lab, and it can be more sensitive than culture - particularly if the patient has already received antibiotics.
Systematic PCR testing for common viruses and bacteria known to cause meningitis, such as Enteroviruses or Streptococcus Pneumonia, are not always performed in hospital laboratories. In our UK Meningitis study we observed that pathogens were detected in less than 60% of suspected meningitis cases.
Faced by these dilemmas, clinicians often continue antibiotics despite no bacteria being detected.
What are the disadvantages associated with a lumbar puncture?
A lumbar puncture needs to be performed by a trained doctor. It can be done by a nurse, but in the UK it's often done by a junior doctor, and that doctor may need assistance from a nurse to support the patient, or may need an anaesthetist to help perform that lumbar puncture or provide an anaesthetic or some sort of block to reduce anxiety or pain associated with the procedure. The LP procedure typically takes between 30-60 mins. However, the LP can be delayed or not done, because we often request brain imaging to be done before the lumbar puncture to rule out raised intercranial pressure, and that means the patient then waits for the imaging, and then after that waits again for the LP.
The LP procedure may also be technically difficult. As a pediatric neurologist, in children the procedure can be challenging because it's difficult to simply keep the child still, and this is particularly a problem if the child is anxious as a result of being in hospital, away from their parents, or as part of that illness. You must have a group of people around you to keep them calm for the procedure for the procedure to be successful.
UK guidelines recommend antibiotics are started within an hour of hospital presentation, thus in a lot of patients the antibiotics have been started before LP. Starting treatment prior to LP is a problem because it reduces the bacterial load in the body, significantly reducing the chance for pathogen detection, from 85% to 55% sensitivity. Also treatment can alter CSF characteristics such as white cell distribution, so that bacterial meningitis mimics viral meningitis, making diagnosis more challenging.
Overall, delay in LP can lead to reduced chance of detecting a pathogen. In the UK meningitis study, we found a 1% reduction in detection a pathogen in CSF for each hour the LP was delayed.
The factors that contribute to delays in a lumbar puncture procedure are problematic, as we identified in the UK meningitis study that there was a 1% reduction in detection of pathogen for every hour that the LP was delayed.
Please outline the new test you have developed to distinguish between bacterial and viral meningitis. How does it work?
We have developed the TRIM test, which stands for Transcripts for Identifying Meningitis. It is based on the body's host response to infection. It measures the pattern or relative abundance of RNA transcripts in white cells circulating in the blood.
One transcript pattern indicates bacterial infection. If this pattern isn't seen, the test indicates the patient has a viral meningitis or meningism. The latter means a patient with symptoms of bacterial meningitis but no increase in white cells in the cerebrospinal fluid.
The exciting part of this test, is that we are using the body's white cells own ability to detect and communicate infection, so that we can look in the blood, to detect infection in remote parts of the body. In meningitis, we look in the blood to distinguish between bacterial or viral infection of the meninges or membranes covering the brain. What is also exciting, because the test is based on the body's host response to infection, is it can detect bacterial infection even after antibiotics have been given.
The TRIM test is a rule out test for bacterial meningitis. We aim for a blood sample to be collected on hospital admission. Once the sample is in the lab, the result will be available in 2-3hrs.
With our industrial partners, Fast Track Diagnostics, which are now part of Siemens Healthineers, we are developing a multiplex PCR assay compatible with standard laboratory equipment already widely available in hospitals.
We don't need any specialist kits and don't need to develop any new specialist equipment. The test will fit into current hospital practice. Working with laboratory staff, we have confirmed the TRIM test will fit into hospital workflows at the point of nucleic acid extraction from patient blood samples, where host rather than pathogen RNA will be extracted.
The test is also compatible with point of care devices. So in the future, the test could be used in low technology settings or places where it's hard to maintain laboratories.
Why is this test beneficial over the existing lumbar puncture procedure? And what do you hope to achieve with this test?
There is a need to be able to confidently and rapidly diagnose or exclude bacterial meningitis in patients.
Via the TRIM test, blood can be taken immediately on hospital entry, without needing to wait for the LP. The TRIM test result can be available soon after admission, within 2 to 3 hours.
To date, the test has exhibited high sensitivity - 100%, and specificity. The high sensitivity makes it an excellent RULE-OUT test.
Where the result indicates bacterial meningitis, the test will help clinicians to identify which patients need urgent LP and prompt starting of antibiotics - if not already started.
Where the result rules out bacterial meningitis, the test will help clinicians stop antibiotics earlier. In turn this will promote shorter in-patient care.
The test will help the clinician decide earlier which patients should or should not have antibiotics. In turn this offers to improve patient care.
Currently the NHS spends about £30 million on meningitis patient care. Roughly £5 million is used to care for bacterial meningitis patients. So, if you could quickly rule out the patients that don't have bacterial meningitis you will reduce the cost of care. Ruling out patients with symptoms mimicking bacterial meningitis could potentially save up to £21 million per year.
Has the new test been clinically approved? If not, what stage is it at?
Not yet, but the accuracy of the test has been assessed in UK adults attending hospital with suspected community acquired meningitis.
We are now about to start the TRIM test study trial which is being supported by MRC and our industrial partners. The study will validate test accuracy among suspected community acquired meningitis patients attending hospitals in the UK and Europe, focussing on Denmark, Netherlands and France.
As part of this study, the TRIM diagnostic will be field tested, to ensure it is easy to perform and interpret by hospital staff and patients. Throughout the study, we will be working in liaison with our industrial partners to ensure the test is made to highest commercial standards
We aim for the TRIM test to be available for clinical use by the end of the study – within 3 years.
What are the next steps for your research?
We are looking to expand the use of TRIM test technology. As you know, meningitis remains a dreadful disease in children. However, in children and especially neonates, it can be difficult to take large volumes of blood. As part of the TRIM study, we are examining ways to reduce the volume of blood needed in the test, to make it simple to use in children.
We are also beginning to look at the accuracy of the test in patients from lower middle income countries, such as in Africa. Microbiology laboratories are complex to maintain, requiring training, on-call staff, technology and finance. A test that would work via a point of care device opens up rapid accurate ruling-out of bacterial meningitis in resource poor settings, bringing new hope to these areas.
Although the TRIM test has been developed in meningitis patients, the principle of using host based markers to distinguish between bacterial and viral infection, is potentially very useful for assisting diagnosis in a range of bacterial infection syndromes, including pneumonia, bacteraemia, sepsis, etc.
We are already assessing the accuracy of our test in other bacterial infection syndromes, starting with pneumonia. Preliminary results are very exciting, showing accuracy to be essentially maintained. We are working with Fast Track Diagnostics to develop a similar study assessing test accuracy in pneumonia patients.
Why is World Meningitis Day important for meningitis patients, researchers and society as a whole?
For patients, we can't forget that meningitis is potentially a deadly disease, and that it can kill within 24 hours. While bacterial meningitis is thankfully becoming less frequent, in part because of vaccination, not all bacterial forms have a vaccine. Importantly, viral meningitis continues and viral meningitis is sometimes mislabeled as a benign illness, but as viral meningitis sufferers will tell you it's a devastating disease that impacts on their quality of life for several weeks or even months afterwards. Particularly problems of attention, emotional liability, depression, which then can limit their speed and ability to return to work or care for their family.
Valuable research is still needed, particularly to improve speed and accuracy of diagnostic tests, to support faster appropriate treatment. Further work is also needed to develop vaccines for the remaining strains of bacteria that cause meningitis and to develop more effective adjunctive treatments to prevent brain damage and limit the disability this causes.
Society needs to remain aware of this devastating disease and be supportive towards patients, families and carers of those who suffer or have suffered from meningitis.
Where can readers find more information?
About Dr Michael J Griffiths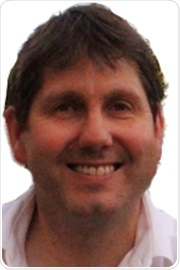 Dr Griffiths is a Senior Clinical Lecturer / Honorary Paediatric Neurology Consultant in the Institute of Infection and Global Health at the University of Liverpool and Alder Hey Children's Hospital, who aims to improve diagnosis, treatment and management of brain infections in the UK and world-wide.
Dr Griffiths' research interests lie in the host responses to severe infection, particularly neurological infectious insults and their clinical look-a-like conditions; the impact of these insults on brain development and resulting neurological disabilities. Mike's team focuses on diagnostic and prognostic markers of outcome in neurological insults and the pathogenesis of brain infections. They use transcriptomic and proteomic approaches to explore these responses, both in patient populations and human brain infection models.
Michael's team run multi-centre and single site studies examining brain infections in the UK, Europe (France, Netherlands, Denmark), Brazil, Malawi, Indonesia and Vietnam, including the MRC funded TRanscripts Identifying Meningitis (TRIM) test study and associated UK Meningitis study.