Research offers clues for improved influenza vaccine design | National Institutes of Health (NIH)

Institute/Center
Contact
Research offers clues for improved influenza vaccine design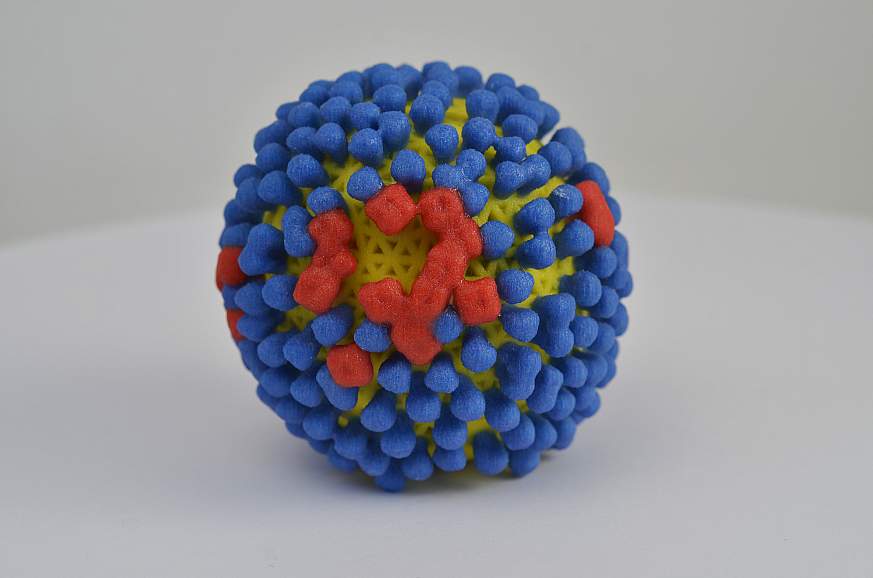 NIH
What
Influenza vaccines that better target the influenza surface protein called neuraminidase (NA) could offer broad protection against various influenza virus strains and lessen the severity of illness, according to new research published in
Cell
. Current seasonal influenza vaccines mainly target a different, more abundant influenza surface protein called hemagglutinin (HA). However, because influenza vaccines offer varying and sometimes limited protection, scientists are exploring ways to improve vaccine effectiveness. The new research builds on previous studies of NA and was conducted by a team of scientists including investigators from the
Centers of Excellence for Influenza Research and Surveillance (CEIRS)
program, which is organized and funded by the National Institute of Allergy and Infectious Diseases (NIAID), part of the National Institutes of Health.
Investigators analyzed blood samples from people vaccinated against influenza and people diagnosed with either the 2009 H1N1 influenza virus or H3N2 influenza viruses. The volunteers were recruited for this study or had taken part in prior influenza research studies. The analyses indicate that influenza vaccines rarely induce NA-reactive antibodies, whereas natural influenza infection induces these types of antibodies at least as often as they induce HA-reactive antibodies. Additional studies in mice reinforced the human data, indicating that current influenza vaccines do not induce NA-reactive antibodies efficiently.
Additional laboratory experiments show that the NA-reactive antibodies induced during natural influenza infection are broadly reactive, meaning they could potentially protect against diverse strains of influenza. To test this theory, scientists isolated NA-reactive monoclonal antibodies from the H3N2 and H1N1 influenza patients (N2-reactive antibodies and N1-reactive antibodies, respectively). They administered 13 N2-reactive antibodies to mice and subsequently infected the mice with a different H3N2 virus strain. Eleven of the 13 N2-reactive antibodies partially or fully protected the mice. They also administered eight N1-reactive antibodies to mice and subsequently infected the mice with a similar H1N1 virus strain or an H5N1-like virus strain. Four of the eight antibodies completely protected the mice against both virus strains.
The authors note that the findings suggest that influenza vaccines should be optimized to better target NA for broad protection against diverse influenza strains. In this regard, NIAID is supporting research to characterize NA responses in infected and vaccinated individuals and to determine the mechanism of action of NA protection. NIAID also supports "NAction!" a CEIRS working group that
identifies knowledge gaps in our understanding of NA and sets NA research priorities for improved influenza vaccines
. These efforts contribute to NIAID's larger plan to develop a universal influenza vaccine — a vaccine that can durably protect all age groups against multiple influenza virus strains.
Article
Y Chen et al. Influenza infection in humans induces broadly cross-reactive and protective neuraminidase-reactive antibodies. Cell DOI: 10.1016/j.cell.2018.03.030 (2018).
Who
Marciela DeGrace, Ph.D., project officer, Centers of Excellence for Influenza Research and Surveillance part of NIAID's Division of Microbiology and Infectious Diseases, is available for comment.
Contact
NIAID conducts and supports research — at NIH, throughout the United States, and worldwide — to study the causes of infectious and immune-mediated diseases, and to develop better means of preventing, diagnosing and treating these illnesses. News releases, fact sheets and other NIAID-related materials are available on the
NIAID website
.
About the National Institutes of Health (NIH):
NIH, the nation's medical research agency, includes 27 Institutes and Centers and is a component of the U.S. Department of Health and Human Services. NIH is the primary federal agency conducting and supporting basic, clinical, and translational medical research, and is investigating the causes, treatments, and cures for both common and rare diseases. For more information about NIH and its programs, visit
www.nih.gov
.
NIH…Turning Discovery Into Health

®