Genetically altered broadly neutralizing antibodies protect monkeys from HIV-like virus | National Institutes of Health (NIH)

Institute/Center
Contact
Genetically altered broadly neutralizing antibodies protect monkeys from HIV-like virus
NIH scientists report single dose elicited long-term protection.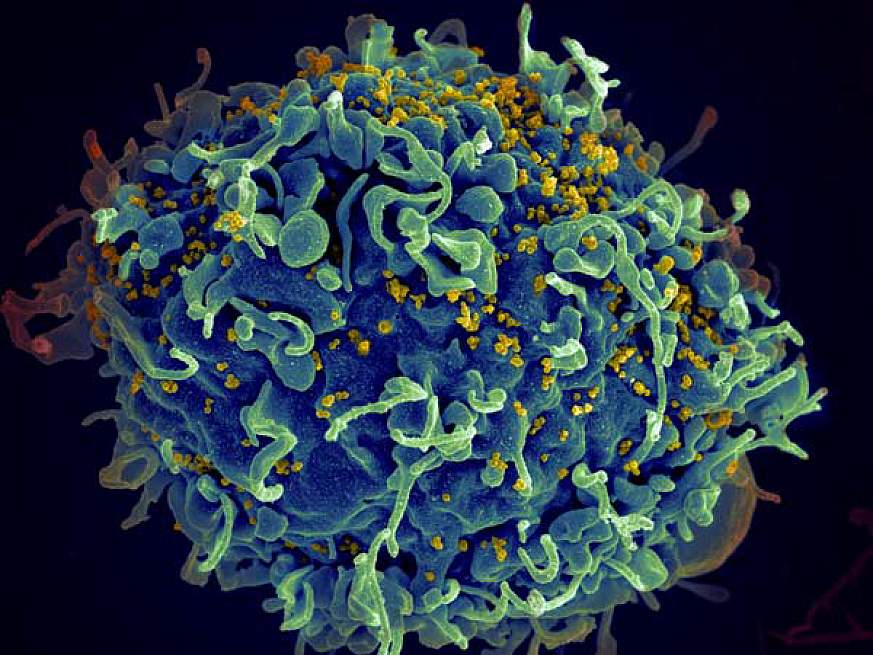 Seth Pincus, Elizabeth Fischer and Austin Athman, NIAID
What
Two genetically modified
broadly neutralizing antibodies
(bNAbs) protected rhesus macaques from an HIV-like virus, report scientists at the National Institute of Allergy and Infectious Diseases (NIAID), part of the National Institutes of Health. After introducing genetic mutations into two potent HIV bNAbs, researchers prepared intravenous infusions of two bNAbs known as 3BNC117-LS and 10-1074-LS. Single infusions of each modified bNAb protected two groups of six monkeys each against weekly exposures to simian-human immunodeficiency virus (SHIV) for up to 37 weeks, compared with a median of three weeks in 12 monkeys receiving no antibody. SHIV is a manmade virus commonly used in HIV nonhuman primate studies.
The study, led by Malcolm A. Martin, M.D., chief of the NIAID Laboratory of Molecular Microbiology, also assessed the efficacy of injecting a combination of both modified bNAbs into six monkeys subcutaneously — a route of administration considered more feasible in resource-limited clinical settings. This bNAb mixture, administered at a three-fold lower concentration than the individual antibodies infused intravenously, protected this group of monkeys for a median of 20 weeks.
Dr. Martin's team demonstrated that the genetic mutations introduced into the original bNAbs increased their durability following injection and led to the extended period of protection. The mutations did not affect the way the bNAbs bound to the virus but extended their activity following injection. This extended activity in the body could theoretically allow for longer periods between clinical visits to receive the prevention modality, if proven safe and effective in humans. This approach joins other
candidate drugs
and biomedical technologies that aim to provide long-term protection against HIV in the absence of an HIV vaccine. Among ongoing studies are two large Phase 3 trials in Africa and the Americas known as
the AMP Studies
, for antibody-mediated prevention.
Given the success of the modified bNAbs in nonhuman primates, researchers will next test their safety and efficacy in people. A Phase 1 clinical trial to evaluate 3BNC117-LS already has begun. To learn more about this study, visit ClinicalTrials.gov using identifier
NCT03254277
.
Article
R Gautam et al. A single injection of crystallizable fragment domain-modified antibodies elicits durable protection from SHIV infection. Nature Medicine DOI: 10.1038/s41591-018-0001-2 (2018).
who
Anthony S. Fauci, M.D., NIAID Director, and Malcolm A. Martin, M.D., lead author on the study and chief of the Laboratory of Molecular Microbiology in NIAID's Division of Intramural Research, are available for comment.
Contact
NIAID conducts and supports research — at NIH, throughout the United States, and worldwide — to study the causes of infectious and immune-mediated diseases, and to develop better means of preventing, diagnosing and treating these illnesses. News releases, fact sheets and other NIAID-related materials are available on the
NIAID website
.
About the National Institutes of Health (NIH):
NIH, the nation's medical research agency, includes 27 Institutes and Centers and is a component of the U.S. Department of Health and Human Services. NIH is the primary federal agency conducting and supporting basic, clinical, and translational medical research, and is investigating the causes, treatments, and cures for both common and rare diseases. For more information about NIH and its programs, visit
www.nih.gov
.
NIH…Turning Discovery Into Health

®