The Booze You Choose Can Sway Your Mood: MedlinePlus Health News
Wednesday, November 22, 2017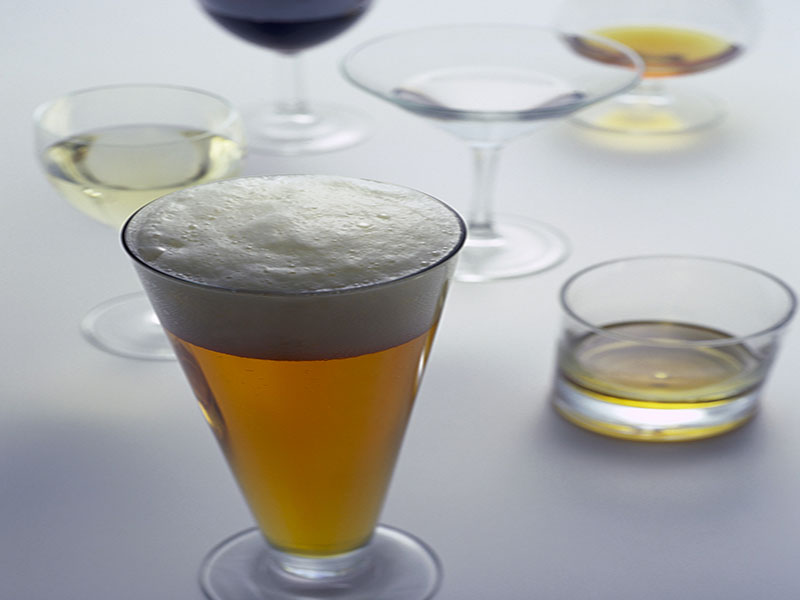 WEDNESDAY, Nov. 22, 2017 (HealthDay News) -- The booze you choose can frequently steer your mood, according to a new global survey.
About half of those who drink red wine and beer said it makes them feel relaxed and mellow, results from the Global Drug Survey show. Roughly two of five beer drinkers said the suds make them feel confident, while one-quarter of red wine drinkers said they feel sexier after a glass.
Hard liquor causes the wildest mood swings, the researchers found. Nearly 60 percent of liquor drinkers said the booze makes them feel energized and confident, but they also were more likely to feel aggressive, ill, restless or tearful compared with people drinking red wine or beer.
For example, nearly one-third of hard liquor imbibers said they were more likely to feel aggressive after a shot or two, compared with 2.5 percent of red wine drinkers and just under 7 percent of beer drinkers, the findings showed.
Advertising "pushes the positive emotions people might look for from drinking, but it is important to understand the negative ones as well," said researcher Mark Bellis. He is director of policy, research and international development with Public Health Wales NHS Trust in Cardiff.
"If people are to make informed decisions about their drinking, they need to know the full picture of how alcohol affects moods and emotions," Bellis added.
The survey results provide clear evidence that people often pick their drinks based on the mood they want to achieve, said Dr. Scott Krakower, assistant unit chief of psychiatry at Zucker Hillside Hospital in Glen Oaks, N.Y.
"They clearly lay out that sometimes people will use alcohol to regulate their emotions -- not only negative emotions, but positive emotions as well," Krakower said.
The Global Drug Survey gathered responses from nearly 30,000 people in 21 countries speaking 11 different languages. The survey ran from November 2015 to January 2016.
Bellis said that it makes sense that different types of drinks would work differently on the brain and emotions, given how alcohol levels vary.
"Spirits are often consumed more quickly and contain much higher concentrations of alcohol. This can result in a quicker stimulating effect as blood alcohol levels increase," he explained.
"They may also be consumed in different social occasions, so people may be drinking them deliberately to feel the drunken effect quickly, while other types of drink are more likely to be consumed slowly or with food," Bellis added. "As people get the kick from escalating alcohol levels, the same increases reduce the brain's ability to suppress impulsive feelings or to consider the consequences of acting on them."
The effect of alcohol also seems to vary somewhat by gender. The researchers found that women were more likely than men to associate most types of positive and negative emotions with drinking alcohol of any type.
There's one notable exception, however. Men more often associated feelings of aggression with alcohol, according to the survey results.
"Alcohol reduces consideration of the consequences of actions as it suppresses the more rational parts of the brain," Bellis said. "Generally, men have a greater involvement in violence than women, and so it is not surprising that drinking alcohol exposes some of this underlying difference in behaviors."
The survey results indicated that alcoholics in particular rely on drinking to feel better. For example, they were five times more likely to feel energized after imbibing than were people without a drinking problem.
But those good times come at a cost. Heavier drinkers also reported negative emotions more frequently. They were six times more likely to feel aggressive after drinking and also were more likely to feel tired or tearful.
The findings suggest that "people who are heavier drinkers are even more likely to associate certain drinks with energy and confidence. In some cases, they may be reliant on certain drinks for these feelings," Bellis said.
"Unfortunately, while looking for positive outcomes, heavier drinkers are also much more likely to report those aggressive, tearful and restless outcomes as well," he noted. "This can become a dangerous spiral, where drinking can be seen as a solution to emotional problems that it is actually aggravating."
If you feel like you're a mean or unhappy drunk, would switching from liquor to beer or wine help?
Maybe, Bellis added.
"Pacing any type of alcohol consumption is important to retaining control and avoiding getting more inebriated than you can manage," he said. "Opting for lower alcohol options and alternating alcoholic drinks with non-alcoholic ones can help."
Krakower, though, doesn't think that will help folks who are dependent on alcohol.
"It just doesn't work that great with alcoholism," Krakower said. "When you pick up one drink, it's hard to say, 'I'm only going to have two or three.' It usually becomes 10 or 20."
Results of the survey were published online Nov. 21 in BMJ Open.
SOURCES: Mark Bellis, director of policy, research and international development, Public Health Wales NHS Trust, Cardiff, Wales; Scott Krakower, D.O., assistant unit chief of psychiatry, Zucker Hillside Hospital, Glen Oaks, N.Y.; Nov. 21, 2017, BMJ Open, online
HealthDay
Copyright (c) 2017
HealthDay
. All rights reserved.
News stories are written and provided by HealthDay and do not reflect federal policy, the views of MedlinePlus, the National Library of Medicine, the National Institutes of Health, or the U.S. Department of Health and Human Services.
More Health News on