Middle-Age Fitness Helps Ward Off Stroke Later: MedlinePlus
Thursday, June 9, 2016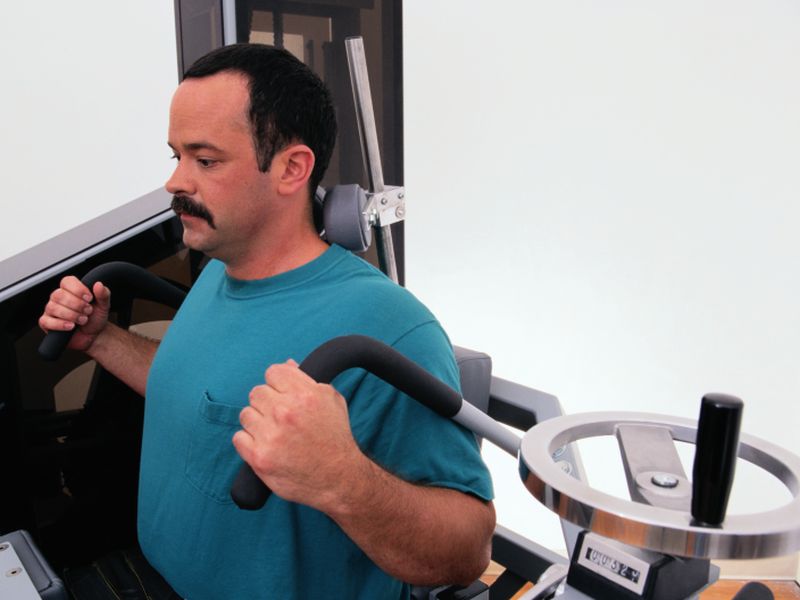 THURSDAY, June 9, 2016 (HealthDay News) -- Physical fitness in middle age may lower your risk of stroke after 65, a new study finds.
"It is becoming increasingly clear that healthy mid-life behaviors pay off as we age, and lower our risk of cardiovascular disease and stroke," said Dr. Ralph Sacco, chairman of neurology at the University of Miami Miller School of Medicine. He was not involved in the study.
Among nearly 20,000 adults in their mid to late 40s, researchers found the most fit had a 37 percent lower risk of having a stroke after 65, compared with the least fit.
The protective effect of fitness remained even after the researchers accounted for risk factors for stroke, such as high blood pressure, type 2 diabetes and an abnormal heart rhythm known as atrial fibrillation.
"Incorporating exercise and regular physical activity in one's day-to-day routine is important to improve fitness and lower risk of stroke and other cardiovascular diseases in older age," said lead researcher Dr. Ambarish Pandey. He is a cardiology fellow at the University of Texas Southwestern Medical Center in Dallas.
The American Heart Association recommends at least 150 minutes of moderate exercise a week or 75 minutes of vigorous exercise a week.
Pandey said an exercise routine should include aerobic exercise (such as jogging, swimming, walking or biking), plus strengthening exercise (such as free weights or strength-training machines).
Stroke is the fifth leading cause of death in the United States and a leading cause of long-term disability, Pandey noted.
Most strokes occur when a blood clot blocks a blood vessel in the brain, cutting off blood and oxygen. This causes brain cells to die and can leave permanent disability.
Pandey speculated that exercise might help prevent stroke by keeping blood vessels healthier and lowering inflammation that can affect their function.
The findings suggest doctors should consider low fitness levels a risk factor for stroke, the study authors said.
While lifelong fitness is best for optimum health, starting later in life is still beneficial. "It's never too late to exercise to lower the risk of heart attack and stroke," Pandey said.
The report was published online June 9 in the journal Stroke.
Pandey and colleagues analyzed 1999-2009 data from a study conducted by the Cooper Institute in Dallas. It used treadmill tests to measure heart and lung exercise capacity when participants were 45 to 50.
The most interesting finding in this study, Sacco said, was that the effect of fitness was independent of some traditional risk factors. "Diet was not evaluated and can also be linked to health fitness lifestyles," Sacco said.
Sacco agreed it's never too late to start getting fit to reap health benefits.
"Other studies have shown that physical activity, even among older individuals, can also lower stroke risk and be associated with less silent stroke and mental decline," Sacco said. "However, among older adults it is important to check with your physician before you start more vigorous physical activity."
SOURCES: Ambarish Pandey, M.D., cardiology fellow, University of Texas Southwestern Medical Center, Dallas; Ralph Sacco, M.D., chairman, neurology, University of Miami Miller School of Medicine; June 9, 2016, Stroke, online
HealthDay
Copyright (c) 2016
HealthDay
. All rights reserved.
News stories are provided by HealthDay and do not reflect the views of MedlinePlus, the National Library of Medicine, the National Institutes of Health, the U.S. Department of Health and Human Services, or federal policy.
More Health News on: