FDA Orders 'Black Box' Warning Label on Essure Long-Acting Contraceptive: MedlinePlus
FDA Orders 'Black Box' Warning Label on Essure Long-Acting Contraceptive
Agency says device remains 'appropriate' for many women, but also cites reports of serious complications
Monday, February 29, 2016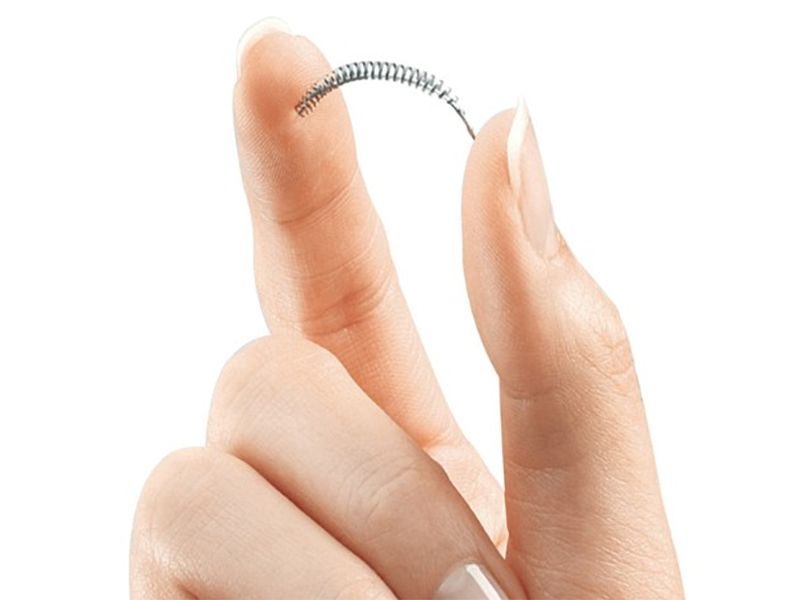 MONDAY, Feb. 29, 2016 (HealthDay News) -- A special "black box" warning should be added to packaging for the Essure implantable birth control device, based on concerns over serious complications, the U.S. Food and Drug Administration announced Monday.
The FDA also ordered Essure's manufacturer, Bayer, to conduct a new clinical study to gather more data about the health risks the device might pose for "in a real-world environment."
Essure is a permanent and nonsurgical form of birth control for women. It consists of flexible coils that are inserted through the vagina and cervix into the fallopian tubes, the FDA explained in a statement.
Scar tissue forms naturally around the coils, creating a barrier intended to prevent sperm from reaching the egg as they travel down the fallopian tubes into the uterus.
However, since the FDA approved Essure in 2002, the agency says it has received about 10,000 complaints about the device.
Complications from using Essure can include pain, abnormal bleeding, allergic reaction and tearing of the uterus or fallopian tubes if the device moves, the FDA said.
Dr. William Maisel, deputy director for science and chief scientist at the FDA's Center for Devices and Radiological Health, spoke about Essure during a news briefing late Monday. He said the agency has also received 631 reports of women becoming pregnant while using the product, and 294 reports of pregnancy losses.
Still, Maisel said, "it's important for women to know that Essure is extremely effective at preventing pregnancy. However, in order for it to be effective, the device must be placed properly and women must rely on an alternative form of birth control until they undergo an Essure confirmation test."
According to Maisel, "like all forms of birth control, Essure is not perfect and women may become pregnant despite use of the device. The lack of an Essure confirmation test is the most common factor contributing to unintended pregnancies in women with Essure."
Some have alleged that clinical trial records that led to Essure's approval were altered to favor the device, but Maisel said that an FDA re-analysis of the evidence has concluded these charges are baseless.
"In the end, our analysis did not find evidence of systematic or intentional modifications of study subject responses," he said. "The agency believes the original clinical data relied upon represents valid scientific evidence."
In addition to the boxed warning, the FDA also wants Bayer to include a "patient decision checklist" in Essure's packaging, "to ensure women receive and understand information regarding the benefits and risks of this type of device."
The checklist would be reviewed and signed by the patient and her doctor. It would list a series of health issues that could deter some woman from using Essure, and require that she promise to return to her doctor in three months to make sure the device has been properly placed.
The clinical trial ordered by the FDA will assess rates of complications with Essure and compare them to the complications associated with tubal ligation.
The study also will evaluate how complications affect a patient's quality of life, and identify reasons why women don't come back for follow-up testing three months after insertion to make sure that Essure has been properly placed.
The public and industry will have 60 days to comment on this draft guidance from the FDA, the agency said.
SOURCES: Feb. 29, 2016, statement and news briefing, with William Maisel, M.D., deputy director for science and chief scientist, Center for Devices and Radiological Health, U.S. Food and Drug Administration.
HealthDay
Copyright (c) 2016
HealthDay
. All rights reserved.
More Health News on: