Lack of Sleep May Give You the 'Munchies': MedlinePlus
Lack of Sleep May Give You the 'Munchies'
Chemical effect in the body is similar to that of marijuana, study says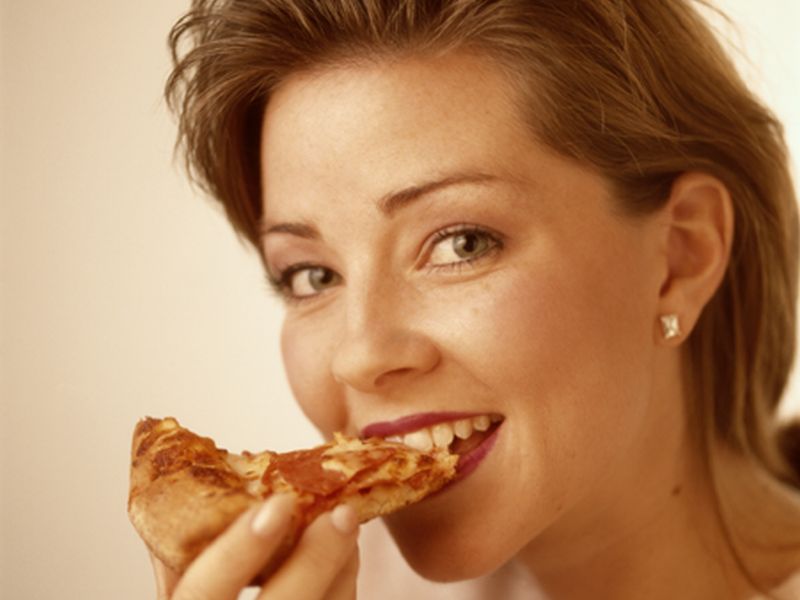 MONDAY, Feb. 29, 2016 (HealthDay News) -- Lack of sleep may give you the "munchies," a small study suggests.
Sleep deprivation appears to boost levels of a chemical that makes eating more pleasurable -- similar to the effects of marijuana, University of Chicago researchers said.
"We found that sleep restriction boosts a signal that may increase the hedonic aspect of food intake, the pleasure and satisfaction gained from eating," Erin Hanlon, a research associate in endocrinology, diabetes and metabolism, said in a university news release.
Previous research has linked too little sleep with overeating, unhealthy food choices and weight gain, but the reasons for the connection were unclear, the researchers explained.
This study found that sleep loss increases blood levels of a chemical signal called endocannabinoid 2-arachidonoylglycerol (2-AG). It enhances the joy of eating, particularly sweet, salty and fatty snack foods, according to background notes with the study.
For the study, 14 young and healthy volunteers were monitored. The researchers tracked their hunger and eating habits in two time periods: four days when the participants received about 7.5 hours of sleep nightly, and four days when they averaged only 4.2 hours of sleep.
When sleep-deprived, the volunteers' 2-AG blood levels rose and remained high through the evening. When they had access to snacks, they couldn't resist cookies, candy and chips, even though just two hours earlier they had had a meal that provided 90 percent of their daily caloric needs. They also consumed twice as much fat as when they had gotten a good night's sleep, the researchers said.
Their appetites for unhealthy treats were strongest in the late afternoon and early evening, times of the day when snacking has been linked to weight gain, according to the study published Feb. 29 in the journal Sleep.
"Sleep restriction seems to augment the endocannabinoid system, the same system targeted by the active ingredient of marijuana, to enhance the desire for food intake," Hanlon said.
The findings support previous research and apply to "normal life conditions," she added.
For example, "if you have a [candy] bar, and you've had enough sleep, you can control your natural response," Hanlon explained. "But if you're sleep-deprived, your hedonic drive for certain foods gets stronger, and your ability to resist them may be impaired. So you are more likely to eat it. Do that again and again, and you pack on the pounds."
SOURCE: University of Chicago Medical Center, news release, Feb. 29, 2016
HealthDay
Copyright (c) 2016
HealthDay
. All rights reserved.
More Health News on:
Monday, February 29, 2016