Porcine Astrovirus Type 3 in Central Nervous System of Swine with Polioencephalomyelitis - Volume 23, Number 12—December 2017 - Emerging Infectious Disease journal - CDC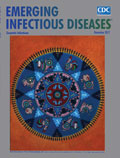 Volume 23, Number 12—December 2017
Research Letter
Porcine Astrovirus Type 3 in Central Nervous System of Swine with Polioencephalomyelitis
Astroviruses have been identified in a variety of mammals and birds; infection is often asymptomatic (
1
). Recently astroviruses have been implicated in cases of encephalomyelitis in humans, mink, cattle, and sheep (
2
‒
5
). We describe the use of unbiased next-generation sequencing to identify and genetically characterize a porcine astrovirus type 3 (PoAstV-3) in central nervous system (CNS) tissues of a 5-week-old piglet and 3 sows with neurologic signs and histopathologic lesions compatible with a neurotropic viral infection.
A multisite swine production farm submitted swine neurologic cases on 3 different occasions over a 9-month period to the Iowa State Veterinary Diagnostic Laboratory (Ames, Iowa, USA); 1 submission (2 live piglets) represented a population of 4–12-week-old pigs and 2 submissions (submission 2, two live sows; submission 3, head and tissue of sow) representing sows. In all cases, affected swine exhibited clinical signs that ranged from hind limb weakness to quadriplegia and occasionally convulsions (
Video
). The sow farm reported a case-fatality rate of 100%. The young pigs, which were farrowed from sows from the aforementioned sow farm, originated from 2 commercial grow-out facilities that reported a case-fatality rate of 75%. Histologic lesions in the CNS were consistent with a viral etiology. The following viruses were not detected in CNS samples by PCR: porcine reproductive and respiratory syndrome virus types 1 and 2, porcine circovirus 2, suid alphaherpesvirus 1, teschovirus A, sapelovirus A, or atypical porcine pestivirus. No pathogens were isolated by bacterial culture. Because of the persistence and severity of clinical signs, histologic lesions, and lack of detection of a viral etiology, two 5-week-old piglets and 4 sows with neurologic signs were submitted by a veterinarian for diagnostic testing by histopathology and next-generation sequencing. Histologic examination revealed severe, nonsuppurative polioencephalomyelitis in 3 of 4 sows and 1 of 2 piglets (
Technical Appendix
[PDF - 439 KB - 4 pages]
Figure).
Dr. Arruda is an assistant professor and diagnostic pathologist at the Iowa State University Veterinary Diagnostic Laboratory. Her primary field of research is the infectious diseases of swine.
References
Figures
Technical Appendix
Cite This Article