Performing Spring Tests on Respiratory Devices

Performing Spring Tests on Respiratory Devices
Introduction
Bespak is an leader in specialty medical devices for anesthesia and inhaled drug delivery. Each year, the company produces over 450 million complex devices, most of which include inhalers that are used to administer exact metered doses of aerosolized medicine or dry powder to patients suffering from conditions like: chronic obstructive pulmonary disease, asthma, and other related illnesses.
The operating mechanism of these complex devices is based on a key element — tensile and compressive helical springs. As a supplier quality control measure, Bespak conducts free tensile/compressive force tests as well as height tests on the springs in order to comply with specifications.
These tests are critical to ensure that the resultant device will work correctly. Each week, the springs, which vary in length between 20 and 120 mm, are delivered in 6 deliveries to Bespak's King's Lynn site based in the UK. From each batch 30 to 50 samples have to be tested.
Earlier, this process was carried out with a gauge placed on a test stand, which was operated manually. However, the Bespak quality control team observed that this set-up does not meet their requirements and that a more advanced testing system can fix this problem.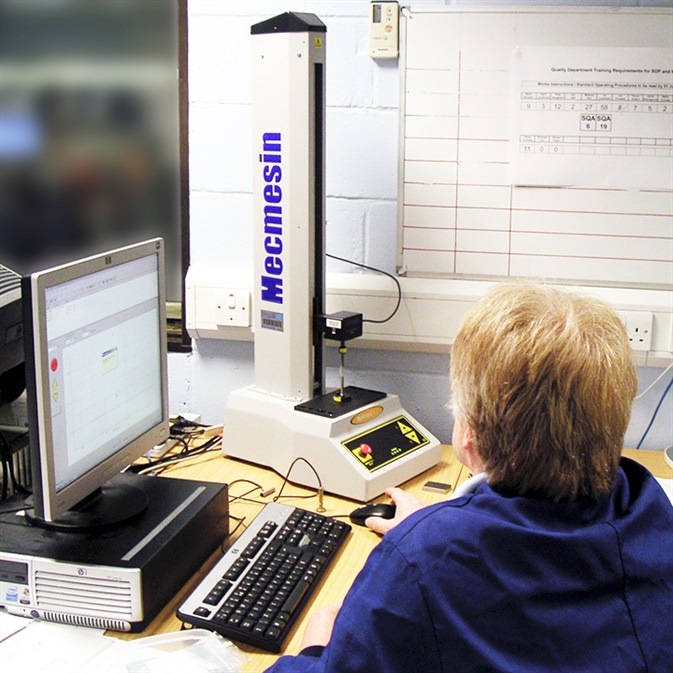 Testing-medical-springs
Solution
Bespak was supplied with a MultiTest 1-i computer-controlled force testing system from Mecmesin, equipped with a 50N Loadcell. Integrated with the powerful Emperor™ software from Mecmesin, the system allowed for complete automated control of all the test parameters eliminating inaccuracies resulting from manual force application.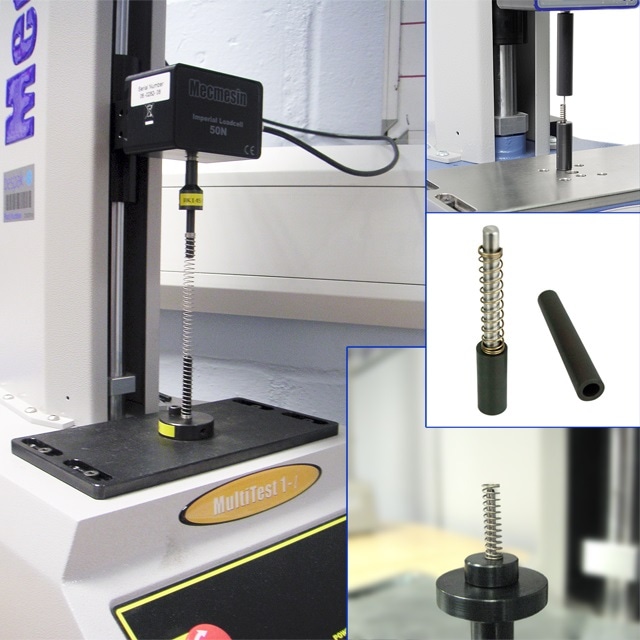 Spring-compression-fixtures
A compression test is carried out by loading the spring on custom-made alignment pins. The loadcell, which is mounted on the automated crosshead of the testing system, subsequently moves down at a steady rate. It first stops to record the free height of the spring and then proceeds to the specified test height, simultaneously taking 2000 readings per second to correctly map the compression profile of the spring.
For further analysis, the results are sent to Microsoft
®
Excel and later uploaded onto Bespak's quality module in SAP for storage. Next, force profile charts are saved in the Emperor™ software for viewing at a later time.
System
MultiTest 1-i, equipped with a 50N Loadcell, was used in this procedure.
Testimonial
About Mecmesin
A leading designer and manufacturer of force and torque test equipment for over 40 years, Mecmesin offers precision test instruments and systems that are accurate, reliable and excellent value for money. We provide a tailor-made service creating the ideal testing platform, which is robust, easy-to-operate and gives top-level performance time after time!
Operating under ISO 9001 quality standards, Mecmesin test products are used to guarantee the quality of components, materials and finished products, from factory floor through to the R&D laboratory, in multiple industries.
Our products enable you to perform checks on products to ensure the following;
Quality
Conformance to standards
Optimised design
Cost savings

Optimum performance
Efficient production
Minimum wastage
The company
Founded by Jim Oakley, an accomplished design engineer, in 1977, Mecmesin remains a privately owned company, based in Slinfold, West Sussex, UK, which has expanded worldwide, with regional offices in the USA, China, Thailand, Germany and France.
In addition, we have a global network of distributors in more than 50 countries able to provide technical expertise and after-sales support to customers locally.
The focus of the company has always been to provide high quality test solutions, which are an affordable alternative to the many higher-priced systems available, enabling small and large businesses alike to undertake quality control checks on their products without compromising on precision and accuracy. The rugged design of these systems mean they can withstand tough factory conditions and perform tests at the point of production rather than having to use expensive laboratories to ensure consistent manufacture.
A range of services...
To ensure your tests get underway smoothly, whilst maintaining optimum performance of your Mecmesin product, we offer a range of services;
Quality service personnel. Calibration and service. Our engineers come to you!
Training Once you have purchased a Mecmesin product, one of our technical sales engineers or a Mecmesin representative will visit you to install the product and train your personnel to correctly and effectively use the product for your application testing needs.
Calibration, service and repair centre Offering a prompt, reliable service, our calibration, service and repair centre is able to deal with all your force and torque testing equipment and gauges from Mecmesin, as well as other manufacturers. We can undertake an on-site verification service at your premises, saving you both time and money, or, alternatively, can perform a comprehensive calibration service within our headquarters in the UK.
Unique application - bespoke solution
As well as our standardised products, we are often called upon to design bespoke force and torque test solutions for specialised applications. Our special applications engineering team is able to design and then manufacture bespoke accessories, fixtures and fittings to your exact requirements.
Examples of such solutions can be found in our test solutions section.
Dedicated systems
We produce a range of dedicated systems built to perform specific applications, for example;
Coefficient of friction tester
Top-load tester
Spring tester
Manual handling tester
All required accessories, fixtures and fittings are included, meaning you have everything you need to begin tests in one simple to order package.
So whatever your test...
... Mecmesin offers a solution that's right for you!
Don't just take our word on it ...
---
Sponsored Content Policy: News-Medical.net publishes articles and related content that may be derived from sources where we have existing commercial relationships, provided such content adds value to the core editorial ethos of News-Medical.Net which is to educate and inform site visitors interested in medical research, science, medical devices and treatments.
Last updated: Oct 18, 2017 at 5:25 AM