Gun Injuries More Often Fatal Now, Study Finds: MedlinePlus
Gun Injuries More Often Fatal Now, Study Finds
ERs seeing more severe wounds and deaths than they used to, researchers report
Tuesday, June 14, 2016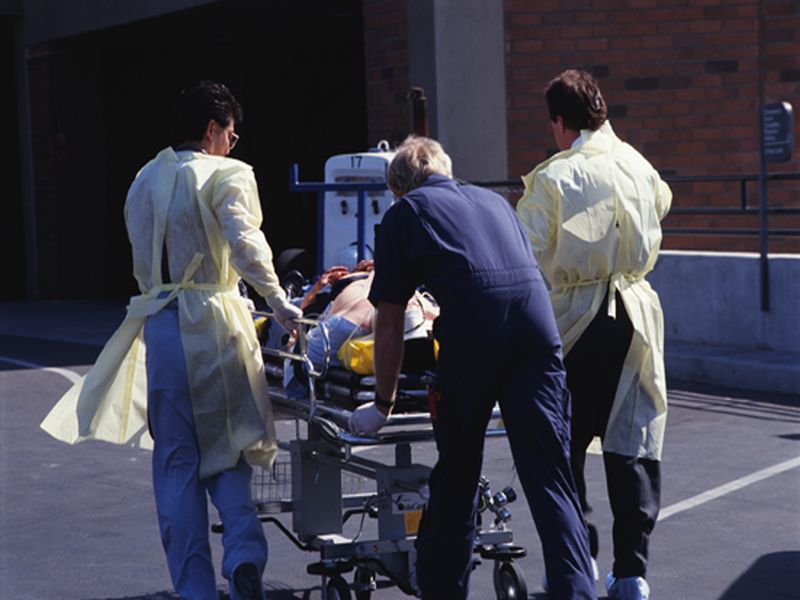 TUESDAY, June 14, 2016 (HealthDay News) -- Injuries from senseless gun violence -- like those witnessed in Orlando on Sunday morning -- may be increasing in severity in ERs across the United States, a new study suggests.
"Americans mourn firearm-related fatalities every day," said lead researcher Dr. Angela Sauaia, a professor of public health and surgery at the University of Colorado, in Denver. "Mass shootings are just the tip of the iceberg of the daily tragedy witnessed by trauma surgeons in emergency rooms," she added.
Much of that trauma can be traced to increasingly powerful firearms, such as the assault rifle used in the weekend massacre at the Pulse nightclub that left 49 people dead and 53 wounded, experts say.
Sauaia's study was based on nearly 29,000 patients who came to the trauma center at the Denver Health Medical Center from 2000 to 2013. Just under 6 percent arrived with gunshot wounds. Among those who had been shot, the number of deaths increased significantly, as did the severity of their wounds.
While technology and education are helping to make cars and bicycles safer, "firearms are moving in the exact opposite direction," Sauaia said. "They are becoming progressively more dangerous."
If you are in a car crash today, you are more likely to survive than you were 10 years ago due to safer cars and improvements in trauma care, Sauaia noted.
"However, if you get shot today, you are more likely to die than if you were shot 10 years ago, despite our excellent trauma care," she said. "Firearm injuries are becoming more lethal due to an increased number and severity of wounds they inflict."
The data comes from only one trauma center, so the findings can't be generalized, she said. However, according to the U.S. Centers for Disease Control and Prevention, nearly 34,000 Americans died from gunshot wounds in 2013.
Regardless of how people feel about gun control, "there are a number of things we can all agree upon," Sauaia suggested. These include:
Children and people who are mentally unstable should not have access to unlocked, loaded guns.
Use technology to improve the safety of guns.
Add counseling about firearm safety in primary care.
"We should start the discussion on these common grounds," she said.
Of the nearly 29,000 patients included in the study, almost 6 percent had gunshot wounds and just over 6 percent had stab wounds. In addition, about 7 percent were pedestrian accidents, 9 percent were assaults, 24 percent were from falls, 26 percent from car crashes and 22 percent from other injuries. Of these, more than 5 percent died, the researchers found.
Over the study period, the number of deaths from gunshot wounds increased significantly, while deaths from other types of trauma either remained stable or decreased, the findings showed.
The report was published June 14 in the Journal of the American Medical Association.
Dr. Robert Glatter is an emergency physician at Lenox Hill Hospital in New York City. He said, "While this is only a single-center study, it is a continuing reminder that we need to focus our efforts to find practical approaches -- through policy and other grassroots efforts -- to reduce gun violence in our communities."
Even if you survive a gunshot wound, the suffering may continue, he added.
"After gunshot wounds inflict their immediate damage, long-term effects may include poorly healing fractures, injuries to nerves and blood vessels, as well as the potential for infections that may lead to chronic disability and require long-term care," Glatter explained.
"With assault rifles we see more severe wounds, inflicting greater damage to organs and blood vessels, often leading to prolonged hospital stays," he said.
"These weapons belong on a battlefield -- not on the streets," Glatter added.
These injuries and deaths are largely preventable, he noted.
"Our society should not continue to fall victim to a method of violence that we have the ability to set clear public policy to control," Glatter said.
SOURCES: Angela Sauaia, M.D., Ph.D., professor, public health and surgery, University of Colorado, Denver; Robert Glatter, M.D., emergency physician, Lenox Hill Hospital, New York City; June 14, 2016, Journal of the American Medical Association
HealthDay
Copyright (c) 2016
HealthDay
. All rights reserved.
News stories are provided by HealthDay and do not reflect the views of MedlinePlus, the National Library of Medicine, the National Institutes of Health, the U.S. Department of Health and Human Services, or federal policy.
More Health News on: