FDA Calls for Less Salt in Processed Foods: MedlinePlus
FDA Calls for Less Salt in Processed Foods
Agency sets short- and long-term goals in effort to cut Americans' risk of high blood pressure, heart disease, stroke
Wednesday, June 1, 2016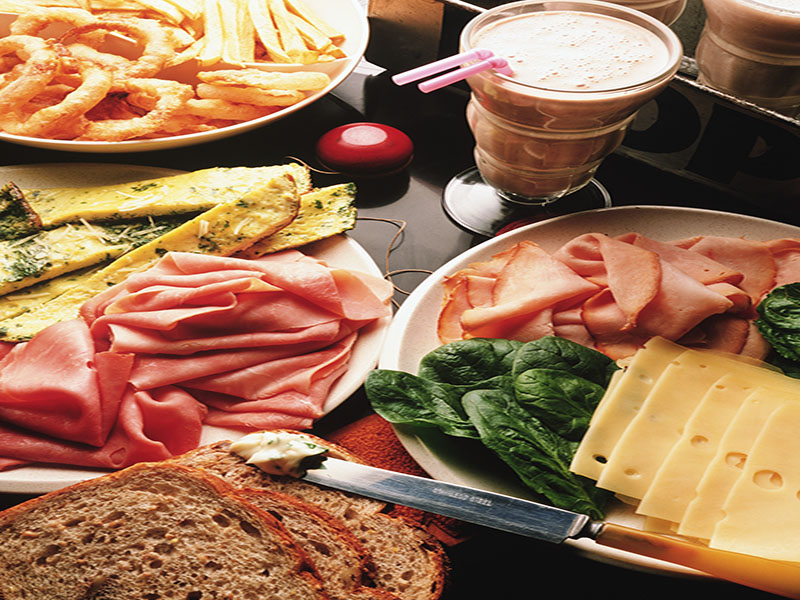 WEDNESDAY, June 1, 2016 (HealthDay News) -- The U.S. Food and Drug Administration wants the food industry to cut back on the salt.
In draft voluntary guidelines issued Wednesday, the agency set both two-year and 10-year goals for lower sodium content in hundreds of processed and prepared foods. The aim is to reduce the risk of high blood pressure, heart disease and stroke among Americans, according to the FDA.
"Many Americans want to reduce sodium in their diets, but that's hard to do when much of it is in everyday products we buy in stores and restaurants," Health and Human Services Secretary Sylvia Burwell said in an FDA statement.
"Today's announcement is about putting power back in the hands of consumers, so that they can better control how much salt is in the food they eat and improve their health," she added.
Dr. Tom Frieden, director of the U.S. Centers for Disease Control and Prevention, elaborated on the health risks salt poses during a Wednesday morning news conference on the proposed guidelines.
"Heart attack and stroke is the leading killer in the United States, and high blood pressure is a leading risk factor contributing to more than 1,000 deaths per day," he said.
"There is a direct dose-response relationship between sodium and blood pressure," Frieden added. "Reducing sodium intake reduces both blood pressure and cardiovascular disease."
Americans' average salt intake is about 3,400 milligrams (mg) a day, which is nearly 50 percent more than what experts recommend.
The voluntary targets are meant to reduce Americans' daily salt intake to 3,000 mg in two years and 2,300 mg in the next decade, according to the FDA. The guidelines cover a wide swath of foods, from bread to cold cuts, cereals and snacks.
Some studies have estimated that lowering salt intake by about 40 percent over the next decade could save 500,000 lives and nearly $100 billion in health care costs in the United States.
"The totality of the scientific evidence supports sodium reduction from current intake levels," said Susan Mayne, director of the FDA's Center for Food Safety and Applied Nutrition.
"Experts at the Institute of Medicine have concluded that reducing sodium intake to 2,300 mg per day can significantly help Americans reduce their blood pressure, and ultimately prevent hundreds of thousands of premature illnesses and deaths," Mayne said.
"Because the majority of sodium in our diets comes from processed and prepared foods, consumers are challenged in lowering their sodium intake themselves," Mayne added.
The draft guidelines, which are open for public comment ranging from 90 days to 150 days, were welcomed by American Heart Association CEO Nancy Brown.
"The American Heart Association strongly supports the draft voluntary sodium targets released today by the FDA, and we call upon the agency to finalize them as soon as possible," Brown said in a statement.
"These new targets will spark a vital, healthy change in our food supply, a change consumers say they want. These voluntary targets can have a significant impact on the nation's health," she added.
"Lowering sodium levels in the food supply could eliminate about 1.5 million cases of uncontrolled hypertension and save billions of dollars in health care costs over the next decade," Brown suggested.
SOURCES: June 1, 2016, news release, U.S. Food and Drug Administration; June 1, 2016, statement, American Heart Association; June 1, 2016 news conference with Tom Frieden, M.D., director, U.S. Centers for Disease Control and Prevention
HealthDay
Copyright (c) 2016
HealthDay
. All rights reserved.
News stories are provided by HealthDay and do not reflect the views of MedlinePlus, the National Library of Medicine, the National Institutes of Health, the U.S. Department of Health and Human Services, or federal policy.