A New Health Perk for Coffee Drinkers?: MedlinePlus
A New Health Perk for Coffee Drinkers?
The brew, in any form, might cut colon cancer risk; the more you drink, the lower the risk, study suggests
Friday, April 1, 2016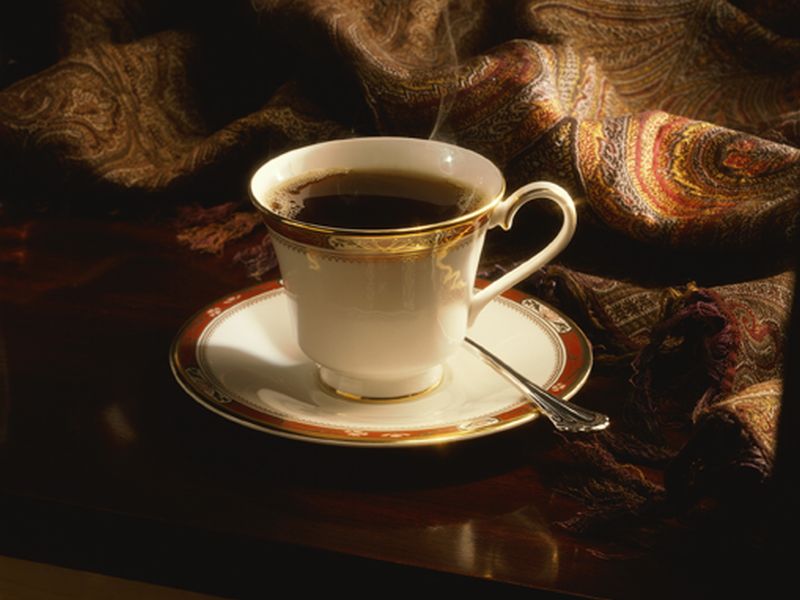 FRIDAY, April 1, 2016 (HealthDay News) -- Drinking coffee may cut your risk of colon cancer by as much as 50 percent, a new study suggests.
The more you drink, the more you may reduce your risk -- and it makes no difference whether the coffee is regular or decaf, researchers said.
"The protective effect is not caffeine, per se, but probably a lot of other antioxidant ingredients in the coffee that are released in the roasting process," said senior researcher Dr. Gad Rennert. He is director of the Clalit National Israeli Cancer Control Center in Haifa, Israel.
These findings can't prove that coffee reduces the risk of colon cancer, only that coffee is associated with a reduced risk, Rennert said. However, the association appears strong, he added.
"For years we were not sure if coffee was dangerous. Today we have evidence that that's not the case, that actually coffee is good for you," he said.
For the study, Rennert's team -- which included researchers at the University of Southern California's Norris Comprehensive Cancer Center -- collected data on more than 5,100 men and women in northern Israel who were diagnosed with colon cancer. These patients were compared with more than 4,000 men and women with no history of colon cancer.
All of the participants reported how much coffee they drank, including espresso, instant, decaffeinated and filtered coffee. They also reported risk factors for colon cancer, such as family history of cancer, diet, physical activity and smoking.
The researchers found that having one to two cups of coffee a day was linked to a 26 percent reduced risk of colon cancer. For those who drank more than 2.5 cups, the risk was reduced by as much as 50 percent, the findings suggested.
The risk for colon cancer seemed lower no matter what type of coffee people drank, Rennert added.
The findings of this study are consistent with other similar studies, said Susan Gapstur, the vice president for epidemiology at the American Cancer Society.
"However, studies that collect information on dietary factors, including coffee, from healthy people and then follow them to see who goes on to develop cancer, do not tend to show a significantly lower risk of colon cancer in coffee drinkers compared with nondrinkers," Gapstur said. "Therefore, the findings of this study should be interpreted with caution."
Dr. Andrew Chan, an associate professor in the department of medicine at Harvard Medical School in Boston, said, "There is mounting evidence suggesting an association between coffee and lower colon cancer risk."
If the protective agents in coffee could be identified, they might be used to prevent or treat colon cancer, speculated Chan, who is also an associate professor of medicine and gastroenterology at Massachusetts General Hospital.
"In addition, coffee might provide us with some clues about how cancer develops and could help us understand colon cancer in general," he said.
The report was published April 1 in the journal Cancer Epidemiology, Biomarkers and Prevention.
Colon cancer is the third most common cancer diagnosed in both men and women in the United States. Nearly 5 percent of men and just over 4 percent of women develop the disease over their lifetime.
The American Cancer Society estimates that more than 95,000 cases of colon cancer and 39,000 cases of rectal cancer will be diagnosed this year.
SOURCES: Gad Rennert, M.D., Ph.D., director, Clalit National Israeli Cancer Control Center, Haifa, Israel; Andrew Chan, M.D., M.P.H., associate professor, department of medicine, Harvard Medical School, and associate professor of medicine, gastroenterology, Massachusetts General Hospital, Boston; Susan Gapstur, Ph.D., vice president, epidemiology, American Cancer Society; April 1, 2016,Cancer Epidemiology, Biomarkers and Prevention
HealthDay
Copyright (c) 2016
HealthDay
. All rights reserved.
More Health News on: