The 7 Deadliest Emergency General Surgeries: MedlinePlus
The 7 Deadliest Emergency General Surgeries
Gastrointestinal and bowel operations top the list because they're often done without planning or preparation, experts say
Wednesday, April 27, 2016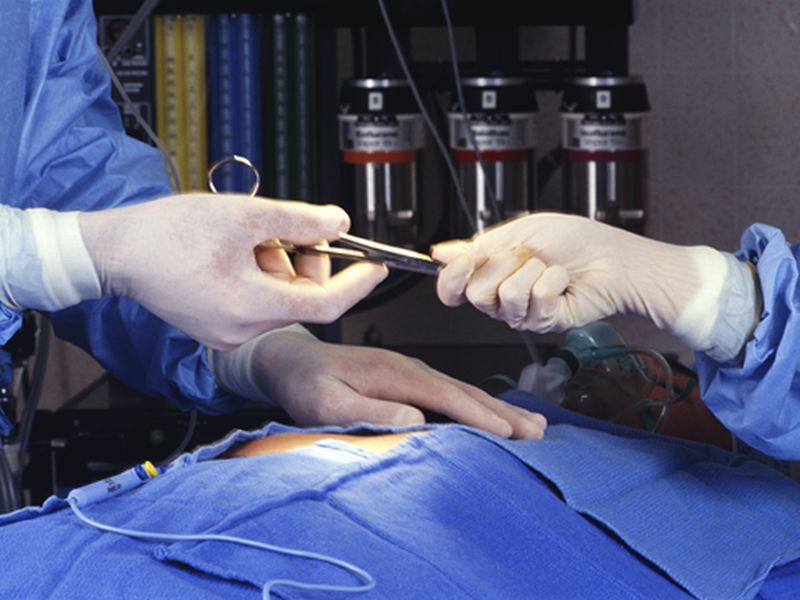 WEDNESDAY, April 27, 2016 (HealthDay News) -- Seven types of operations, including appendectomy and gall bladder removal, account for four out of five emergency general-surgery deaths in the United States, a new study reports.
The procedures are: partial removal of the large or small intestine; surgery to repair a bleeding or torn ulcer; separating abdominal organs that have adhered to each other; appendix removal; gall bladder removal; and open-abdominal surgery.
Researchers found these operations also account for 80 percent of complications from emergency general surgery, a specialty that focuses primarily on abdominal health problems.
"Our gastrointestinal tract is just so specialized and so critical to our existence. We think it's easy to operate on, but then in practice it's very difficult for patients," said senior author Dr. Joaquim Havens, an instructor in trauma and emergency surgery at Brigham and Women's Hospital, in Boston. "We find that even patients who undergo open heart surgery can have better outcomes than patients that undergo open intestinal surgery."
In this study, published April 27 in JAMA Surgery, Havens and his colleagues looked at procedures that meet the definition of emergency general surgery as created by the American Association of Surgery for Trauma, he said. These mainly include operations to deal with gastrointestinal problems, soft tissue infections and hernias.
The researchers focused on emergency general surgery performed within two days of hospital admission due to a serious medical condition. Heart-related procedures and surgery prompted by traumatic events like car crashes were excluded from the analysis.
More than 3 million Americans undergo emergency general surgery every year, the authors said in background information.
Emergency general surgery is inherently more risky because it is performed with little to no advance planning or preparation, on patients who are in dire straits, Havens said. They typically are suffering from gastrointestinal bleeding, a bowel obstruction, or severe infections of the digestive tract.
As a result, people forced to undergo emergency surgery are up to eight times more likely to die following their operation than patients who undergo the same procedure on an elective basis, the authors noted.
The researchers analyzed a government database of claims data involving more than 421,000 U.S. patients who underwent emergency general surgery between 2008 and 2011. They found an overall death rate of 1.2 percent and a complication rate of 15 percent. The average cost per hospital admission was $13,241, the researchers said.
Some of the top seven operations are simply very risky, particularly when performed on an emergency basis, said Dr. Martin Paul, regional director of minimally invasive surgery for Johns Hopkins in Washington, D.C.
"Bowel resection [surgery to remove portions of the bowel] is probably, even as an elective procedure, considered a risky operation," said Paul, author of an accompanying journal editorial. "To do that under emergency circumstances when you don't have the benefit of a bowel that's been cleansed ahead of time, it sets the stage for some serious and expensive complications."
Havens agreed, noting that's likely why ulcer surgery ranked so high on the list.
On the other hand, procedures like appendectomy or gall bladder removal are very safe operations that made the list because they are done so often in the United States, Havens said.
"Those each happen 600,000 times a year, so even a very small complication rate multiplied by that large number becomes costly," he said.
Patients can reduce their risk of needing one of these surgeries by taking good care of their health -- for example, treating their ulcers with medication -- and by seeking prompt medical attention when they're not feeling well, Havens and Paul said.
"If you've got abdominal pain that lasts for more than a few hours, it is something that should be evaluated in an emergency department," Paul said.
Dr. Joseph Martz, chief of colorectal surgery for Mount Sinai Beth Israel in New York City, said the list contains "the most common surgeries that are done every day" on either an elective or an emergency basis.
"I would not want a reader to be frightened by the fact that these are dangerous operations," Martz said. "It's the fact that these are done in an emergency setting."
Surgeons can improve the safety of these emergency procedures by creating better protocols in advance, Havens and Paul said.
Also, emergency general surgeons should be taught to have a "team huddle" during operations to discuss critical decisions with the rest of the surgical team, Havens added.
SOURCES: Joaquim Havens, M.D., instructor, trauma and emergency surgery, Brigham and Women's Hospital, Boston; Martin Paul, M.D., Johns Hopkins regional director, minimally invasive surgery, Washington, D.C.; Joseph Martz, M.D., chief, colorectal surgery, Mount Sinai Beth Israel, New York City; April 27, 2016, JAMA Surgery
HealthDay
Copyright (c) 2016
HealthDay
. All rights reserved.
News stories are provided by HealthDay and do not reflect the views of MedlinePlus, the National Library of Medicine, the National Institutes of Health, the U.S. Department of Health and Human Services, or federal policy.
More Health News on: