Location is Key to Help Hospital Hand Sanitizers Get Used: MedlinePlus
Location is Key to Help Hospital Hand Sanitizers Get Used
The best spot to up visitors' hygiene: mid-lobby and near the entrance, study found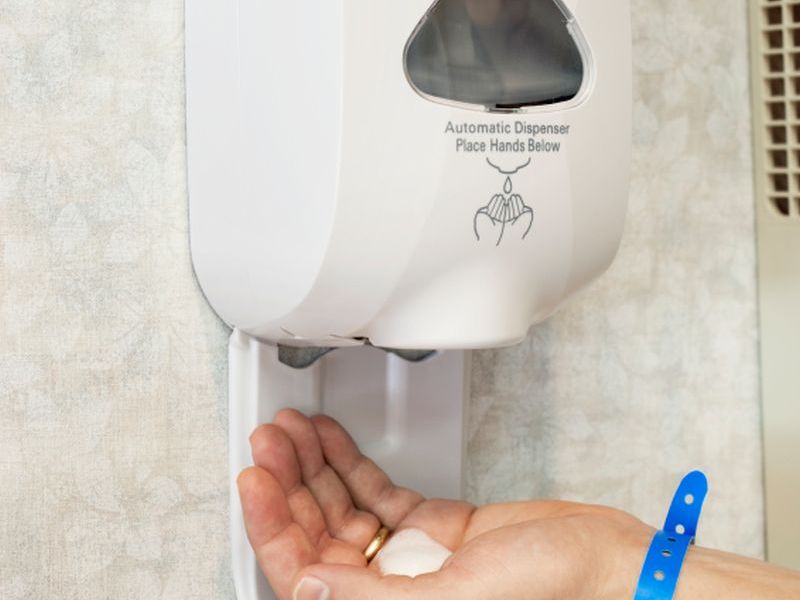 TUESDAY, March 15, 2016 (HealthDay News) -- The location of hand sanitizer dispensers in hospitals significantly affects how likely visitors are to use them, a new study finds.
Researchers observed the use of alcohol-based hand sanitizers by more than 6,600 visitors to Greenville Memorial Hospital in South Carolina. Use of the dispensers more than quintupled when they were placed in the middle of the lobby in front of the visitor entrance.
The three-week study also found that hand sanitizer use was nearly 50 percent higher among children and young adults than older adults, and nearly 40 percent higher among people in groups than those who were alone.
The findings appear in the March issue of the American Journal of Infection Control.
"Visitors represent an additional vector by which health care-associated diseases can be transmitted to patients, and thus visitor hand hygiene is an opportunity to further improve patient safety," the Clemson University and Greenville Health System researchers wrote.
They said the study suggests several avenues for follow-up aimed at increasing use of hand sanitizer, including the influence of group dynamics and social pressure on use.
SOURCE: American Journal of Infection Control, news release, Feb. 29, 2016
HealthDay
Copyright (c) 2016
HealthDay
. All rights reserved.
More Health News on:
Tuesday, March 15, 2016