Truckers' Fatigue, Cellphones Boost Their Crash Risk: Study: MedlinePlus
Truckers' Fatigue, Cellphones Boost Their Crash Risk: Study
Researchers also found that troubling blood pressure readings increased odds of an accident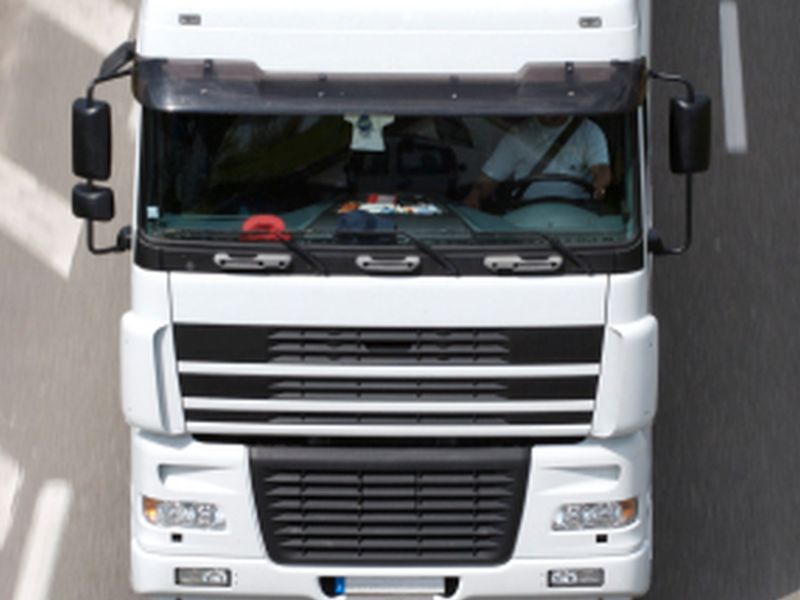 MONDAY, Oct. 26, 2015 (HealthDay News) -- Fatigue, the use of cellphones and troubling blood pressure readings are factors that might increase a truck driver's risk of an accident, new research suggests.
Long-haul truck driving is among the most dangerous of jobs: Each year, truck drivers in the United States are involved in about 250,000 crashes, the researchers said. Between 1 percent and 2 percent of those accidents result in deaths, according to the U.S. Bureau of Labor Statistics.
"Conditions that are characteristic to a truck drivers' job may be putting them in danger," study author Matthew Thiese, an assistant professor of family and preventative medicine at the Rocky Mountain Center for Occupational and Environmental Health at the University of Utah, said in a university news release.
"Being able to understand associations with crash risk, and bringing attention to them, will hopefully one day lead to fewer people getting hurt," he added.
To learn more about factors that contribute to truck drivers' crash risk, researchers surveyed nearly 800 truckers at truck stops and truck shows in Illinois, Iowa, Kentucky, Nevada, Texas and Utah.
Not surprisingly, fatigue and cellphone use were strongly associated with crash risk, the study found.
The study also found that high pulse pressure -- pulse pressure is the difference between the top and bottom numbers in a blood pressure reading -- increased the risk of an accident.
A number of characteristics common to truck driving -- such as stress, long hours, heavy lifting, and lack of sleep and exercise -- could contribute to fatigue and high pulse pressure, the researchers said. They also noted that a high pulse pressure is a possible sign of heart disease.
The researchers also found that 24 percent of the truck drivers had undiagnosed and untreated high blood pressure and that 62 percent of them were obese, compared with 35 percent of the general population.
The study was published in the October issue of the Journal of Occupational and Environmental Medicine.
"We've found personal and occupational factors that we think are meaningfully related to being involved in a crash. Some of these risk factors could arise from unhealthy working conditions," senior study author Dr. Kurt Hegmann, director of Rocky Mountain Center for Occupational and Environmental Health, said in the news release.
"The high incidence of uncontrolled hypertension was a surprise, particularly given that truckers must undergo medical certification every two years," Thiese said. "It's another indication that truck drivers' health needs are not adequately being met and could be endangering them in ways that we may not anticipate."
SOURCE: University of Utah, news release, Oct. 21, 2015
HealthDay
Copyright (c) 2015
HealthDay
. All rights reserved.
More Health News on:
Monday, October 26, 2015