Processed Meat Can Cause Cancer: WHO: MedlinePlus
Processed Meat Can Cause Cancer: WHO
Meanwhile, red meat only shows some association with an increased risk for colon cancer, expert panel says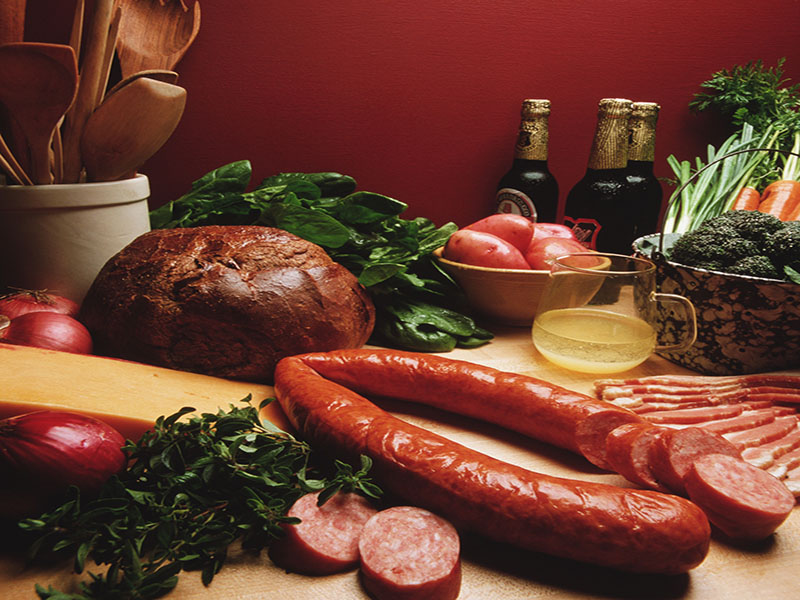 MONDAY, Oct. 26, 2015 (HealthDay News) -- Processed meats, the likes of which include bacon, hot dogs and sausages, can cause cancer and red meat may do the same, experts from the World Health Organization (WHO) warned on Monday.
The International Agency for Research on Cancer (IARC), which is part of the WHO, sifted through more than 800 studies that looked at possible links between the consumption of processed or red meat and cancer. The body of research spanned several continents, and included different races and diets. Most of the studies focused on associations with colon cancer, in particular.
When the 22 international experts were done, the findings prompted them to classify processed meat as a carcinogen that is as deadly as tobacco, asbestos and diesel fumes.
"For an individual, the risk of developing colorectal cancer because of their consumption of processed meat remains small, but this risk increases with the amount of meat consumed," Dr. Kurt Straif of the IARC said in an agency news release.
Red meat fared slightly better under the scrutiny, and was classified as a possible carcinogen that entails the same level of cancer risk as glyphosate, the active ingredient in many pesticides. But the group also noted that red meat has nutritional value.
The most powerful links were seen with colon cancer, but there were also associations with pancreatic and prostate cancer, the IARC statement said.
"There is sufficient evidence in human beings for the carcinogenicity of the consumption of processed meat," the group concluded in its statement.
"Chance, bias and confounding could not be ruled out with the same degree of confidence for the data on red meat consumption, since no clear association was seen in several of the high-quality studies . . . there is limited evidence in human beings for the carcinogenicity of the consumption of red meat," the group added.
Some of the studies suggested that an additional 3.5 ounces (100 grams) of red meat per day raises colon cancer risk 17 percent, while eating about 1.7 ounces (50 grams) of processed meat raises colon cancer risk by 18 percent, the IARC group noted.
Members of the beef industry were quick to react to the move.
"Cancer is a complex disease that even the best and brightest minds don't fully understand," Shalene McNeill, from the National Cattlemen's Beef Association, said in a statement. "Billions of dollars have been spent on studies all over the world and no single food has ever been proven to cause or cure cancer. The opinion by the IARC committee to list red meat as a probable carcinogen does not change that fact. The available scientific evidence simply does not support a causal relationship between red or processed meat and any type of cancer."
Even nutritionists offered some caveats on the news.
"The headlines surrounding this report are alarming, but the findings do not support that eating any and all meat will definitively cause cancer," said Dana White, a clinical assistant professor of athletic training and sports medicine at Quinnipiac University in Hamden, Conn. "As a registered dietitian, I like to look at the big picture of the overall diet. Red meat can provide important nutrients such as essential amino acids, iron and vitamin B12. When lean cuts are consumed in moderation, it can still fit into a healthy diet."
Meanwhile, the American Institute for Cancer Research (AICR) applauded the findings.
"For years, AICR has been recommending that individuals reduce the amount of beef, pork, lamb and other red meats in their diets and avoid processed meats like bacon, sausage and hot dogs," Susan Higginbotham, vice president of research, said in an AICR statement.
"AICR continues to recommend avoiding processed meats and eating no more than 18 ounces of cooked red meat weekly to lower colorectal cancer risk," the statement added. "Our own analyses show that such moderate consumption of red meat is not associated with a notable increase in colorectal cancer risk. But they do show that regular consumption of even small amounts of hot dogs, bacon and other processed meats increase colorectal cancer risk."
Another expert explained the possible reasons why processed meats may show a stronger link to cancer risk than red meats do.
"Meats processed [treated with chemicals, or smoked/cured, to allow longer storage] seem to have a stronger relationship with the development of cancer, and may deserve special attention to ascertain why," said Dr. Arun Swaminath, director of the inflammatory bowel disease program at Lenox Hill Hospital in New York City.
"One mechanism is that this processing increases the level of aromatic amines and aromatic hydrocarbons in the food, which can cause damage to human DNA, which increases the risk of colon cancer," Swaminath explained.
And the AICR pointed out that although processed meat will now be considered a carcinogen on par with smoking, the actual risk is far smaller.
"In some studies, participants who eat diets high in processed meat experience a risk for colorectal cancer that is nearly double that of non-meat-eaters. But according to the CDC [U.S. Centers for Disease Control and Prevention], smoking cigarettes multiplies a person's risk for cancer by as much as 20 times," the agency said in its statement.
SOURCES: Dana White, clinical assistant professor, athletic training and sports medicine, Quinnipiac University, Hamden, Conn.; Arun Swaminath, M.D., director, inflammatory bowel disease program, Lenox Hill Hospital, New York City; Oct. 26, 2015, statement, International Agency for Research on Cancer; Oct. 26, 2015, statement, American Institute for Cancer Research; Oct. 26, 2015, statement, National Cattlemen's Beef Association
HealthDay
Copyright (c) 2015
HealthDay
. All rights reserved.
Monday, October 26, 2015