End-of-Life Care for Dementia Much Pricier Than for Other Ills: MedlinePlus
End-of-Life Care for Dementia Much Pricier Than for Other Ills
Costs are about $100,000 more over 5 years, study shows
Monday, October 26, 2015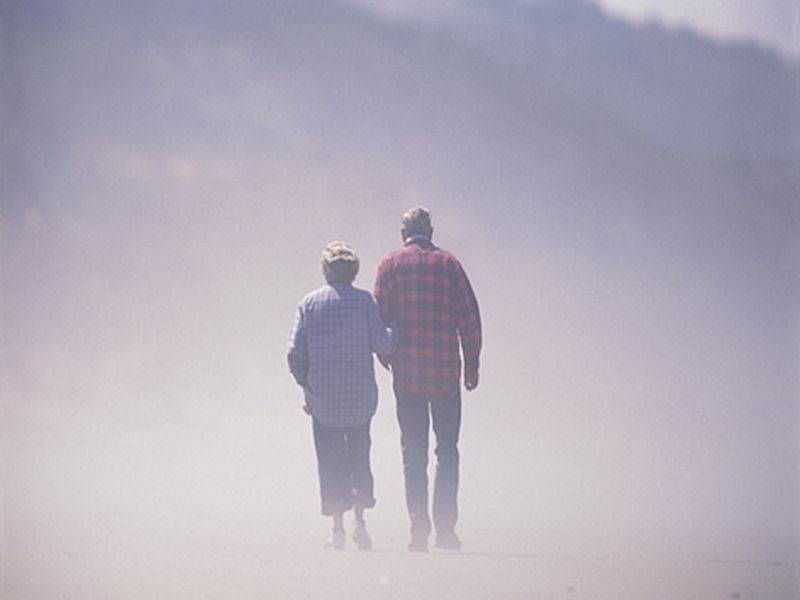 MONDAY, Oct. 26, 2015 (HealthDay News) -- Health care and caregiving costs for dementia patients in the final five years of life are far more burdensome than they are for patients with cancer, heart disease and other illnesses, a new study suggests.
The study found that total "social costs" -- such as government spending, private insurance and out-of-pocket expenditures for dementia patients -- were 57 percent greater than costs associated with death from other conditions.
"The magnitude of the difference was shocking to me, even though the trend is what I expected," said study author Dr. Amy Kelley, an associate professor of geriatrics and palliative medicine at Icahn School of Medicine at Mount Sinai in New York City. "I don't think the vast majority of people have any idea about these costs unless they're living it."
The study findings were published online Oct. 26 in the Annals of Internal Medicine.
Alzheimer's disease is the most common form of dementia, a progressive condition marked by declines in memory, language, problem-solving and other skills that enable everyday activities, according to the Alzheimer's Association. About 5 million Americans have Alzheimer's. More than 15 million Americans provide unpaid care for these patients and others with dementia, the association said.
Kelley and her team reviewed an "exhaustive list" of all spending related to health care for more than 1,700 patients aged 70 or older who died between 2005 and 2010. Participants were split into four groups. One group had a high probability of dementia. Another had people who died from heart disease. The third had people who died from cancer, and the fourth had people who died of other causes, the study noted.
The average total cost per person with dementia five years before death was more than $287,000. That number compared to costs ranging from $173,000 to $197,000 among the other groups. Medicare expenses were similar among patient groups. But, the average out-of-pocket spending for dementia patients was 81 percent higher than it was for those without dementia, the study showed.
The financial burden was disproportionately higher for blacks and those who were unmarried or had less than a high school education, the findings showed. For these groups, out-of-pocket dementia costs represented 32 percent of their household wealth, compared with 11 percent of household wealth for non-dementia patients.
"At these numbers, the burden of spending for all these older adults was tremendous, and for the dementia population it was astronomical," Kelley said. She explained that specific costs related to dementia care in the final years of life range from live-in or visiting aides; nursing homes; medical transport services; adult day care or respite care; and home modifications to make living quarters safer.
Matthew Baumgart, senior director of public policy for the Alzheimer's Association, praised the study for helping to "put a face on this disease that very few people see."
Baumgart said that "people don't often see the toll this disease takes at the end of life. So focusing on this financial burden really helps put the spotlight on those who are often forgotten."
Kelley said future research should look more at caregiving-related issues related to dementia, such as if patients' loved ones are forced to sell their assets to pay for care. Medicare doesn't cover health-related expenses such as non-rehabilitative nursing home care, the researchers said. Medicaid coverage for such expenses only kicks in after patients' financial assets are nearly depleted, the study authors said.
"If we're finding that the next generation is reducing their work hours or selling their assets or leaving their jobs completely to provide that informal, unpaid care . . . then we need to ask ourselves as a society what the implication of that is for our economy and that next generation," she said.
SOURCES: Amy Kelley, M.D., M.S.H.S., associate professor, geriatrics and palliative medicine, Icahn School of Medicine at Mount Sinai, New York City; Matthew Baumgart, senior director, public policy, Alzheimer's Association, Chicago; Oct. 26, 2015, Annals of Internal Medicine
HealthDay
Copyright (c) 2015
HealthDay
. All rights reserved.
More Health News on: