Face-lifts Seem to Do Little to Boost Self-Esteem: Study: MedlinePlus
Face-lifts Seem to Do Little to Boost Self-Esteem: Study
Researchers note that sense of self-worth is more complicated than appearance alone
Thursday, October 29, 2015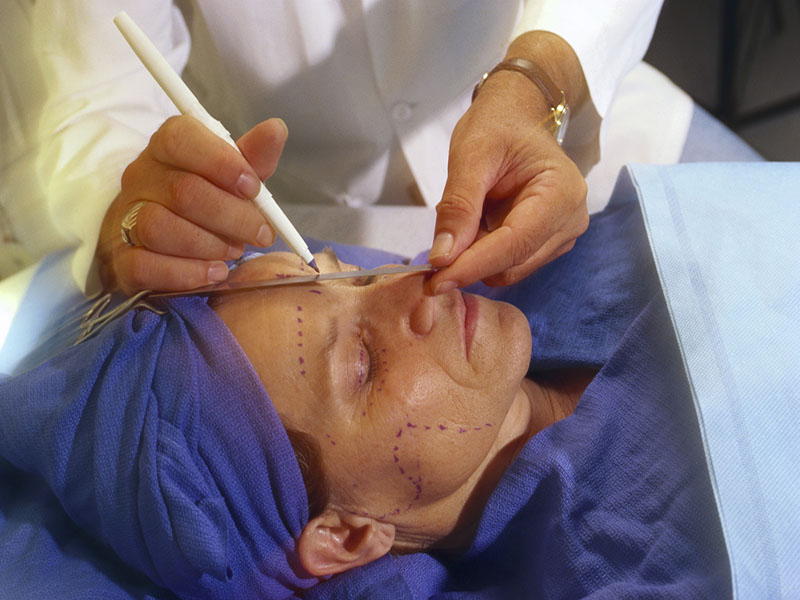 THURSDAY, Oct. 29, 2015 (HealthDay News) -- Face-lifts may smooth away years from a person's appearance, but they seem to do little to boost self-esteem, new research suggests.
In the small study, the researchers looked at what 50 patients -- almost all of them women -- said about their own sense of self-esteem, both immediately before plastic surgery and six months later.
"The findings of the study are not surprising," said lead author Dr. Andrew Jacono, a board certified plastic surgeon with the New York Center for Facial Plastic and Laser Surgery in New York City. "Because as I see it, self-esteem is much more complex than someone's appearance. It's rooted in a long developmental process that starts in childhood. So, to assume that what has taken a lifetime of work to develop could be changed by one simple operation is silly."
Jacono and his colleagues reported their findings online Oct. 29 in the journal JAMA Facial Plastic Surgery.
The researchers focused on 59 patients who had a face-lift at a single center between July and October of 2013. None of the patients suffered from any severe facial disfigurement. Instead, their goal was to achieve a more youthful appearance.
Self-esteem tests that were given prior to surgery looked at numerous measures of the patient's sense of self-worth, including feelings of competence and/or failure.
Out of a maximum score of 30, the average grade was just over 24, though some patients scored as low as 14 and others hit a high of 30.
The researchers were able to reassess 50 of the patients six months after surgery. All but two were women, with an average age of 58.
The result: Patients said their face-lift had taken an average of almost nine years off their appearance. And those with lower self-esteem scores before surgery did, in fact, see an increase in their post-surgery scores. But those with high pre-surgery self-esteem scores actually saw the scores go down after their face-lift, while average pre-surgery scores stayed more or less constant.
When the researchers focused on overall averages, it was a wash, so the overall change in self-esteem was "statistically insignificant." In the end, the research team chalked up the disconnect to "the complex nature of the human psyche as it relates to aesthetic surgery."
"Self-esteem is an internal job," said Jacono. "And plastic surgery is not designed to get at that. It's for taking care of a defined problem, like getting a tooth fixed. It's about addressing a specific physical characteristic, particularly as people age and start seeing aspects of their face that seem foreign. Doing that may improve self-confidence to some degree. But I would never suggest that patients will have a higher self-esteem as a result. That shouldn't be a motivating factor. That's a promise you wouldn't be able to keep as a doctor."
Brenda Major, a distinguished professor in the department of psychological and brain sciences at the University of California, Santa Barbara, suggested that some methodological flaws may have limited the study's ability to nail down the relationship between face-lifts and self-esteem.
But she agreed that a face-lift "is probably not an approach you want to take if what you're really trying to work on is core self-esteem issues."
"Of course if one is stigmatized in some way, because of facial scarring for example, then surgery might lead to people starting to treat you better, which could help you to feel more worthy," Major said. "And if someone's goal is to look a decade younger, than this surgery was successful. But will this kind of intervention actually increase self-esteem? That's really hard to say, and this study doesn't really offer a definitive answer."
SOURCES: Andrew Jacono, M.D., board certified facial plastic and reconstructive surgeon, New York Center for Facial Plastic and Laser Surgery, New York City; Brenda Major, Ph.D., distinguished professor, department of psychological and brain sciences, University of California, Santa Barbara; Oct. 29, 2015, JAMA Facial Plastic Surgery, online
HealthDay
Copyright (c) 2015
HealthDay
. All rights reserved.
More Health News on: