Statins May Dampen Protective Powers of Flu Vaccines: MedlinePlus
Statins May Dampen Protective Powers of Flu Vaccines
Research suggests cholesterol-lowering meds linked to lower levels of influenza antibodies in seniors
Thursday, October 29, 2015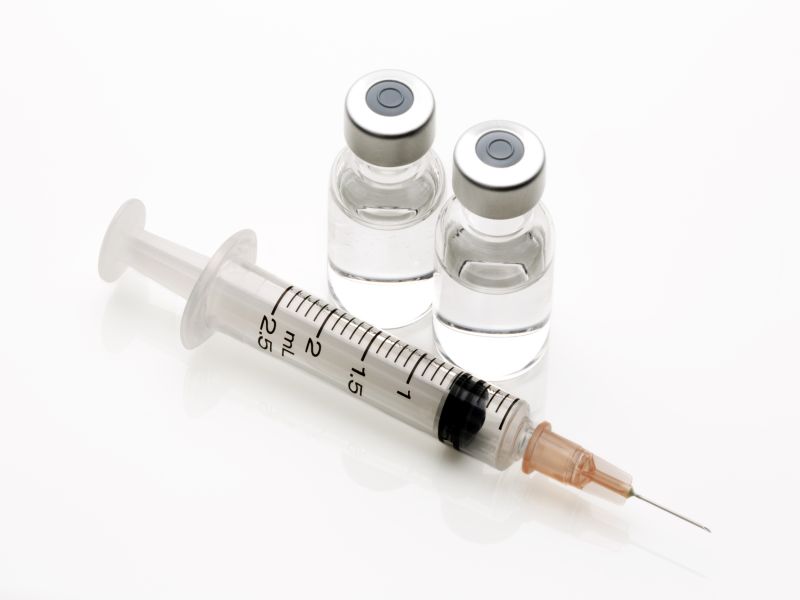 THURSDAY, Oct. 29, 2015 (HealthDay News) -- Two new studies raise the possibility that the popular cholesterol-lowering drugs known as statins may blunt the effectiveness of flu vaccines in seniors.
But experts caution that more research is needed to better understand the issue, and that older people shouldn't throw away their statins just yet.
"There is a clear-cut benefit to persons taking statins, so patients should not stop statin use because of the study results, even for a short time," said Dr. Robert Atmar, a clinical research professor of infectious diseases at Baylor College of Medicine in Houston. He co-wrote a commentary that accompanied the studies.
And flu vaccines provide at least some protection in people who take statins, so "patients should still receive an influenza vaccine to be protected," Atmar added.
Still, the findings raise yet another question about the safety of statins. While they can lower the risk of heart problems due to clogged arteries, some research has shown that the drugs can also cause side effects, such as muscle pain, liver damage and memory loss.
In the first study, funded by Novartis Vaccines, Dr. Steven Black of the Center for Global Health, Cincinnati Children's Hospital, and colleagues looked at the medical records of nearly 7,000 people over the age of 65 in the United States and three other countries. They had all taken part in a 2009-2011 clinical trial of a flu vaccine.
The researchers looked at the results of tests taken three weeks after the study participants were vaccinated. The levels of antibodies to flu -- a measurement of the vaccine's effectiveness at priming the body to fight off the virus -- were 38 percent to 67 percent lower in those who took statins, depending on the type of flu strain. Natural statins seemed to have less of a vaccine-dampening effect than those created artificially. Red yeast rice is a natural statin, while Lipitor and Crestor are examples of synthetic statins.
The researchers suggested that older people on statins may need higher doses of flu vaccines or vaccine boosters to better arm their immune system. A high-dose flu vaccine is approved and available for adults aged 65 and older in the United States, along with several standard-dose vaccines, they added.
The second study, which examined the effects of the flu vaccine on a kind of respiratory illness, was launched because of reports that statins decrease inflammation in the body, explained study author Dr. Saad Omer, an associate professor at the Emory Vaccine Center in Atlanta.
Inflammation, part of the body's immune response to invaders, can be harmful. According to Omer, statins may improve cardiac health in part by lowering inflammation levels in blood vessels.
On the other hand, the flu vaccine primes the body to fight the influenza virus through inflammation. Essentially, Omer explained, "a little bit of inflammation after vaccination is good."
To gain more insight into how statins and the flu vaccine might interact, Omer and colleagues looked at cases of so-called acute respiratory illness, which can be caused by influenza, among almost 140,000 Kaiser Permanente health plan patients in Georgia. The researchers tracked the patients over flu seasons from 2002 to 2011.
The investigators wanted to understand if patients who got flu vaccines developed less protection against influenza if they also took statins. Statistical formulas designed to measure vaccine effectiveness reveal that they did, even after researchers adjusted their statistics so they wouldn't be thrown off by various factors.
The findings suggest that "if you are on statins, the flu vaccine is slightly less effective," Omer said.
But that may not be the whole picture, he said. It's possible that the inflammation-fighting powers of statins could help the body fight off flu once it's infected.
What now? More studies are needed, said Atmar, who acknowledged getting funding from a vaccine company in the past. However, he said, the findings of the two new studies "are plausible, based upon what we know about the effects of statins."
The research is published in the Oct. 29 issue of The Journal of Infectious Diseases.
SOURCES: Saad Omer, Ph.D., M.P.H., associate professor, Emory Vaccine Center, and associate professor, Global Health and Epidemiology, Rollins School of Public Health, Emory University, Atlanta; Robert Atmar, M.D., clinical research professor, infectious diseases, and interim chief, section of infectious diseases, departments of medicine and molecular virology & microbiology, Baylor College of Medicine, Houston; Oct. 29, 2015, The Journal of Infectious Diseases
HealthDay
Copyright (c) 2015
HealthDay
. All rights reserved.
More Health News on: