Too Many Seniors With Diabetes Are Overtreated, Study Suggests: MedlinePlus
Too Many Seniors With Diabetes Are Overtreated, Study Suggests
Even when blood sugar, blood pressure levels dropped too low, doctors didn't cut back on meds
Thursday, October 29, 2015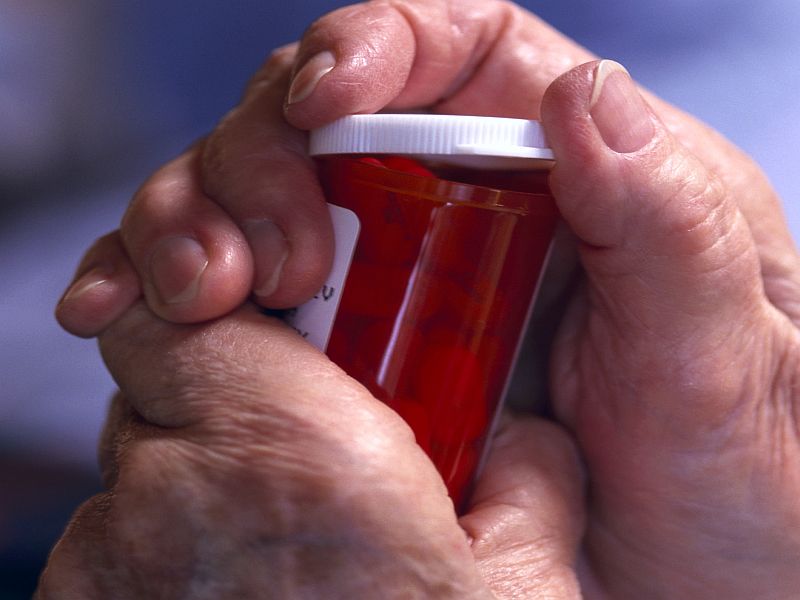 THURSDAY, Oct. 29, 2015 (HealthDay News) -- When it comes to treating seniors with diabetes, new research suggests that doctors often don't cut back on medications, even when treatment goals are surpassed.
The study found that when people had potentially dangerous low blood sugar levels, just 27 percent had their medicines decreased. And when blood pressure treatments lowered blood pressure levels too much, just 19 percent saw a reduction in their medications.
"As people get older, the risks of overtreating become greater, and the benefits become shorter. We have to start emphasizing that more isn't always better," said study author Dr. Jeremy Sussman, an assistant professor of internal medicine at the University of Michigan in Ann Arbor and a primary care doctor at the Ann Arbor VA System.
The findings were published online Oct. 26 in the journal JAMA Internal Medicine.
Practice guidelines generally focus on intensifying treatments for people with diabetes, to ensure that their blood sugar and blood pressure are at levels that have been shown to reduce complications, such as heart disease. But, with greater pressure to meet these treatment goals, overtreatment has now become an issue, the study authors said.
To get a better idea of the scope of the problem, the researchers reviewed U.S. Veterans Health Affairs records for more than 211,000 people with diabetes between 2012 and 2015. All were aged 70 or older. The study participants were receiving treatment to lower blood pressure or blood sugar levels.
The study excluded people taking medications known as angiotensin-converting enzyme (ACE) inhibitors or angiotensin receptor blockers (ARBs) for blood pressure, because these medications have additional benefits beyond lowering blood pressure.
The researchers also excluded people who were just taking metformin for their diabetes, because this medication doesn't have a high risk of causing dangerously low blood sugar levels. It also may have additional benefits beyond lowering blood sugar, the study authors added.
Sussman said that the risks of overtreating high blood pressure could be a substantial increase in falls, confusion and drug interactions. A systolic -- the top number -- blood pressure of under 120 is too low for people over 70, he noted.
Low blood sugar levels can also lead to confusion, falls and hospitalizations, according to Sussman. A very low blood sugar level is an A1C test of less than 6 percent, the study said. A1C is a rough estimate of blood sugar levels over several months.
"Overtreatment is work, and people are being asked to work hard for something that's counterproductive," Sussman said. In addition, failing to reduce treatment when it's called for is "wasting money for an outcome that will make patients less healthy," he explained.
So why aren't doctors stepping treatments down? A second study in the same issue of the journal attempted to answer that question.
Researchers from the Ann Arbor Veterans Affairs Center for Clinical Management Research in Michigan surveyed a national sample of nearly 600 physicians working in the U.S. Department of Veterans Affairs.
One-third of doctors surveyed said they thought their patients could benefit from exceeding treatment guideline goals. Nearly one-quarter were concerned about a potential malpractice suit from reducing treatment. Nearly half were concerned that lowering medications for those who've exceeded the goals would lower their scores on performance measures, the study found.
Another 20 percent were worried that patients would be upset if they reduced their medications, the survey reported.
"We spend so much time telling people that it's important to take their medications, it's tough to now say you're being overtreated. But people's needs change with age," Sussman explained.
Another diabetes expert agreed.
"In elderly patients, we worry about being too aggressive. We don't necessarily have to bring the A1C to under 7 percent. As patients get older and sicker, even the same medications they've been on can cause more low blood pressure and low blood sugar," said Dr. Joel Zonszein, director of the Clinical Diabetes Center at Montefiore Medical Center in New York City.
But, he said he doesn't think there needs to be a big push to lower medications across the board. Zonszein said that the need to intensify treatment regimens is generally a bigger problem, and he worries this study might unnecessarily worry patients.
Zonszein added, "Doctors need to use more clinical judgment and provide more patient-centered therapy."
Sussman said it's important to remember that "just because a medication was right for you at one point doesn't mean it always will be. At least once a year, talk to your doctor and make sure all of your medications still make sense."
SOURCES: Jeremy Sussman, M.D., assistant professor, internal medicine, University of Michigan, Ann Arbor, and primary care doctor, Ann Arbor VA System; Joel Zonszein, M.D., director, Clinical Diabetes Center, Montefiore Medical Center, New York City; Oct. 26, 2015, JAMA Internal Medicine, online
HealthDay
Copyright (c) 2015
HealthDay
. All rights reserved.
More Health News on: