Antibody Mimetics: An Overview

Antibody Mimetics: An Overview
Antibody mimetics are compounds that behave in a similar fashion to antibodies, and bind to specific antigens; however, they are artificial peptides and are not related to antibodies.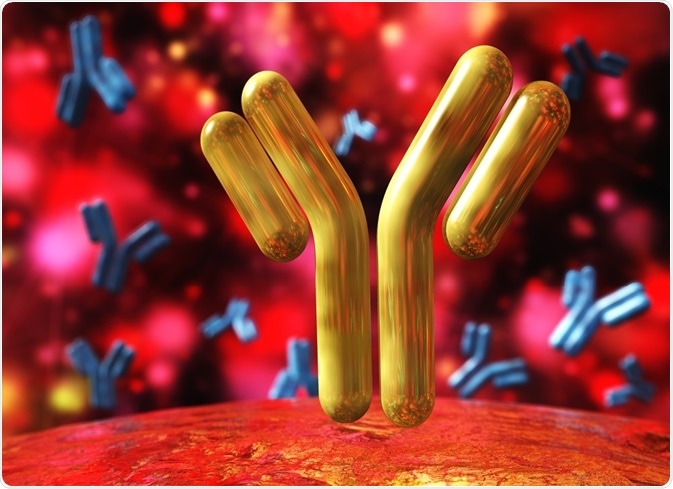 ustas7777777 | Shutterstock
Why use antibody mimetics?
Although antibodies bind to specific antigens, many antibodies cross-react with other antigens. Thisleads to false positives in techniques using antibodies.
Antibodies are also large and consist of four polypeptide chains: two heavy chains and two light chains, where the heavy chains are connected using disulphide bonds. The large size often poses a problem if they are required to enter cells, or in cases where the antibodies need to deliver drugs, or be incorporated in to biomaterials.
Their shelf-lives are also limited, which can be another problem in remote locations or countries which do not have access to continuous power supply and refrigeration. These issues led scientists to look for or create molecule which performed similar functions to antibodies but could overcome these limitations.
Creating antibody mimetics
The strategies used to create mimetics include site directed mutagenesis and random mutagenesis to create novel proteins that have binding properties. These proteins have greater stability compared to antibodies despite having a simpler structure. Also, they can be tailor-made to have specific properties – greater solubility, protease-resistance, temperature stability, pH stability, and others.
To create antibody mimetics, a defined protein structure scaffold is required where additional modifications, mutations, or insertions can be added without affecting its structure and stability.
Current types of antibody mimetics
Several types of antibody mimetics exist currently and some of them are discussed here.
Affibodies
Affibodies are one of the widely used antibody mimetics, and their protein scaffold is derived from the B-domain of staphylococcal protein A. The B-domain consists of 58 amino acids which form three α helices that bind to IgG.
Since its discovery, several modifications have been added; in one study, the scaffold was modified to improve its thermal and chemical stability. Subsequently, other studies have also improved its affinities and binding properties. Affibodies are smaller in size compared to antibodies, have higher solubility and thermal stability and are cost-effective.
Adectins
Adectins are derived from the extracellular domain of human fibronectin III protein. They have seven β strands that are linked by six loops, and the structure of the β sandwich formed is similar to the variable region of antibodies. This makes adectins a good candidate as an antibody mimetic.
Although adectins have a simpler structure compared to antibodies, their specificity and affinity are similar to antibodies. Adectins have been tested against several ligands, including human vascular endothelial growth factor receptor 2, proprotein convertase subtilisin kexin-9, EGFR, the p19 subunit of interleukin-23, and β-cyclodextrin.
Peptide aptamers and affimers
Peptide aptamers are short peptide sequences that have an inert and rigid scaffold. Affimers – aptamers with improved performance – have been used in several analytical applications, such as ELISA, affinity chromatography, microarrays, immunohistochemistry and others. Recently, affimers have also been designed for a Zika virus antigen. This could lead to the development of a diagnostic tests for the Zika virus, which are loosely based around an ELISA.
Affitins
Affitins are a protein that is a variant of Sac7d, a DNA-binding protein. This protein can bind to DNA and prevent its thermal denaturation. It is derived from thermophilic bacteria called Sulfolobus acidocaldarius.
It had 66 amino acids, an incomplete β barrel structure (two-stranded β-hairpin, three-stranded β-sheet, and a α helix). As they are derived from thermophilic bacteria, they are highly resistant to heat.
Anticalins
Anticalins are proteins with binding properties that have a β barrel structure with eight β strands and one α helix. They have one peptide chain that is 150–190 amino acids long.
Other examples
Apart from these antibody mimetics, there are also avimers, fynomers, armadillo repeat proteins, and knottins. All these different classes of proteins have specific binding properties, and are superior to antibodies in terms of affinity, stability, penetration, and cost-effectiveness.
Sources
Further Reading
Last Updated: Nov 23, 2018