New Treatment Shows Promise for Crippling Knee Arthritis: MedlinePlus
New Treatment Shows Promise for Crippling Knee Arthritis
Small study found single shot of patient's own stem cells improved pain, mobility
Friday, June 24, 2016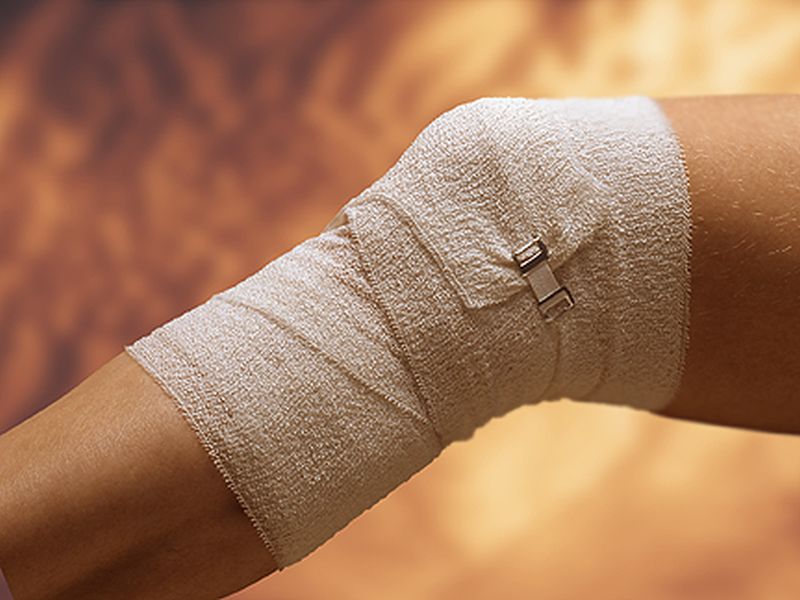 FRIDAY, June 24, 2016 (HealthDay News) -- For those who suffer debilitating arthritis in their knees, researchers report in a small study that just one injection of stem cells can reduce pain and inflammation.
The idea is experimental: Extract stem cells from a patient's own body fat -- cells known for their ability to differentiate and perform any number of regenerative functions -- and inject them directly into the damaged knee joint.
"While the goal of this small study was to evaluate the safety of using a patient's own stem cells to treat osteoarthritis of the knee, it also showed that one group of patients experienced improvements in pain and function," noted Dr. Anthony Atala, director of the Wake Forest Institute for Regenerative Medicine, in Winston-Salem, N.C. He was not involved in the study.
"In fact, most of the patients who had previously scheduled total knee replacement surgery decided to cancel the surgery," Atala noted.
"These results are encouraging, and it will be interesting to see if these improvements are seen in larger groups of study participants," he added.
Atala is editor-in-chief of STEM CELLS Translational Medicine, the journal that recently published the results of the 18-patient study.
The French and German researchers point out that osteoarthritis is the most common musculoskeletal disease among adults, a so-called "wear-and-tear" chronic condition that often affects the knee joint.
Typified by the ongoing breakdown of the cartilage that connect joints and bones, the progressively degenerative disorder ultimately gives rise to severe inflammation, significant pain and often crippling disability.
According to the Arthritis Foundation, osteoarthritis risk is driven by genetics; obesity; injury and joint overuse; other forms of arthritis; and metabolic disorders that can throw a person's iron or growth hormone levels out of whack.
No treatment can halt osteoarthritis' progress, and "no therapy is able to restore [damaged] cartilage tissue," noted study author Dr. Christian Jorgensen, head of the clinical unit for osteoarticular diseases at Lapeyronie University Hospital, in Montpellier, France.
To explore the potential of stem cell therapy, the study authors focused on 18 French and German men and women, aged 50 to 75, all of whom had struggled with severe knee osteoarthritis for at least a year before joining the study.
Between April 2012 and December 2013, all of the patients first underwent liposuction to extract fat-derived samples of a specific type of stem cell. The researchers noted that these particular stem cells have been shown to have immune-boosting and anti-scarring properties, as well as the ability to protect against cell "stress" and death.
A third of the patients received a single "low-dose" injection of their own stem cells directly into their knee. Another third received a "medium-dose" injection, involving a little more than four times the amount of stem cells, while the remaining group received a "high-dose" injection packed with roughly five times as many stem cells as the medium-dose group.
After six months, the study team found that all three groups showed improvements in terms of pain, function and mobility.
However, only those in the low-dose group were determined to have "statistically significant" improvements in terms of both knee pain and function recovery.
Apart from one case of chest pain (about three months after the injection), only a few patients experienced mild side effects.
The team concluded that the stem cell treatment results were "very encouraging." The opinion was echoed by Atala, who suggested that "the study shows yet another potential treatment using stem cells."
At the same time, Jorgensen and his colleagues stressed that more research with more patients will be needed before the approach can be considered a breakthrough.
That effort has already begun, with a second two-year trial now underway involving 150 patients at 10 different clinical centers across Europe.
SOURCES: Christian Jorgensen, M.D., Ph.D., head, clinical unit for osteoarticular diseases and department for biotherapy, Lapeyronie University Hospital, Montpellier, France; Anthony Atala, M.D., director, Wake Forest Institute for Regenerative Medicine, Winston-Salem, N.C., and editor-in-chief,STEM CELLS Translational Medicine; May 23, 2016, STEM CELLS Translational Medicine, online
HealthDay
Copyright (c) 2016
HealthDay
. All rights reserved.
News stories are provided by HealthDay and do not reflect the views of MedlinePlus, the National Library of Medicine, the National Institutes of Health, the U.S. Department of Health and Human Services, or federal policy.
More Health News on: