Just a Little of Statins' Effect Enough to Help Heart: Study: MedlinePlus
Just a Little of Statins' Effect Enough to Help Heart: Study
Driving cholesterol down to very low levels produced no extra benefit
Monday, June 20, 2016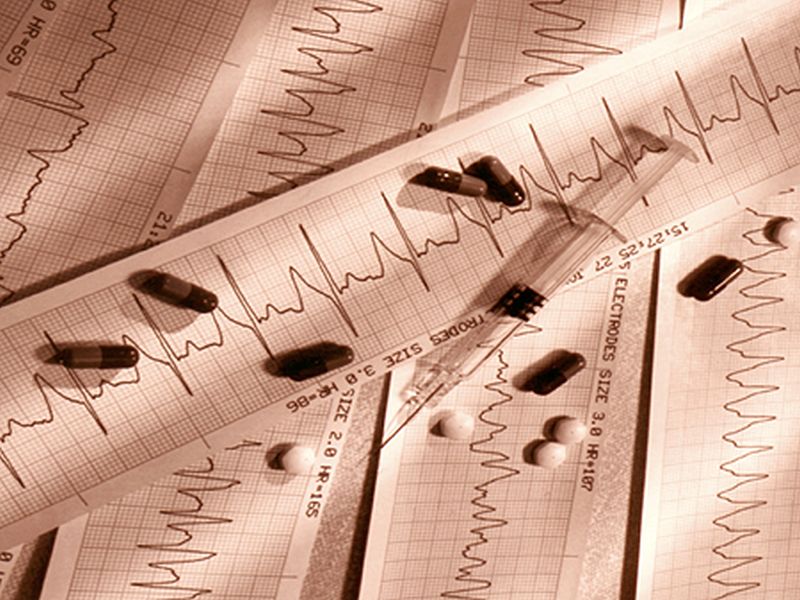 MONDAY, June 20, 2016 (HealthDay News) -- Giving high doses of statins to patients with heart disease doesn't lower the risk of future heart trouble any more than moderate doses of the cholesterol-lowering drugs do, a new study finds.
Having heart disease raises the risk of heart attack and stroke, as blood vessels become clogged and cut the normal flow of blood and oxygen to the heart.
These patients are typically prescribed statins on a long-term basis, to lower levels of vessel-clogging LDL ("bad") cholesterol.
But experts remain conflicted about exactly how low LDL cholesterol levels should go.
"Our study demonstrates that physicians treating patients with heart disease and elevated levels of cholesterol with statins have to ensure that patients meet a target of less than 100 mg/dL to prevent future [heart] events," said study author Dr. Morton Leibowitz. He is a senior physician with the Clalit Research Institute in Tel Aviv, Israel.
"There is, however, no evidence at present that increasing the intensity of treatment to lower LDL levels further adds benefit," added Leibowitz, who is also a clinical associate professor of medicine/cardiology at the NYU School of Medicine in New York City.
According to the U.S. Food and Drug Administration (FDA), millions of Americans currently take statins, including well-known brands such as Crestor (rosuvastatin), Lipitor (atorvastatin), and Zocor (simvastatin), among others.
The FDA notes there is a small risk that chronic statin use may increase the risk for type 2 diabetes, alongside other "rare" side effects such as memory loss, muscle weakness/pain or liver injury.
But the FDA also stresses that the heart benefits of lowering cholesterol levels with statins is "indisputable."
What is in dispute is what the ideal target cholesterol level should be.
For example, while the American Heart Association does not advocate for any specific LDL target level, the European Society of Cardiology recommends that LDL be brought down to a relatively "low" level of 69 mg/dL or less.
To examine the issue, investigators tracked more than 31,600 patients, ranging in age from 30 to 84, all of whom had been diagnosed with heart disease between 2009 and the end of 2013. All had been taking statins for at least one year.
Nearly 30 percent were found to have "low" LDL levels, meaning a reading of 70 mg/dL or less. More than half had a "moderate" LDL level of between 70.1 and 100 mg/dL, while nearly 20 percent had "high" levels exceeding 100 and as high as 130.
Patients were followed for an average of 1.6 years, and during that time more than 9,000 either died or faced a serious cardiac event, including heart attack, stroke, chest pain (angina), heart bypass surgery or surgery to unblock arteries (angioplasty).
The researchers determined that the risk for such events was significantly lower among patients with moderate LDL levels, compared to patients with high LDL levels.
However, driving LDL levels down into the 70 mg/dL range did not translate into any further drop in risk, the study found.
The findings were published in the June 20 online edition of JAMA Internal Medicine.
Dr. Rita Redberg, who co-wrote an accompanying editorial, said the findings have "important implications."
"Statin side effects -- such as muscle pains, fatigue, memory loss and diabetes -- increase with increasing statin doses," noted Redberg, a cardiologist at the UCSF Medical Center in San Francisco.
"[So] yes, I think these findings suggest a major shift away from our current assumptions of 'lower is better' for LDL lowering in patients with known heart disease," added Redberg, who is also the editor-in-chief of JAMA Internal Medicine.
"It is important not to assume that more is better," she said.
SOURCES: Morton Leibowitz, M.D., senior physician, Clalit Research Institute, Tel Aviv, Israel, and clinical associate professor of medicine/cardiology, NYU School of Medicine, New York City; Rita Redberg, M.D., cardiologist, UCSF Medical Center, San Francisco, and editor-in-chief, JAMA Internal Medicine; June 20, 2016, JAMA Internal Medicine, online
HealthDay
Copyright (c) 2016
HealthDay
. All rights reserved.
News stories are provided by HealthDay and do not reflect the views of MedlinePlus, the National Library of Medicine, the National Institutes of Health, the U.S. Department of Health and Human Services, or federal policy.
More Health News on: