Healthy Fats in Mediterranean Diet Won't Boost Weight: MedlinePlus
Healthy Fats in Mediterranean Diet Won't Boost Weight
Vegetable oils, nuts can be a part of a healthful diet, experts say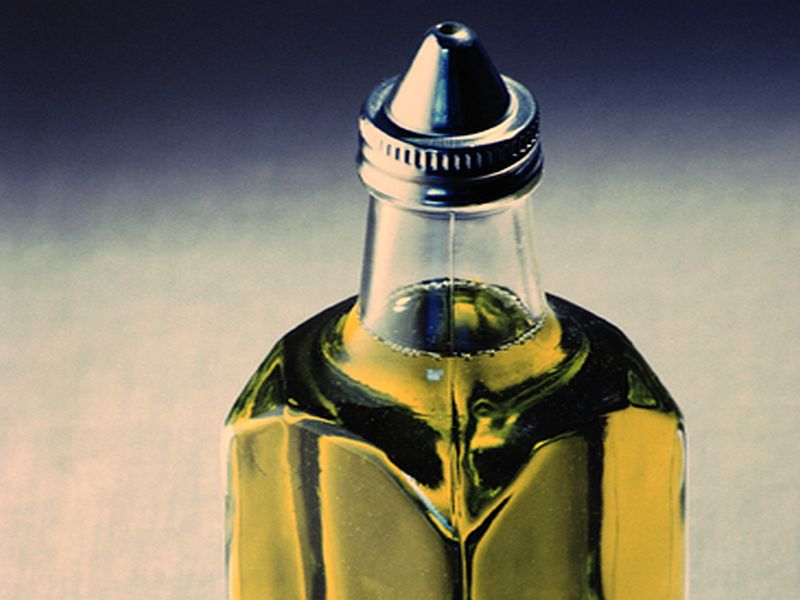 MONDAY, June 6, 2016 (HealthDay News) -- An eating plan that includes healthy fats such as olive oil and nuts isn't likely to cause weight gain, a new study finds.
That's good news for people who'd prefer to try the Mediterranean diet -- which includes healthy fats -- over a diet that's low in fat. And the study authors suggest that current health guidelines may be creating an unnecessary fear of these healthful fats.
"More than 40 years of nutritional policy has advocated for a low-fat diet, but we're seeing little impact on rising levels of obesity," said study lead author Dr. Ramon Estruch, of the University of Barcelona in Spain.
"Our study shows that a Mediterranean diet rich in vegetable fats such as olive oil and nuts had little effect on body weight or waist circumference compared to people on a low-fat diet. The Mediterranean diet has well-known health benefits and includes healthy fats, such as vegetable oils, fish and nuts," Estruch explained in a journal news release.
However, he also pointed out that not all fats are created equal. "Our findings certainly do not imply that unrestricted diets with high levels of unhealthy fats such as butter, processed meat, sweetened beverages, deserts or fast-foods are beneficial," Estruch added.
The study included more than 7,400 women and men in Spain, aged 55 to 80. The study participants ate one of three eating plans: an unrestricted-calorie Mediterranean diet rich in olive oil; an unrestricted-calorie Mediterranean diet rich in nuts; or a low-fat diet meant to avoid all dietary fat.
All the participants had type 2 diabetes or high heart risk. More than 90 percent were overweight or obese, the study authors noted.
After five years, total fat intake fell from 40 percent to 37 percent in the low-fat diet group, and rose in both Mediterranean diet groups, from about 40 percent to 42 percent. The percentage of proteins and carbohydrates decreased in both Mediterranean diet groups, the findings showed.
People in all three groups lost some weight: an average of almost 2 pounds (0.88 kilograms) per person in the olive oil group, 1.3 pounds (0.60 kg) in the low-fat diet group, and 0.9 pounds (0.40 kg) in the nut group, the researchers said.
Waist circumference did increase slightly in all three groups, though less so in those on the healthy fat diets. The low-fat group had an increase of about a half-inch (1.2 centimeters) per person. The olive oil group saw an increase of about one-third of an inch (0.85 cm), and the nut group only saw an increase in waist circumference of 0.14 inches (0.37 cm), the study authors reported.
The report was published June 6 in The Lancet Diabetes & Endocrinology.
"The fat content of foods and diets is simply not a useful metric to judge long-term harms or benefits," Dariush Mozaffarian, professor in the School of Nutrition Science & Policy at Tufts University in Boston, wrote in an accompanying commentary.
"Energy density and total caloric contents can be similarly misleading. Rather, modern scientific evidence supports an emphasis on eating more calories from fruits, nuts, vegetables, beans, fish, yogurt, phenolic-rich vegetable oils, and minimally processed whole grains; and fewer calories from highly processed foods rich in starch, sugar, salt, or trans-fat," Mozaffarian explained.
"Dietary guidelines should be revised to lay to rest the outdated, arbitrary limits on total fat consumption. Calorie-obsessed caveats and warnings about healthier, higher-fat choices such as nuts, phenolic-rich vegetable oils, yogurt, and even perhaps cheese, should also be dropped," Mozaffarian wrote.
SOURCE: The Lancet Diabetes & Endocrinology, news release, June 6, 2016
HealthDay
Copyright (c) 2016
HealthDay
. All rights reserved.
News stories are provided by HealthDay and do not reflect the views of MedlinePlus, the National Library of Medicine, the National Institutes of Health, the U.S. Department of Health and Human Services, or federal policy.
More Health News on:
Tuesday, June 7, 2016