Talk Therapy May Help Depressed Teens Who Shun Antidepressants: MedlinePlus
Talk Therapy May Help Depressed Teens Who Shun Antidepressants
Cognitive behavioral therapy can help boost mood without drugs, experts say
Wednesday, April 20, 2016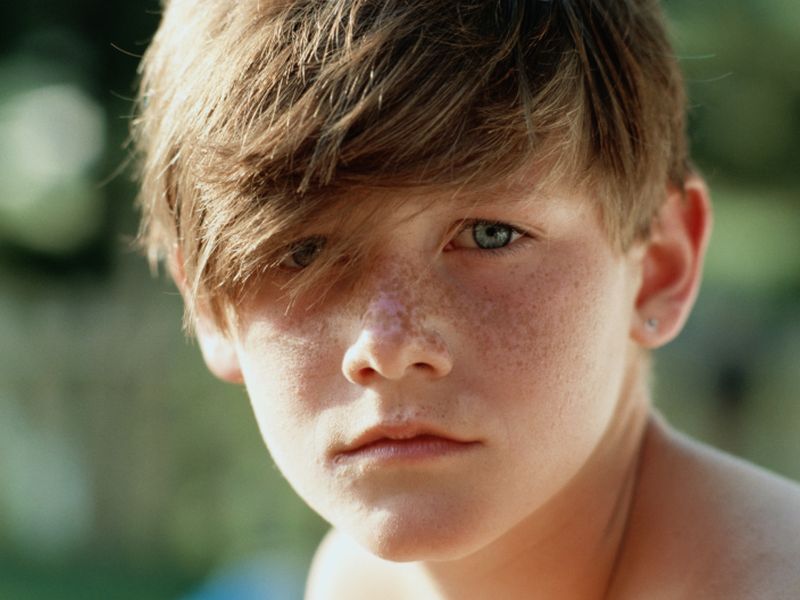 WEDNESDAY, April 20, 2016 (HealthDay News) -- Depressed teens who refuse antidepressants may benefit from counseling, a new study suggests.
The study included more than 200 teens who were unwilling to take medication to treat their depression. The researchers found that those who tried a type of short-term "talk therapy" -- known as cognitive behavioral therapy (CBT) -- were more likely to recover than those who didn't.
"High numbers of adolescents experience depression, as many as 10 to 15 percent each year -- and up to one in five by age 18," said lead researcher Greg Clarke. He is a depression investigator at the Kaiser Permanente Center for Health Research in Portland, Ore.
"Unfortunately, most of these depressed teens are not treated. As few as 30 percent get specific depression care," he said.
In many cases, depressed teens refuse to take antidepressants, "often because of side effect concerns," Clarke said. These include warnings going back to 2004 about suicidal thoughts and behavior related to antidepressant use, the researchers said. Other common side effects from antidepressants include weight gain and fatigue.
"Offering brief cognitive behavioral therapy is an effective alternative," Clarke said. The small to moderate benefits found in this trial may be tied to reduced need for psychiatric hospitalization, the researchers noted.
The report was published online April 20 in the journal Pediatrics.
Simon Rego is director of psychology training at Montefiore Medical Center/Albert Einstein College of Medicine in New York City. He said that depressed teens can benefit from talk therapy offered by pediatric and family practices.
Teen depression is usually identified in primary care and is increasingly treated there, he said. But as many as 50 percent of teens with depression turn down medications, and of those who start antidepressants, as many as 50 percent fail to keep taking them, Rego said.
"Integrating cognitive behavioral therapy into primary care would present adolescents with depression with a non-medication treatment that would be easily accessible, brief and cost-effective," Rego explained.
According to the Anxiety and Depression Association of America, cognitive behavioral therapy can cost $100 or more per hour. "Some therapists or clinics offer therapy on a sliding scale, which means that charges fluctuate based on income," the association says. Not all insurance plans cover cognitive behavioral therapy.
For the study, Clarke and his colleagues conducted a five- to nine-week program in which counselors used cognitive behavioral therapy techniques to help teens identify unhelpful or depressive thinking and replace those ideas with more realistic, positive thoughts.
The program also helped patients create a plan to increase pleasant activities, especially social activities, Clarke said.
Between 2006 and 2012, the researchers randomly assigned 212 teens with major depression to receive either the weekly cognitive behavioral therapy or other care for depression, which could have included school counseling or outside therapy. All the teens, who were aged 12 to 18, had either refused antidepressants or stopped taking them, the study authors said.
On average, teens who tried cognitive behavioral therapy recovered seven weeks faster (22.6 weeks versus 30 weeks) than teens who didn't, the investigators found. In addition, the teens who used cognitive behavioral therapy were less likely to require psychiatric hospitalization, the findings showed.
Recovery was defined as having no or minimal symptoms of depression for eight weeks or more. Symptoms included feelings of hopelessness, loss of interest in friends and activities, changes in sleep and appetite, trouble concentrating and feelings of worthlessness or excessive guilt.
After six months, 70 percent of teens in the cognitive behavioral therapy program had recovered, compared with 43 percent of teens not in the program, the researchers reported.
Some benefits were still associated with cognitive behavioral therapy after one year, although the gap between the two groups of teens had tightened, Clarke said.
SOURCES: Greg Clarke, Ph.D., depression researcher, Kaiser Permanente Center for Health Research, Portland, Ore.; Simon Rego, Psy.D., director of psychology training, Montefiore Medical Center/Albert Einstein College of Medicine, New York City; May 2016, Pediatrics
HealthDay
Copyright (c) 2016
HealthDay
. All rights reserved.
News stories are provided by HealthDay and do not reflect the views of MedlinePlus, the National Library of Medicine, the National Institutes of Health, the U.S. Department of Health and Human Services, or federal policy.
More Health News on: