Urinary Incontinence Risk Rises Slightly After Vaginal Birth, Study Finds: MedlinePlus
Urinary Incontinence Risk Rises Slightly After Vaginal Birth, Study Finds
But the risks that come with an elective C-section must be considered as well, experts say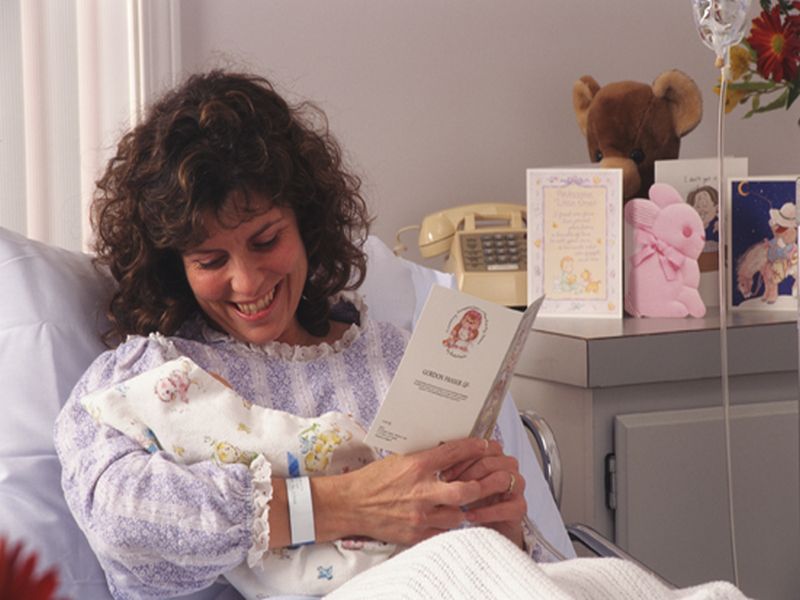 FRIDAY, Feb. 26, 2016 (HealthDay News) -- Women who give birth vaginally are slightly more likely to develop urinary incontinence afterward compared to women who have cesarean sections, according to Finnish researchers.
However, experts in the United States stressed that C-section deliveries come with their own risks, so the choice of how to deliver a child must be made between a woman and her doctor.
Urinary incontinence is a common problem among women, affecting hundreds of millions worldwide. It's known that aging, obesity and childbirth increase the risk, but the long-term effects of the type of childbirth have been unclear.
In its review, the Finnish team looked at data from 16 studies. The investigators found that vaginal delivery was associated with an 8 percent increased risk that the woman would later develop stress urinary incontinence, which was nearly two times higher than with cesarean delivery.
Stress incontinence involves involuntary leakage that occurs when a woman stresses her abdomen, such as in jumping, sneezing or coughing.
The link between vaginal delivery and stress incontinence was strongest in younger women and decreased the longer the time from childbirth, the research team found.
Vaginal delivery was also associated with a 3 percent increased risk of urge incontinence compared with C-section delivery, the Finnish researchers found. Urge incontinence involves a strong, sudden need to urinate.
The review "provides important information about the causes of urgency and stress urinary incontinence in women ... and [will] help women and their physicians make decisions regarding mode of delivery," said study co-authors Riikka Tahtinen, an obstetrics and gynecology consultant at Kuopio University Hospital, and Kari Tikkinen, adjunct professor at Helsinki University Hospital.
However, the authors also pointed out that the comparatively lower risk for incontinence seen after C-section may not outweigh other dangers linked to the surgical procedure.
"When choosing the mode of delivery, a variety of factors must be considered," Tahtinen said in a Helsinki University news release.
"A planned cesarean section increases the baby's risk of needing emergency care and the mother's risk of developing blood clot, bleeding as well as uterine rupture and placental adhesion disorders in subsequent pregnancies," Tahtinen explained.
The researchers noted that cesarean section rates in many countries have increased substantially since the 1970s and now account for 33 percent of births in the United States.
Two experts in the United States said that while the study findings were useful, C-section carries its own risks.
Dr. Jill Rabin is co-chief of ambulatory care for Women's Health Programs at Northwell Health in New Hyde Park, N.Y. She said the Finnish review had several limitations, and the "risks to both the mother and baby associated with delivery, while usually low, are nevertheless significantly higher for cesarean section."
Any decision over elective C-section "should therefore be based on a full understanding of the maternal and fetal issues, and a decision made in conjunction with a woman and with her physician," Rabin said.
Another medical expert agreed.
"It is important that women have all of the potential risks and complications of vaginal delivery versus C-section available, so that they and their physician can make the best decision for the mother and the baby," said Dr. Elizabeth Kavaler, a urology specialist at Lenox Hill Hospital in New York City.
The study results were published online recently in the journal European Urology.
SOURCES: Elizabeth Kavaler, M.D., urology specialist, Lenox Hill Hospital, New York City; Jill Rabin, M.D., co-chief, division of ambulatory care, Women's Health Programs-PCAP Services, Northwell Health, New Hyde Park, N.Y.; University of Helsinki, news release, Feb. 23, 2016
HealthDay
Copyright (c) 2016
HealthDay
. All rights reserved.
More Health News on:
Friday, February 26, 2016