Many Men Have Body Image Issues, Too: MedlinePlus
Many Men Have Body Image Issues, Too
Study finds appearance, weight, muscle tone often affect how guys feel about themselves
Friday, March 18, 2016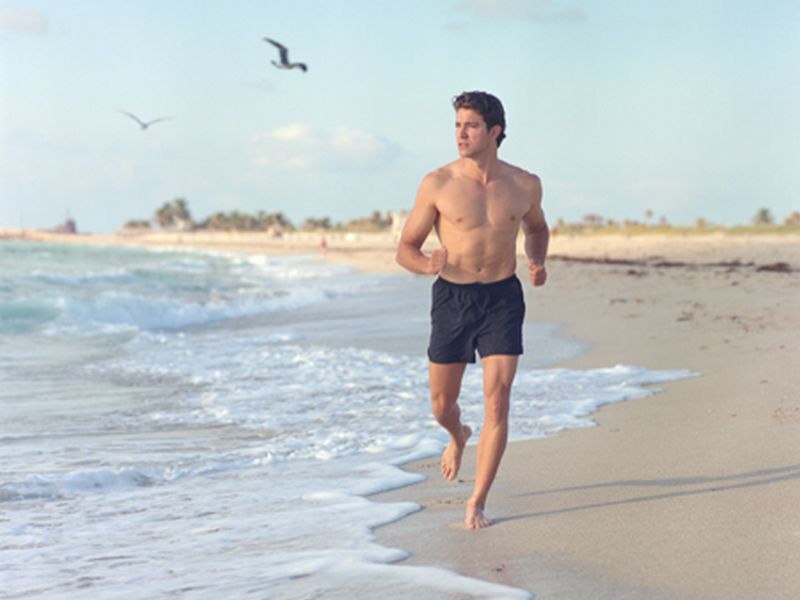 FRIDAY, March 18, 2016 (HealthDay News) -- Women aren't the only ones at risk of worrying about their looks: A new study finds many men also fret about their physique, especially gay men.
Surveys on male body image found that 20 percent to 40 percent of men were unhappy with some aspect of their looks, including physical appearance, weight, and muscle size and tone.
Those feelings spilled into their health and sex lives, as well.
Many straight and gay men, for example, reported exercising (55 percent and 57 percent, respectively) and dieting (29 percent and 37 percent, respectively) to lose weight in the past year.
Twenty percent of straight men and 39 percent of gay men reported trying to hide one aspect of their bodies during sex, usually their bellies.
David Frederick, assistant professor of psychology at Chapman University in Orange, Calif., and the study's lead author, said men's body image is an issue that gets overlooked.
"We know so many women are dissatisfied, so it kind of gets lost that there's also a lot of men who are dissatisfied," he said.
The study was published online by the journal Psychology of Men & Masculinity.
Gender differences in "body dissatisfaction" are shrinking, likely because of media influence, said Rick Gardner, professor emeritus of psychology at the University of Colorado, Denver.
"Men are increasingly bombarded by messages related to weight and fitness," Gardner said. "And you rarely see a very overweight man in a TV ad or in a TV program or movie, unless they are playing the role of a buffoon or a bad guy," he observed.
Previous body image studies have shown gay men are at higher risk than straight men for developing body dissatisfaction. But those studies were based on small, biased samples that recruited participants from gay-affiliated political and support organizations, Frederick explained.
To overcome potential bias, Frederick and co-author Jamal Essayli, of the University of Hawaii at Manoa, drew data from more than 116,000 men across five national online surveys posted to general news websites.
Study participants' average ages ranged from 35 to 50.
Not only were gay men more dissatisfied with their appearance, but they were more vulnerable to social pressures regarding their appearance, the study found. For example:
77 percent of gay men felt they were judged, or objectified, versus 61 percent of straight men.
58 percent of gay men routinely thought about how they looked, compared with 39 percent of straight men.
58 percent of gay men, but only 29 percent of straight men, felt pressure from the media to look attractive.
Gay men were also more likely than straight men to report interest in cosmetic surgery (51 percent versus 23 percent).
Gay men "tend to mirror levels of body dissatisfaction found among heterosexual women," said Aaron Blashill, assistant professor of psychology at San Diego State University. That's likely due to both groups being attracted to men, he said.
"Men, regardless of their sexual orientation, place greater emphasis on physical appearance [of prospective mates], compared to women," Blashill continued. As a result, he said, gay men "may be more likely to both objectify their partners and themselves."
Being "overweight" -- as defined by body mass index -- did not register as a negative, but being "obese" did, the study found. Overweight men (63 percent straight, 48 percent gay) were satisfied with their weight.
"Guys generally want to be bigger, stronger, faster, and so if you have a bit more bulk to you, that's going to make you feel more powerful and actually make you more attractive," Frederick said.
SOURCES: David Frederick, Ph.D., assistant professor, psychology, Chapman University, Orange, Calif.; Rick Gardner, Ph.D., professor emeritus, psychology, University of Colorado, Denver; Aaron Blashill, Ph.D., assistant professor, psychology, San Diego State University; Feb. 11, 2016,Psychology of Men and Masculinity, online
HealthDay
Copyright (c) 2016
HealthDay
. All rights reserved.
More Health News on: