Lawn Mowers Can Cause Severe Injuries to Kids: MedlinePlus
Lawn Mowers Can Cause Severe Injuries to Kids
Study found that more than half of accidents required amputation
Tuesday, March 1, 2016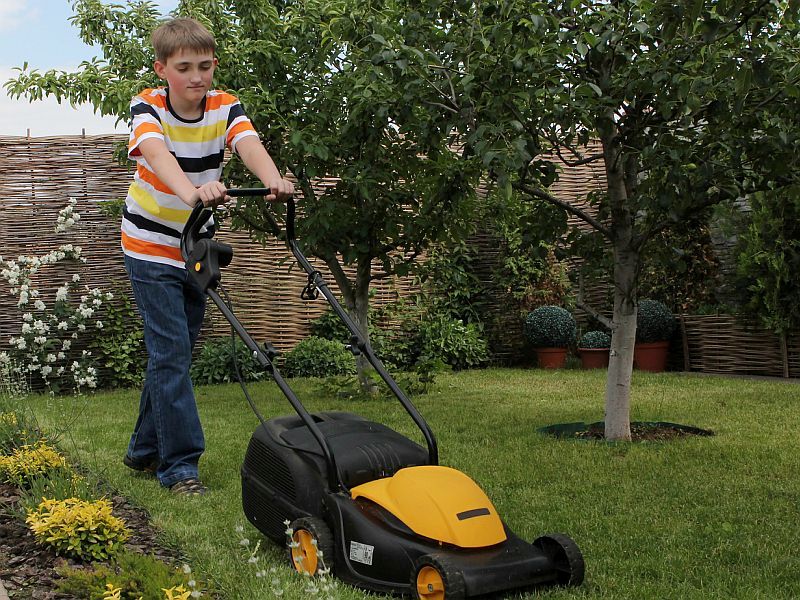 TUESDAY, March 1, 2016 (HealthDay News) -- Despite long-standing safety guidelines, U.S. children continue to suffer severe injuries from both regular power lawn mowers and ride-on mowers, a new Pennsylvania-based study finds.
In more than half of such cases, children required an amputation, the research showed.
"People don't realize how dangerous lawn mowers are," warned senior study author Dr. Douglas Armstrong. He's a professor of orthopedic surgery and division head of pediatric orthopedics at Penn State Hershey Medical Center in Hershey, Penn.
"All lawn mowers have a tremendous amount of kinetic energy given off at the tip of the lawn mower blade. It's higher than a bullet leaving the muzzle of a 357 Magnum, which means that the injuries we see are not just lacerations, they're the result of something more like an explosion or blast injury," he explained.
The researchers looked at information from all children with lawn mower-related injuries treated at Pennsylvania trauma centers between 2002 and 2013. The investigators found an average of about 16 accidents a year.
In all, the study found that nearly 200 children under the age of 18 were injured because of a lawn mower. The majority of those injured (81 percent) were boys, and the average age was 8 years. Nine in 10 accidents occurred during warm weather months (April through September), according to the study.
More than half of the cases (55 percent) involved "ride-on" lawn mowers, the investigators found. Ride-on lawn mowers are small vehicles outfitted with a seat, versus standard lawn mowers you need to walk behind and push.
The researchers said nearly two-thirds of the injuries involved the lower extremities. Slightly more than half of the kids had to have an amputation because of the injury. One child (age 1) died due to an incident involving a ride-on lawn mower, the study authors reported.
"The vast majority of the injuries could have been prevented if safety guidelines had been followed," Armstrong said.
Those guidelines, outlined in 2001 by the American Academy of Pediatrics (AAP), recommend that no child under the age of 16 should operate a ride-on mower, while no child under 12 should operate a powered or non-powered push mower.
The advisory further cautions parents -- whether on farmland or in the suburbs -- to keep all children under the age of 6 indoors when any mower is in operation. Kids shouldn't ride along as passengers on mowers operated by adults, the pediatric group said.
Following that advice would have prevented almost 70 percent of the Pennsylvania accidents, Armstrong said.
A child's maturity level likely plays an important role in the risk of injury, Armstrong said. "Young children often lack the ability to anticipate, to learn, to engage in manual coordination, and to pay attention. They're easily distracted from their task," he said.
"It's not until they're older that they can really attend to what they're doing, and be taught and retain information. And, most importantly, understand that bad things can happen, which many younger kids don't even consider," he added.
The AAP agreed, stating that "children should not operate lawn mowers until they have displayed appropriate levels of judgment, strength, coordination, and maturity necessary for their safe operation."
Dr. Kevin Shea, an orthopedic surgeon and professor of orthopedic surgery at UConn Health in Farmington, Conn., agreed with AAP policy.
"Limiting use to older, adequately trained adolescents and adults is important," he said, while stressing the need for parents to keep children at a safe distance altogether.
Armstrong and his colleagues are scheduled to present their findings Tuesday at a meeting of the American Academy of Orthopaedic Surgeons in Orlando, Fla. Findings presented at meetings are generally viewed as preliminary until they've been published in a peer-reviewed journal.
SOURCES: Douglas G. Armstrong, M.D., professor, orthopedic surgery, and division head, pediatric orthopedics, Penn State Hershey Medical Center, Hershey, Penn.; Kevin P. Shea, M.D., orthopedic surgeon, and professor of orthopedic surgery, UConn Health, Farmington, Conn.; American Academy of Orthopaedic Surgeons meeting, Orlando, Fla., March 1, 2016
HealthDay
Copyright (c) 2016
HealthDay
. All rights reserved.
More Health News on: